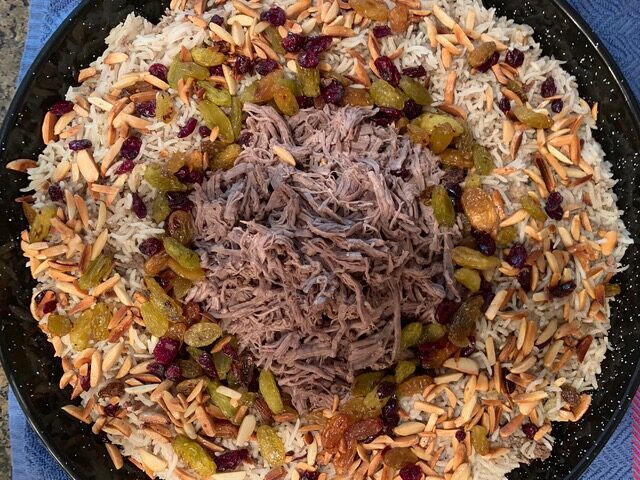 Authentic Lebanese Rice and meat dish perfumed with original warm spices. Perfect for any celebration!
Ingredients for Pulled Beef or Lamb with Rice
4 lb. chuck roast (boneless), cut in thick pieces
3 Tablespoons red wine vinegar
2 Tablespoon olive oil
2 teaspoons garlic, minced
1 teaspoon cumin, ground
1 teaspoon cinnamon, ground
2 bay leaves
8 cups of water, for meat
1 teaspoon salt
1 teaspoon black pepper
2 cardamon pods
2 Tablespoons butter
1/4 cup blanched toasted almond halves
1/2 cup green raisins
1/3 cup dried cranberries
1/2 teaspoon seven spice
1/2 teaspoon nutmeg, ground
2 1/2 cups basmati rice
Preparation for the Pulled Beef or Lamb
Clean your meat under cold water. Pat dry with towel paper. Transfer meat to a large pot when they can lay flat. Cover pot with 8 cups of water.
Cook over medium-high heat. Remove the scum out when it starts boiling. Add 1 teaspoon cinnamon, cumin, cardamon pods, minced garlic, red wine vinegar, and bay leaves.
Cover pot and reduce heat to low. Simmer for about 3 to 4 hours until meat is completely tender.
Remove meat from broth. Put broth aside.  Use two forks to shred meat. Set aside.
Preparation for the Rice
Heat the butter and olive oil on low and add slivered almonds till golden brown. Remove and set aside. Add 2 1/2 cups of rice to the same pot and toast for 2 minutes.
Add 4 1/2 cups of leftover meat broth. and raise heat to high. Add salt, pepper, nutmeg and seven spice. Stir.
Once it starts to boil, lower the heat. Cover the pot. Simmer for 25-30 minutes.
Transfer the cooked pulled meat to a center of a platter.
Fluff the rice while warm and place it around the pulled meat.
Sprinkle toasted almonds, dried cranberries, and raisins around meat over rice.
Enjoy!