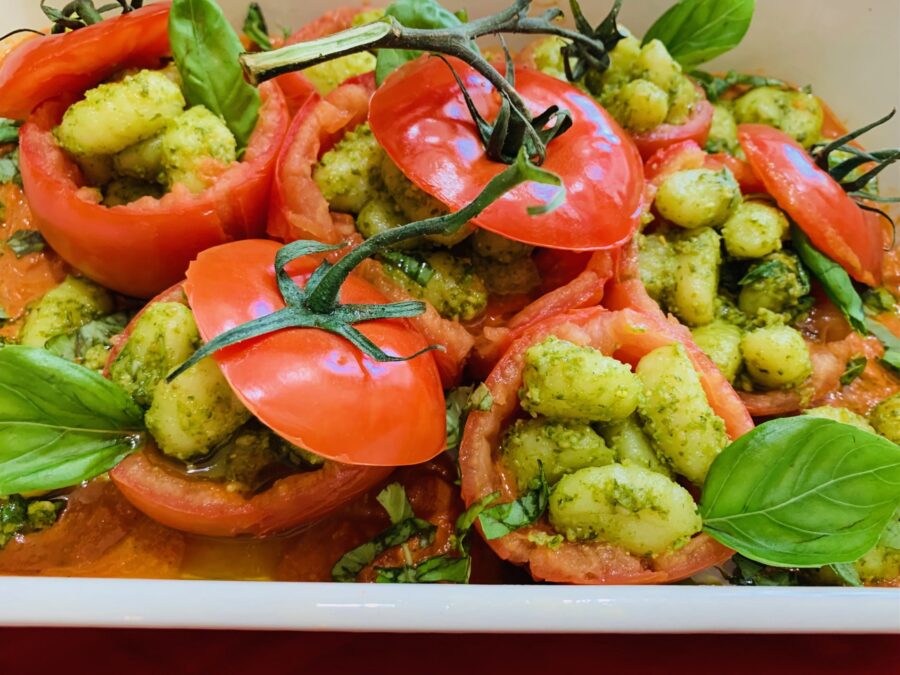 Ingredients for the Easy Pesto Gnocchi
1 16 ounces package gnocchi or (made them from scratch, see my site for the recipe)
3 Tablespoon Homemade Pesto (see recipe on my site) or store-bought pesto
1 cup heavy cream
1 Tablespoon cream cheese
1 Tablespoon extra virgin olive oil
10 fresh basil leaves
Cook gnocchi according to package instructions. Rinse and set aside.
Use a deep large pan and add gnocchi. At medium heat , pour heavy cream and let it simmer for two to three minutes until thick and creamy. Add pesto, cream cheese and stir until well incorporated. Remove pan from heat. Drizzle with olive oil and mix. Set aside.
How to Stuffed the Tomatoes and Preparation
6 to 8 large tomatoes cut tops, and hollow out insides. Keep tops.
Preheat oven to 400 grades Fahrenheit. Place upside down tomatoes over a greased baking pan with 1 Tablespoon of olive oil. Bake for about 8-10 minutes till tomatoes are little tender but still firm. Set aside.
Place gnocchi into tomatoes . Add extra grated parmesan cheese over the top. Place them back into the preheated oven for about 2 to 3 minutes.
Remove from oven and garnish with fresh basil leaves. Enjoy!