Ingredients
18 lasagna noodles cooked
15 ounce Cottage cheese
2 Tablespoon Ricotta cheese
3 cups shredded cheese blend(Mozzarella, Pecorino, Havarti)
1 cup grated parmesan cheese, for garnish
1 cup chopped fresh basil
1cup chopped parsley, some for garnish
2-3 fresh strings of thyme leaves
2 eggs
3 cups (Homemade marinara sauce, see recipe on my site)
4 zucchini, sliced lengthwise 1/2 inch thick
4 Tablespoon extra virgin olive oil
1 teaspoon salt
1/2 teaspoon pepper
1 teaspoon dried oregano
1/4 teaspoon red pepper flakes
Preparation
Preheat oven to 375 grades Fahrenheit. Line a baking sheet with foil paper. Cut zucchini lengthwise (vertical) and place on baking sheet. Drizzle over with 3 Tablespoon of extra virgin olive oil. Season with salt, pepper and 1/2 teaspoon of dried oregano. Roast zucchini for about 20 minutes or till tender. Remove from oven. Set aside.2. Making the Filling:  In a big bowl combine together cottage cheese, ricotta cheese, blend of cheeses, eggs, crushed red .pepper, chopped basil, thyme, and parsley. Season with a pinch of salt , pepper and dried oregano. Set aside.                        
3. Spread half of your marinara sauce to the bottom of a grease baking dish.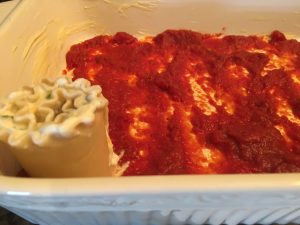 4. Take one cooked lasagna noodle and lay it flat over a clean cutting board and  scoop 2 tablespoons of the Cottage-ricotta filling to the center and spread it along the pasta noodle. Place a slice of the roasted zucchini over filling.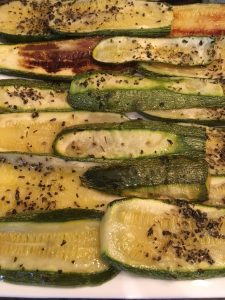 Roll up the noodle and place it up over the marinara sauce on the baking dish. Repeat same process with rest of noodles.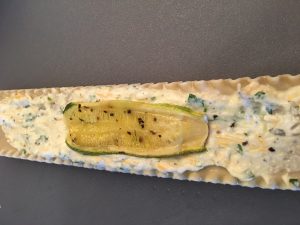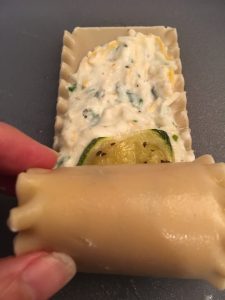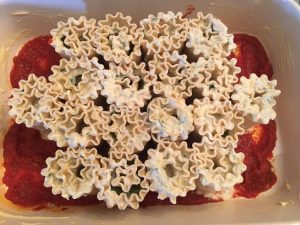 5. Spread over the top rest of Marinara sauce. Cover with foil paper. Bake for about 20 minutes. Remove from oven. Sprinkle with grated parmesan cheese  and bake again uncovered for about 10 minutes or until slightly crispy and cheese is melted. Garnish with fresh thyme and parsley.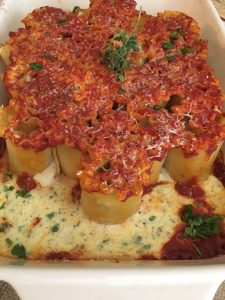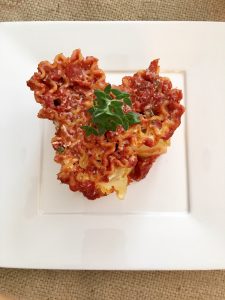 Enjoy 🙂