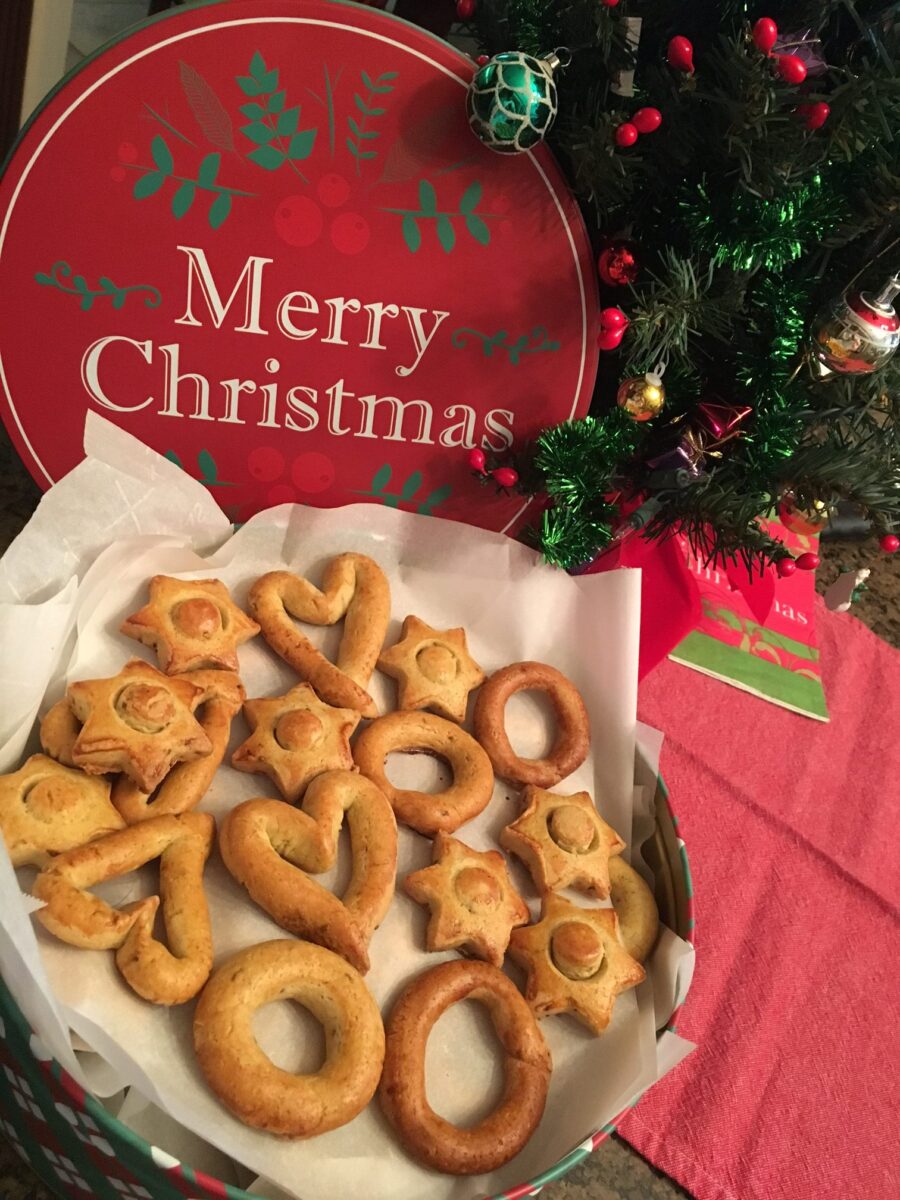 Ingredients
3 cups of All-purpose unbleached flour
1/4 cup whole milk
1/2 teaspoon active dry yeast
1 teaspoon orange blossom water
2 Tablespoons freshly ground anise seed
1 Tablespoon whole anise seeds
1/3 cup fine semolina
1/2 cup granulated sugar
2 Tablespoon extra virgin olive oil
Preparation
Line two baking sheets with parchment paper and set aside. Preheat oven to 375 grades Fahrenheit.
Use a small saucepan and slightly warm up the milk. Remove from heat and add yeast and 2 Tablespoon of the sugar. Stir to dessolve and set aside for the yeast to bloom.
Over a large bowl sift together flour, semolina, rest of sugar. Add ground and whole anise seeds. Incorporate yeast previously dissolved in the milk. Add orange blossom water.
Mix with your hands and incorporate extra virgin olive oil until dough is all well combined and soft. It might be a little sticky but this is the consistency to look for. Let dough rest for about 15 minutes.
Using your hands shape the dough into a 10 to 12 inches long rope over a plastic cutting board surface. Then, cut each rope into 3 to 4 inches length of cookie dough at a time. It could be smaller depends on how big you want your anise cookie to be.
Bring both ends together . Press and pinch dough to form the ring.
Repeat process with remaining dough. You can also use your imagination on creating shapes or use a cookie cutter.
Gently remove cookie rings from cutting board and place over baking sheets. Brush top with egg wash (whisk 1 egg+ 1 teaspoon milk )
Bake in the middle rack of oven for about 20 minutes or until golden brown.                            
Remove from the oven and cool cookies over a wire rack.
Store into a cookie tin or airtight container up to three weeks.
Enjoy next to a warm cup of tea and get cozy!