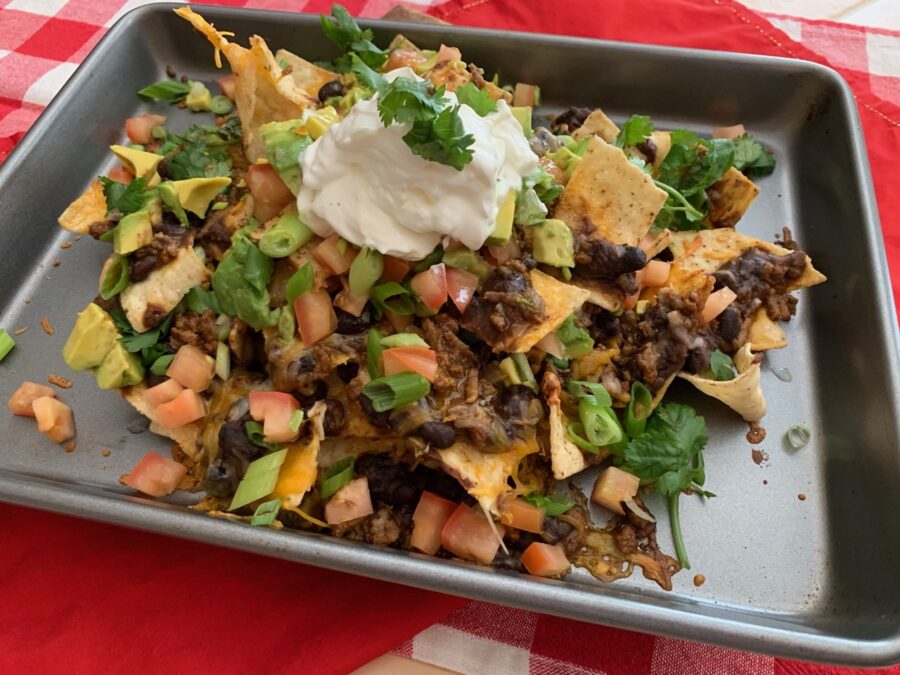 A crowd pleaser! Perfect, fun and delicious dish for sharing. Baked and served.
Ingredients for Homemade Black Beans
2 cups black beans pre-washed
5 cups of chicken broth
1 red pepper, small diced
2 cloves garlic, minced
1 Tablespoon Olive Oil
1 teaspoon salt
1 teaspoon paprika, ground
1/2 teaspoon cumin, ground
2 teaspoon granulated sugar
Preparation
Place black beans in a large pot filled with 5 cups of chicken or vegetable broth and let them boil at medium high heat. Lower the heat and simmer for 1 1/2 to 2 hours till beans are tender and creamy.
In a large pan heat olive oil at medium heat, incorporate diced onions, diced red peppers and garlic. Cook until softened and transfer into large pot of cooked beans. Seasoned with salt, pepper, paprika, and cumin. Let it simmer on low heat for another 10 to 15 minutes and add sugar. Stir well. Set aside.
Preheat oven to 400 degrees Farenheit. Prepare a sheet pan. Set aside.
Ingredients for Homemade Ground Beef for Nachos
1 pound ground beef
2 Tablespoon Olive Oil
1 yellow onion, diced
2 cloves garlic, minced
1 Tablespoon Taco seasoning
1/2 teaspoon cumin, ground
1/2 teaspoon salt
1/4 teaspoon black pepper
1 teaspoon Hot Sauce
Preparation
Brown ground beef in a large skillet over medium-high heat. Take out grease from skillet and add olive oil, diced onions and minced garlic.
Cook until translucent. Seasoned with salt, pepper, taco seasoning and ground cumin. Add hot sauce. Stir to combine.
Toppings
Diced Onions
Diced Tomatoes
Avocado
Cilantro
Sour Cream
Green Onions
Mexican style Blend Cheese
More than can be added: corn, olives, ready Pico de Gallo, etc.
Assembling Delicious Loaded Nachos
Spread out Half of your Tortilla Chips (of your choice) over the baking tray. Sprinkle with Half of your ground beef mixture and your cooked black beans. Sprinkle with half of the cheese. Repeat the layers. Place tray into the preheated oven till cheese is melted. Remove from oven and top with fresh diced tomatoes, green onions, cilantro leaves, diced avocado, and sour cream. Enjoy!