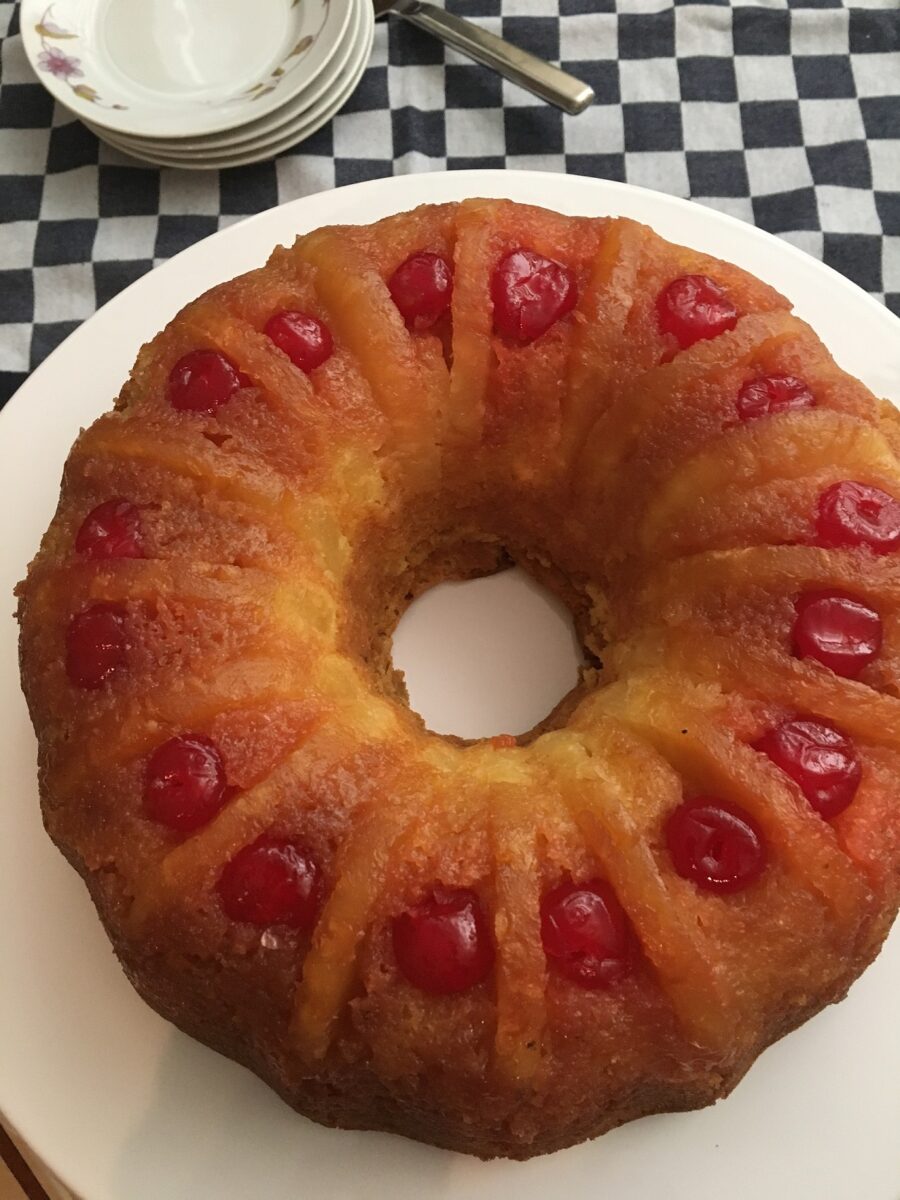 Ingredients
For the Caramel:
1 cup light brown sugar
1/2 cup unsalted butter, melted
1 (20 ounces can) pineapple slices cut in halves, drained
(do not discard juices)
Maraschino cherries, optional
For the Cake:
2 cups of cake flour
1 teaspoon baking powder
1 cup granulated sugar
2 Tablespoon brown sugar
1 teaspoon vanilla extract
1/2 cup unsalted butter, softened
1/2 cup of Heavy cream, room temperature
1/4 cup can pineapple juice syrup
4 large eggs, room temperature
Preparation
Preheat oven to 350 grades Fahrenheit. Grease a bund cake pan with baking butter spray.
Use a small saucepan and melt 1/2 a cup of butter over medium heat . Incorporate the cup of light brown sugar and keep whisking until mixture bubble up and caramel slightly thickens. Remove from heat and very carefully pour into prepared greased pan.
Cut slices of pineapple in half and locate them facing up over light caramel. Place the Maraschino cherries in between pineapples slices. (I found this personal way of placing the pineapples, better for the serving and cutting so each guest will get a complete slice of pineapple). Set aside.Preparation for the Cake Batter:
Whisk in a large bowl by hand or using an electric mixer, softened butter, granulated sugar and brown sugar until creamy.
Add eggs one at a time and beat until pale. Stir in vanilla.
Add dry ingredients: cake flour mixed with baking powder alternately with heavy cream and pineapple juice. Beat slowly until well combined.
Pour creamy batter over caramel-pineapple in Bundt cake pan.
Bake for about 50 to 55 minutes or until top of the cake is golden brown or toothpick inserted into the center of cake comes out clean.
Remove from oven. Let cake cool in pan for 20 to 25 minutes.
Turn the cake out into a platter.  Let it cool completely before serving. Enjoy!