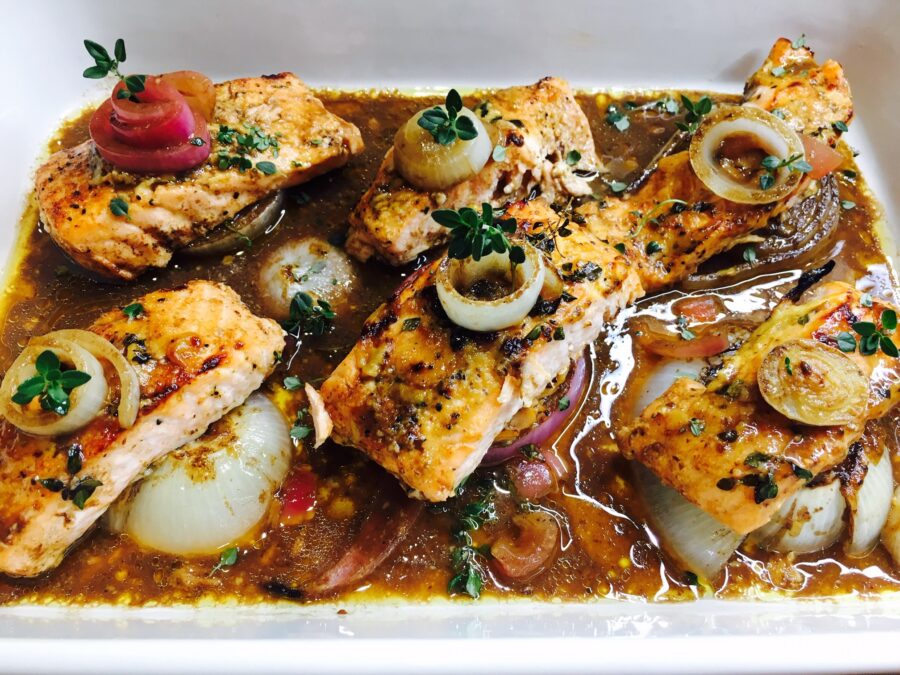 Ingredients:
3 Pounds salmon, cut into 6-7 fillets
1 large red onion, sliced in rounds
1 large white onion, sliced in rounds
2 Tablespoon fresh thyme
2 cloves garlic, minced
1 Tablespoon of fresh ginger, grated
1 cup of fresh lemon juice
1 teaspoon freshly ground black pepper
1 teaspoon salt
1 teaspoon paprika
1/4 cup of grapefruit juice
1/2 teaspoon turmeric, ground
2 Tablespoon honey
2 Tablespoon olive oil
Preparation
Preheat oven to 400 Grades Fahrenheit. Prepare a glass baking sheet and grease it with 1 teaspoon of olive oil. Place onions rings on bottom of the pan. Set aside.
Use a large bowl and combine lemon juice, grapefruit juice, grated ginger, minced garlic, turmeric, salt, black pepper, paprika, honey and olive oil. Mix well. Add sauce over the salmon. Sprinkle with 1 Tablespoon of fresh thyme. Coat salmon fillets well with this sauce.
Place each salmon fillet over the onions rings slices. Top with rest of the onions and sauce. Place baking sheet covered with foil into the oven for about 10 minutes for the onions to become tender. Remove foil and continue to cook salmon fillets for another 10 to 15 minutes until salmon is cooked trough but flaky, juicy and tender.
Remove from oven and sprinkle with the left Tablespoon of fresh thyme.
Enjoy!