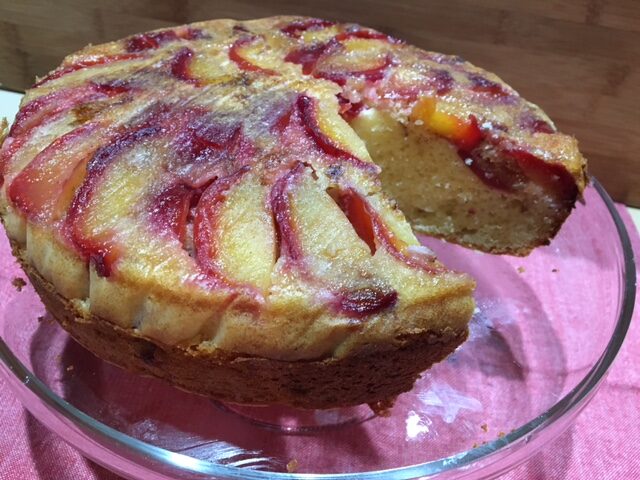 Ingredients
2 cups all-purpose flour
1 cup granulated sugar
2 Tablespoon light brown sugar
3 large eggs, room temperature
1 cup olive oil
1 teaspoon pure vanilla extract
6 large fresh plums
1 Tablespoon cinnamon, ground
1 teaspoon apple pie spiced, ground
1 teaspoon baking powder
1/4 teaspoon salt
Preparation
Preheat oven to 350 degrees Fahrenheit. Grease  the bottom and sides of a 9 inch spring-form cake pan using baking spray. Cut and place a parchment paper disk on the bottom of the spring-form pan and spray top of the parchment paper disk.
Slice the plums and place around the top of the cake pan and in the center over parchment paper. Sprinkle plums with light brown sugar.
Using a hand whisker or and electric mixer, cream 1 cup of granulated sugar with olive oil. Add eggs, one at a time. Add vanilla.
4. Sift together flour, baking powder, apple pie spiced, cinnamon, and salt. Slowly add mixture over wet mixed ingredients above. Mix till creamy consistency.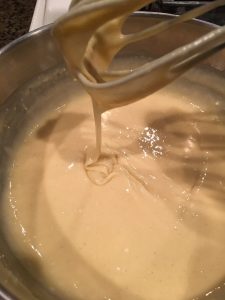 5. Spread the batter over fresh plums.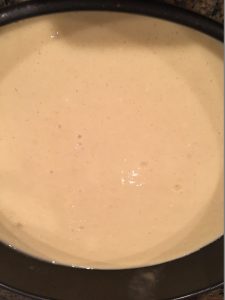 6. Bake for about 55 to 60 minutes or until a toothpick inserted into the center comes out clean.
7. Cool in pan for about 15 to 20 minutes.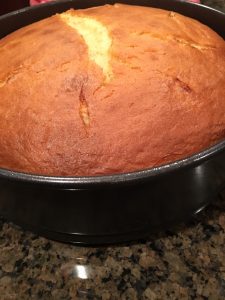 8. Run a knife around the cake. Open spring-form pan. Invert into a cake platter. Let it cool for another 10 to 15 minutes.Enjoy!