A HEALTHY MEAL PLAN, FAST AND EASY SIDE DISHES, MEDITERANIAN DISHES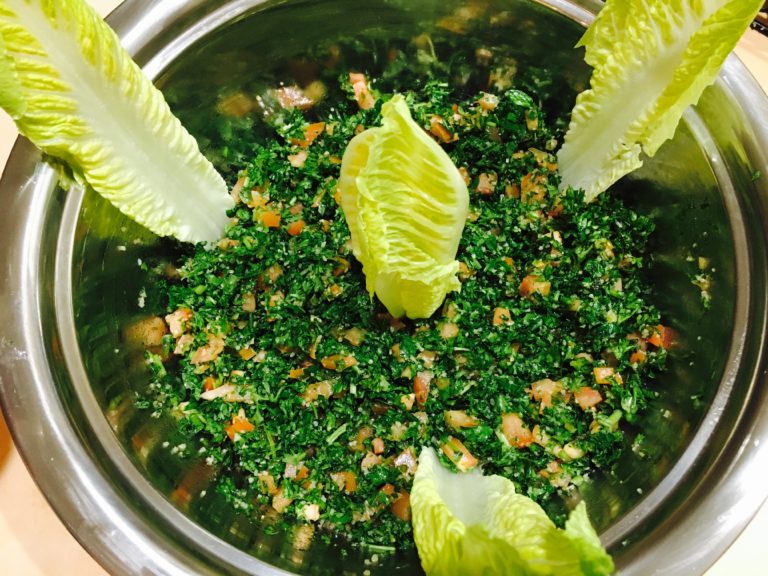 Ingredients
5 bunches Italian flat leaf Parsley, pre-washed, dried and finely chopped by hand
4 Roma tomatoes, small diced
1 1/2 bunch fresh mint, pre-washed and finely chopped
2 green onions, finely sliced(optional)
2 Tablespoon fine cracked wheat (bulgur), soaked in water for 10 minutes
2-3 Fresh lemons, juiced
1/2 cup Extra Virgin Olive Oil
1 teaspoon Pomegranate Molasses(optional)
1/2 teaspoon salt
1/3 teaspoon fresh finely ground black pepper
Preparation
Add to a large bowl chopped and dried with clean towel flat leaf parsley.
Add chopped mint and diced tomatoes.
Drain bulgur from water and add. Place bowl in the refrigerator for about 10 minutes.
Remove from fridge. Incorporate extra virgin olive oil, pomegranate molasses and lemon juice. Toss all together.
Add salt and pepper.
Ready to serve with romaine lettuce leaves or grape leaves. Enjoy!