A HEALTHY MEAL PLAN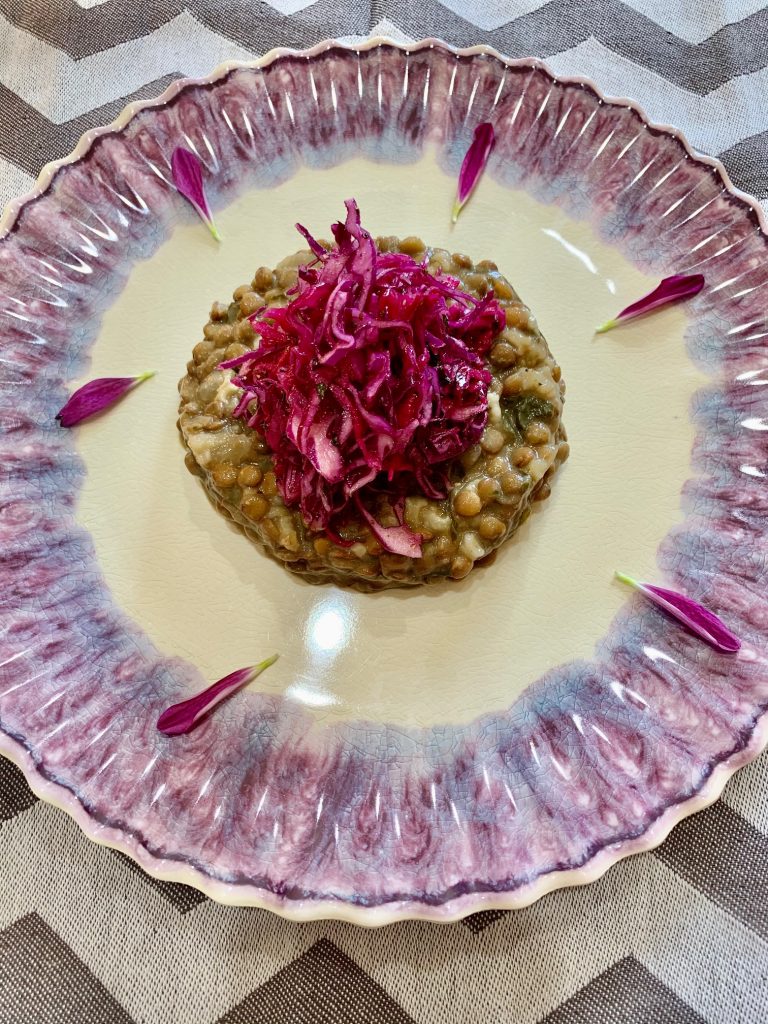 Ingredients for Mujadara (Lebanese Lentils)
1 Pound dried brown or green lentil, rinsed and drained
1 Large onion, diced
1/3 cup Olive Oil
1/4 cup long grain rice ( Basmati or Jasmine),rinsed and drained
5-6 cups of vegetable stock
1 Bay leave
1 Tablespoon ground Cumin
1 Lemon juice squeezed
1 teaspoon salt
1/4 teaspoon freshly ground Black pepper
Preparation
 Use a large pot and at medium-high heat sate diced onions in olive oil until golden and add cleaned lentils. Seasoned with salt, pepper and ground cumin.
Add vegetable stock, bay leave , and bring mixture to a boil. Lower heat. Cover pan and simmer for about 45 to 50 minutes until lentils pop more leaving them whole and became soft and tender. Add fresh lemon juice and stir.
Uncover pot and add uncooked rice. Simmer for another extra 15 to 20 minutes or until water(stock) is completely absorbed, rice is cooked and you kind of reach the consistency of a dense and thick pudding. Might not be to appealing to the eye, but it's a very healthy, delicious, fulfilling,  and very comforting meal. Remove Bay leave.
Serve Mujadara in several shallow plates at room temperature or place plates in fridge for Mujadara to set more, and enjoy it cold. Serve with Cabbage Salad on top instead of fried onions for a lighter version.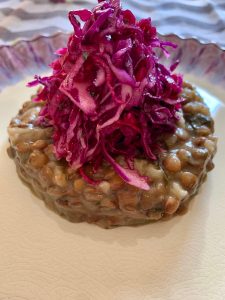 Red Cabbage Slaw Salad
12 ounces red cabbage, finely shredded
1/4 cup fresh lemon juice
2 Tablespoon fresh oregano leaves or dried
1/2 teaspoon salt
1 Tablespoon Apple Cider Vinegar, can be replaced by pickle beet juice
1/4 cup of olive oil
1/3 teaspoon granulated sugar
Preparation for Salad
Whisk all dressing ingredients together. Incorporate shredded cabbage and toss together. Enjoy!