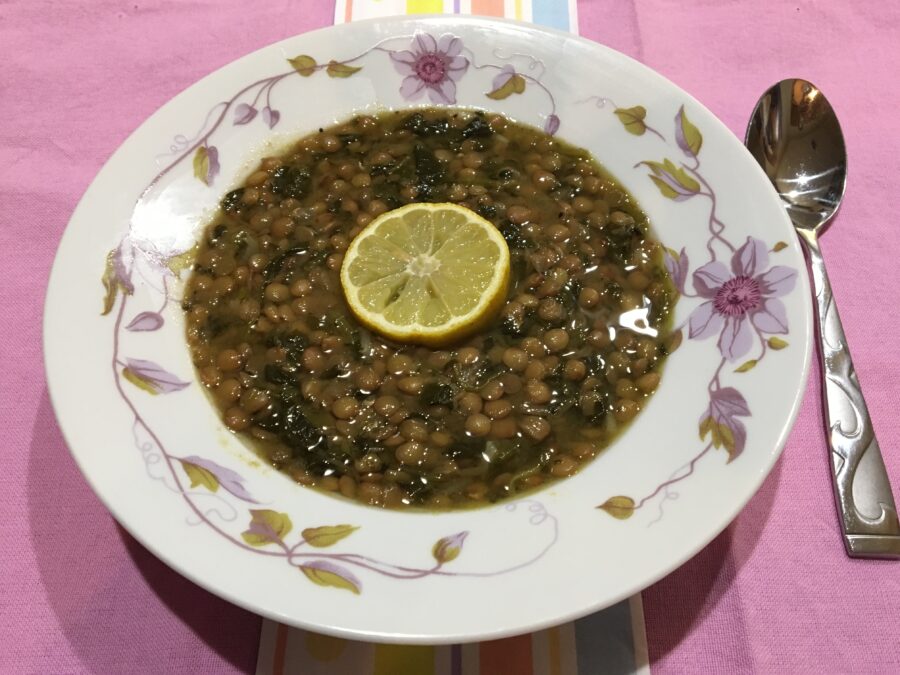 Super easy, nutritious, and delicious Vegetarian soup. Great source of fiber, vitamin B and Iron. Warm your soul up!
Ingredients
 2 Tablespoon avocado oil
1 large onion, medium diced
2 cloves garlic, minced
3 cups brown organic lentils, well rinsed and cleaned
3 cups of fresh or frozen spinach, roughly chopped
1/2 cup of fresh mint, finely chopped
8 cups organic vegetable broth, low sodium
1 cup water
1 bay leaf
1-2  juice of lemon
1 Tablespoon cumin, ground
1 Tablespoon salt
1 teaspoon cracked fresh black pepper, ground
1 handful of rice
Preparation
Preheat a large pot on medium-high heat. Sauté onions in the avocado oil until soften and caramelized for about 4 to 5 minutes.
Add garlic and cook for about 2 minutes.
Add well cleaned lentils and sauté for 5 to 6  minutes.  Mix in well, and add cumin, salt and pepper.
Add vegetable broth ,water, and bay leaf. Increase heat to high and bring to a boil, cover and cook for 45 to 50 minutes and let it simmer at low heat until lentils are soft and tender.
Add spinach, fresh mint and lemon juice. Cook for another 5 minutes. Remove bay leaf.
Incorporate rice and let it cook for about 15 minutes, it will help thickened the soup.
Serve warm and garnish with lemon. Enjoy!