A HEALTHY MEAL PLAN, ENTREES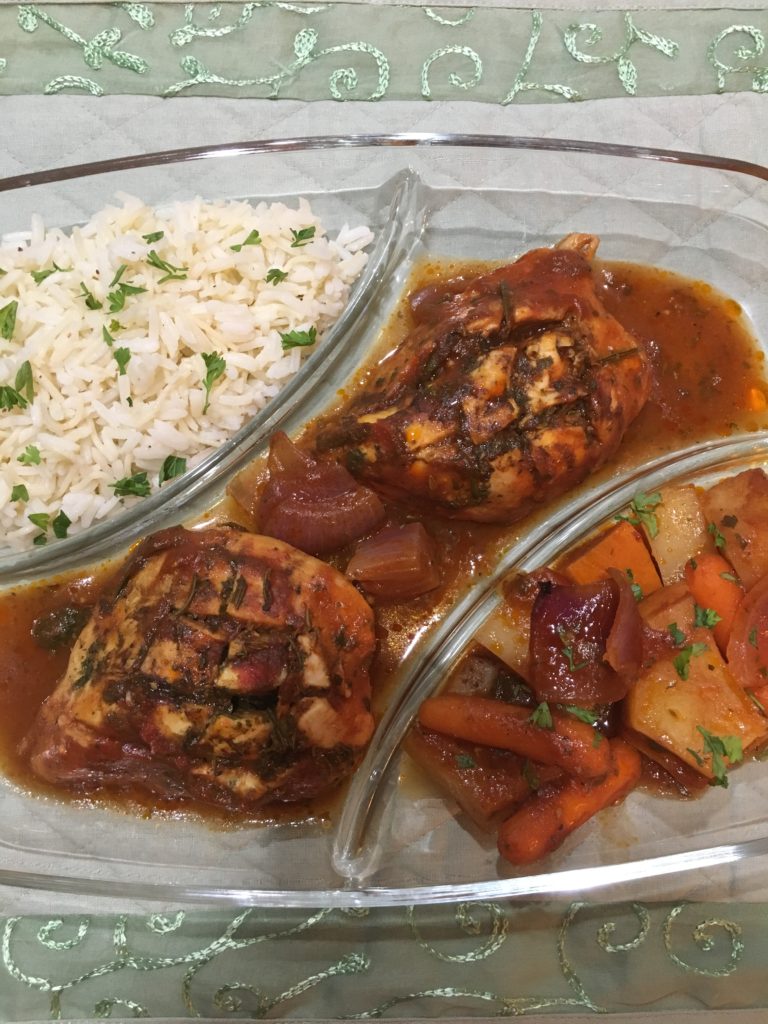 Ingredients
2 Pounds chicken breast or thighs, skinless and boneless
2 Tablespoon Olive Oil
2 large Yukon Gold potatoes, unpeeled and cubed
2 cups of baby carrots
2 large Sweet potatoes, peeled and cubed
1 large red onion, chopped
3 cloves garlic, chopped
2 Tablespoon fresh rosemary, minced
2-3  Tablespoon fresh flat leaves parsley, minced
2 Tablespoon fresh thyme leaves
2 Tablespoon fresh lemon juice
1 teaspoon salt
1 teaspoon garlic powder
1 teaspoon freshly ground black pepper
1 teaspoon dried oregano, ground
1/2 teaspoon dried coriander, ground
1/3 cup of organic apple cider vinegar
Preparation
Preheat oven to 375 grades Fahrenheit.
Score chicken breasts or thighs using a sharp knife, making parallel cuts across the surface about 1/4 inch deep, then repeat in the opposite direction to allowed herbs mix to penetrate. Set aside.
Place sweet potatoes, Yukon potatoes, red onions, minced garlic and carrots on a baking dish. Place scored chicken on top. Drizzle with olive oil, apple cider vinegar and lemon juice. Sprinkle chicken and vegetables with chopped parsley, chopped rosemary, fresh thyme, salt, pepper, garlic powder, dried coriander, and dried oregano.
Roast uncovered for about 45 minutes to an hour, or until chicken have browned, cooked completely and vegetables are fork-tender.
Remove from oven and let it rest for 5 to 10 minutes. Serve next to basmati rice, sprinkle with parsley leaves. Enjoy!