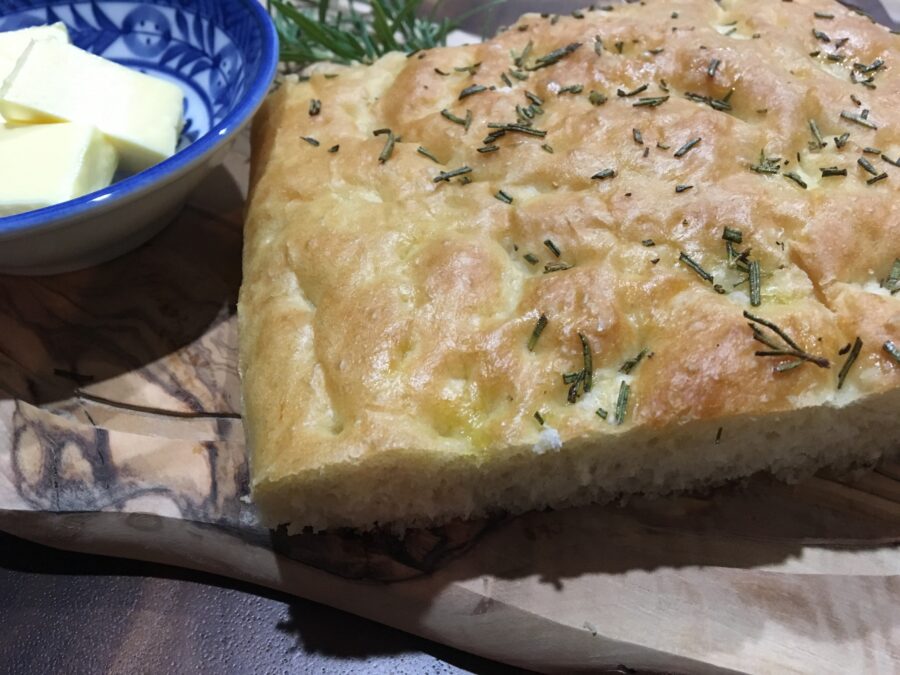 Ingredients
3 cups All-purpose flour
3/4 cup Extra-virgin olive oil
3 garlic cloves, minced
1 1/2 cup water, warm
2 Tablespoon fresh Rosemary, finely chopped
1/4 teaspoon honey
1/2 teaspoon fine sea salt
1 packet active dry yeast or 1/4 cup homemade starter (see my site for recipe)
Preparation
Place a pan over low heat. Add extra virgin olive oil, minced garlic and chopped rosemary. Sate for only 5 minutes to release the flavors. Set aside.
Using a large bowl, combine warm water, yeast and honey. Let it sit for 10 to 15 minutes to activate.
Incorporate 1 1/2 cup of the flour into the warm water, yeast and honey. Combine well with your hands and let it sit for 10 to 15  minutes.
Stir in the rest of the flour and salt. Mix until well combined. Knead over lightly floured surface until dough becomes very smooth.
Preheat oven to 450 grades Fahrenheit.
Transfer dough into a large well oiled bowl. Cover dough with damp towel. Place it in a warm place (next to preheated oven)is ideal. Let rise for about 1 to 1 1/2  hours.
Use a 9 x 13-inch baking pan size well greased with olive oil. Transfer dough to the pan. Drizzle garlic-olive oil mixture over.
Using your fingers, dimple the dough with the olive oil-garlic mixture.
Cover the pan with plastic wrap. Let the dough rise for 20-30 minutes or until  increased in size.
Bake for 20 to 25 minutes or until top is golden brown and bottom is cooked and sponge. Let Focaccia rest to cool over a rack "if you can wait".. Enjoy!