DESSERTS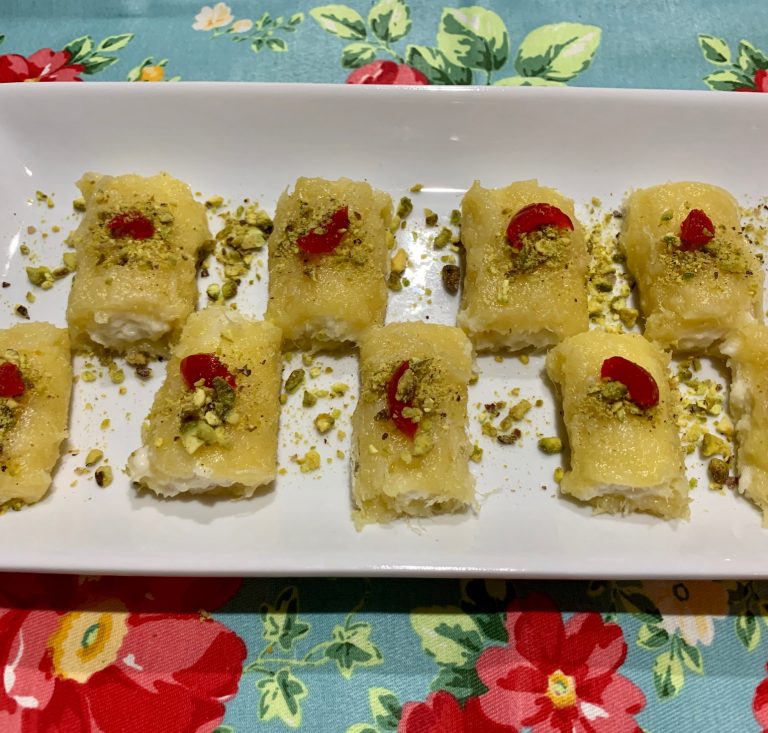 Ingredients
For the Sugar Syrup:
2 cups of granulated sugar
1 cup water
1 Tablespoon Orange Blossom water
1 Tablespoon Rose Water
1/2 Tablespoon of fresh lemon juice
Preparation
1. Use a medium saucepan at medium heat add sugar and water.
2. Bring to a boil and reduce heat. Simmer on low heat for about 8 to 10 minutes. Add lemon juice. Sugar will thicken and become slightly like a syrup. Add rose water and orange blossom water. Stir and remove from heat. Set aside.
For the Cheese Rolls Dough:
1 cup of fine semolina
1 1/2 cup mozzarella cheese, shredded
1/2 cup water, room temperature
1/2 cup sugar
1 Tablespoon orange blossom
1 Tablespoon rose water
Preparation
On medium-high heat using a large stainless or nonstick saucepan dissolve water and sugar stirring until sugar completely dissolves. Add rose and orange blossom water.
When sugar start boiling add slowly the cheese and keep stirring with a spatula or wooden spoon constantly until cheese is melted.3. Reduce heat and add gradually semolina and keep stirring until mixture comes together forming a homogeneous dough.4. Remove from heat and let it cool for about 5 minutes or until able to handle but still warm.
5. Place the cheese dough over a plastic wrap or a big plastic bag drizzled with 1 tablespoon of the Sugar syrup previously made, and cover cheese dough with another sheet of plastic wrap or bag on top.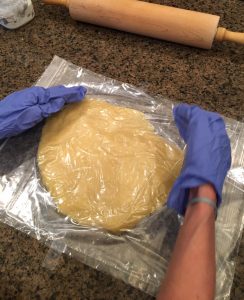 6. Roll the dough using a rolling pin and extend it into a rectangle of about 9×13 inches.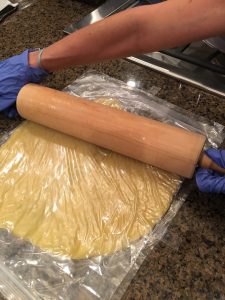 7. Remove the top plastic sheet.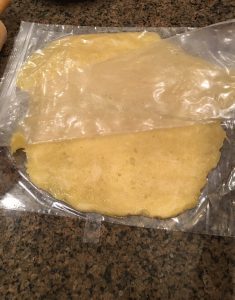 8. Use a pizza cutter to obtain an even rectangle.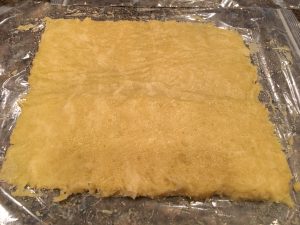 9. For  the Ashta cream (see recipe on my site under Mafroukeh-Pistachio cake)
Spread the Ashta Cream 1 inch from the border closest to your side.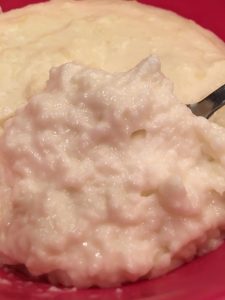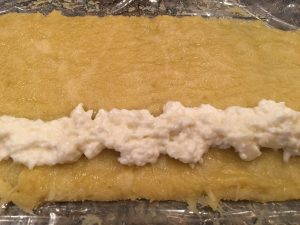 10. Roll and lift up the plastic under the cheese dough and wrap it completely over the Ashta cream.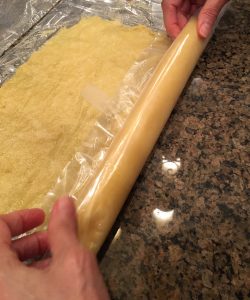 11. Using a pizza cutter make a cut along the log to cut it from the rest of the cheese dough.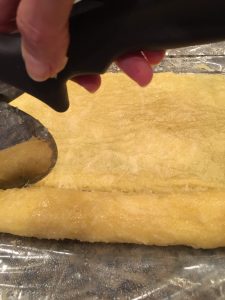 12. Repeat same procedure until you finish with your cheese dough.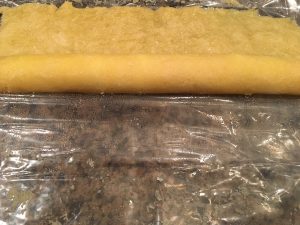 13. Place logs of cheese dough into the refrigerator for about 15 to 20 minutes to be able to cut it easier into small pieces.
14. Sprinkle with ground pistachios and some Maraschino cherries in the center.        Enjoy!