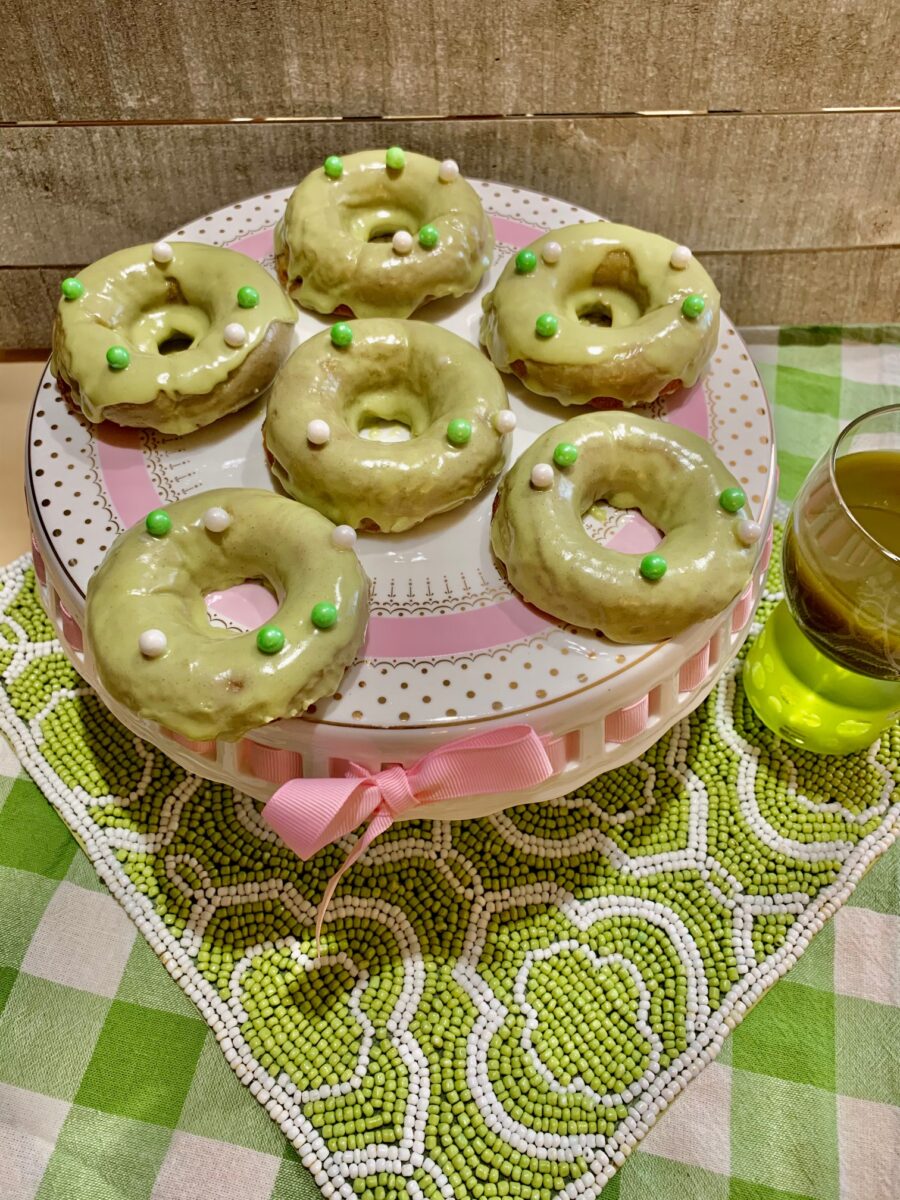 Ingredients for Doughnuts
Yield: 6 doughnuts
3/4 cup All-purpose flour
2 Tablespoon sugar
1 1/2 Tablespoon Matcha green tea powder
1/2 teaspoon baking powder
1/3 teaspoon baking soda
pinch of salt
1 large egg
2 Tablespoon sour cream
1/4 cup of Green Matcha tea latte (store bought)
1/2 teaspoon vanilla extract
2 Tablespoon coconut oil
Ingredients for Matcha Glaze
1-2 cup powder sugar
1 Tablespoon Matcha green tea Powder
1-2 Teaspoon green Matcha tea Latte
1/2 teaspoon vanilla extract
Preparation for Doughnuts
Preheat oven to 350 grades Fahrenheit. Grease lightly with baking spray a donut pan.
Mix all dry ingredients in a medium size bowl: flour, sugar, Matcha powder, baking powder, baking soda and salt. Set aside.
In a small bowl whisk together eggs, sour cream, green Matcha tea latte, vanilla and coconut oil until well combined.
Incorporate wet ingredients into all dry ingredients. Whisk.
Mix well until well combined. 6. Transfer doughnut batter into a pastry piping bag and fill almost all the way up into the molds. 7. Place doughnuts baking pan in the center rack of your oven and bake for about 15 to 20 minutes or until the edges of doughnuts are slightly golden and a tooth pick inserted into the center comes out clean. 8. Remove from oven and let it cool in pan for 10 minutes. Transfer doughnuts over a wire rack to cool completely. Meanwhile prepare Glaze.
Preparation for Glaze
In a small bowl, whisk together powder sugar, Matcha green powder, Matcha tea latte and vanilla extract until creamy, and smooth with a thick consistency.
Dip each donut in the glaze and let them drip off a wire rack. Place a parchment paper under wire rack to catch the drippings.
Make your desired decoration. Let glaze dry for about 20 minutes. Enjoy!