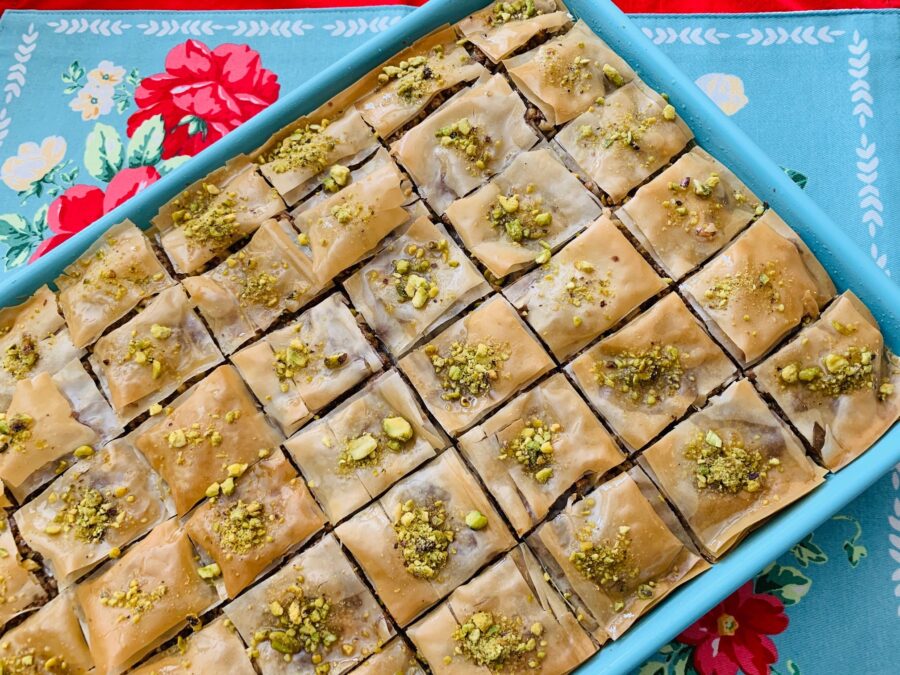 Baklava Filling:
16 ounces pack Phyllo Dough, thawed
1 1/2 cup walnuts, grinded coarse
1 1/2 cup pistachios, finely grinded
1 1/2 teaspoon cinnamon, ground
Hint of cloves, ground (optional)
1 cup melted butter, unsalted
2 Tablespoon granulated sugar
1 teaspoon of Rose Water (recipe on my site or store bought)
1 teaspoon of Orange Blossom Water
Preparation:
Preheat oven to 375 grades Fahrenheit.
Using a food processor pulse and grind all nuts, separately.
Incorporate cinnamon, sugar, rose water and orange blossom into the combined nuts. Mix and place aside into a bowl.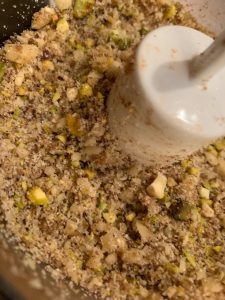 Assembling Baklava:
1. Place one sheet of thawed Phyllo Dough on the bottom of a greased 9×13 baking pan, and brush it lightly with the melted butter. You can trim the dough a little bit to fit in your baking pan.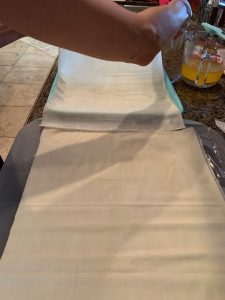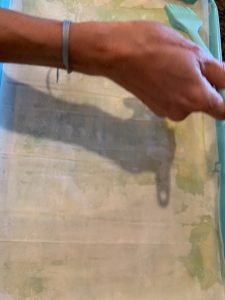 2. Repeat the process by placing 5 more Phyllo dough sheets on top of another brushing lightly each one with melted butter.
3. Spread 1 cup of the nuts mix over in a single layer.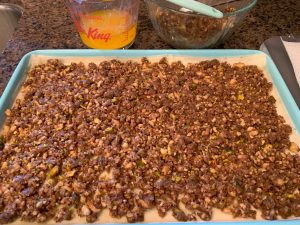 4. Add another 4 layers of Phyllo dough brushing each one with melted butter .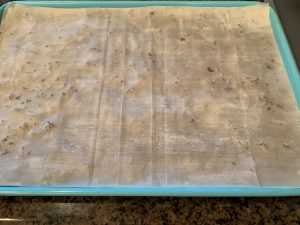 5. Spread another one cup of nuts mix over the top. Repeat process with another 4 layers of phyllo dough brushed with melted butter, last cup of nut mix over the  top. Another 6 layers of phyllo dough. So you will have approximate in total used 20 sheets of phyllo dough with 3 layers of nuts filling in between. (You can add more layers if you want). I prefer a Baklava piece not too thick.
6. Using a very sharp knife, cut baklava before baking into equal size squares.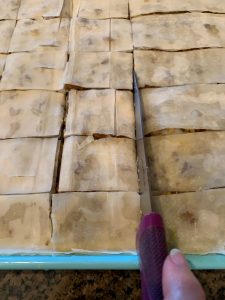 7. Brush top with the remaining of the melted butter.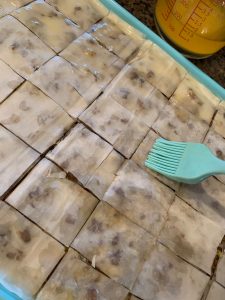 8. Bake Baklava for about 35 to 40 minutes, until slightly golden brown. Meanwhile prepare The Syrup: Use a saucepan and incorporate 2 cups of sugar dissolved into 1 cup of water. At medium heat stirring occasionally let it simmer and add the juice of 1/2 a lemon. Lower the heat and keep stirring for about 10 minutes until syrup thickened. Add 1 Tablespoon of Orange Blossom water. Remove from heat.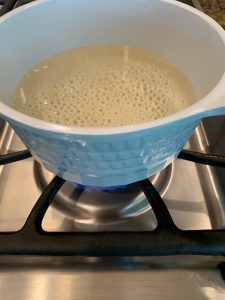 9. Remove Baklava from oven and while is hot pour warm syrup(Atur) over the top.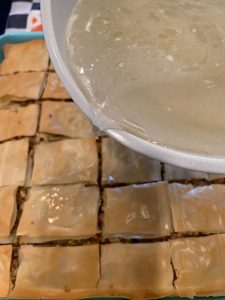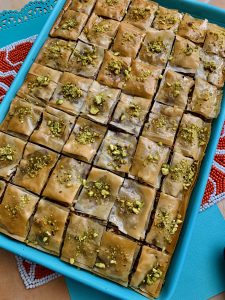 Garnish top of your delicious Baklava with some coarsely grind pistachios.
Enjoy!
Note: Let the Baklava absorbed the syrup and will be ready to serve when completely cool after 2 to 3 hours. Baklava can be stored at room temperature in an air-tight container for 2 to 3 weeks.