A HEALTHY MEAL PLAN, COOK FOR A CROWD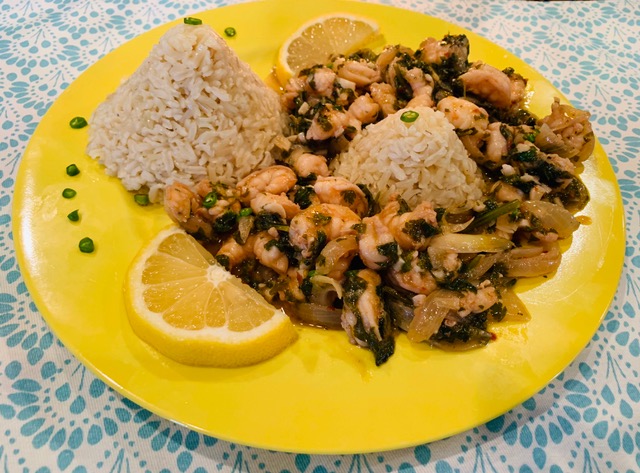 Ingredients
3 Tablespoons Butter
1 Tablespoon extra Virgin Olive Oil
4-5 cloves garlic, minced
1 small onion, sliced
1 1/2 cup fresh cilantro leaves, chopped
1 pound medium shrimps, peeled and deveined.
2 lemon juiced
1 bunch green onions, sliced
1 small jalapeno, thinly sliced
1/2 teaspoon crushed red pepper flakes
1/2 teaspoon smoked paprika
1/2 teaspoon garlic salt
1/2 teaspoon freshly ground black pepper
Preparation
Use a large skillet. Heat the olive oil and butter on medium-high heat till starting to turn golden brown and add garlic.
Sate garlic for 2 to 3 minutes. Add green onions. Seasoned with crushed red pepper, smoked paprika, garlic salt and black pepper.
Add sliced onions and cleaned shrimps. Cooked for 3 to 5 minutes till onions are tender and shrimps turned pink. Add fresh lemon juice, diced jalapeno, and chopped cilantro leaves.
Cook for another 4- 5 minutes until sauce is slightly reduced and all flavors are well combined. Serve next to a warm nutty brown rice.   Enjoy!