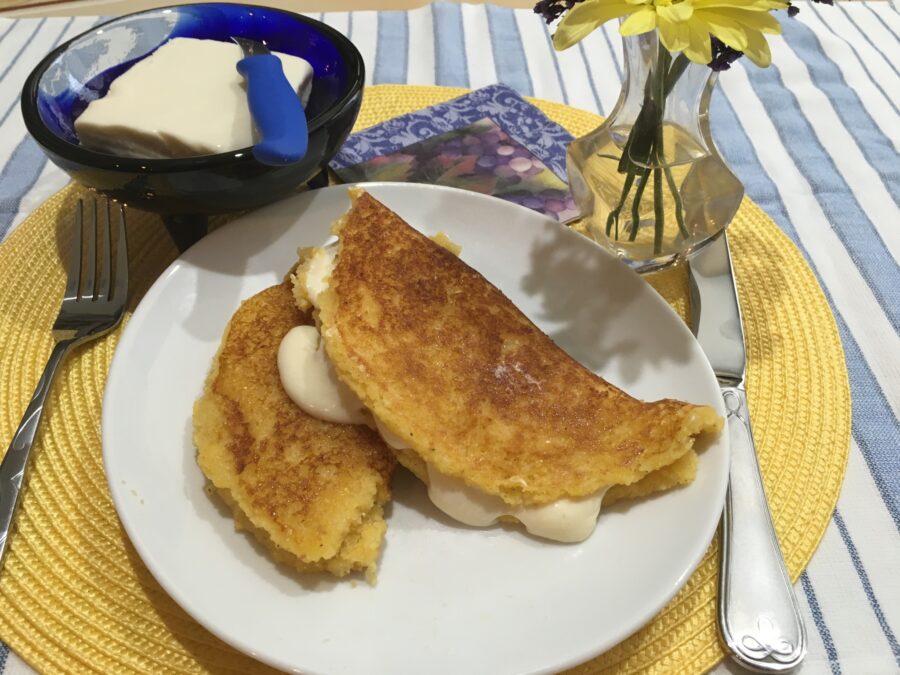 Ingredients for two Cachapas
2 cups fresh yellow corn kernels
1/4 cup whole milk
1 Tablespoon butter
1/4 cup cornmeal or harina pan venezolana (international aisles to find)
1 egg
1/2 teaspoon sugar
1/2 cup fresh grated mozzarella cheese or (authentic queso mano)
Preparation
Grind the yellow corn in a food processor or blender. Blend together yellow corn kernels, milk, sugar, cornmeal or harina pan, and butter until batter have thickened and well blended with a smooth consistency.
Preheat a griddle or a cast iron pan over medium heat.
Grease the griddle with a little butter (using a paper towel). Pour about a half cup measured or more of the batter creating a circle well even distributed.
Cook Cachapas on one side for about 4 to 5 minutes. Flip and sprinkle mozzarella cheese over. Cook for another 2 to 4 minutes on the other side until cheese has melted completely and cachapa is golden brown. Fold in half and spread butter over the top. Yumm!
Note: You can have this delicious Homemade Fresh Corn Cachapa typically served next to  a delicious doll of Venezuelan Nata or creamy  Mexican Sour Cream and "queso de mano" which can be substitute with mozzarella cheese. Enjoy!