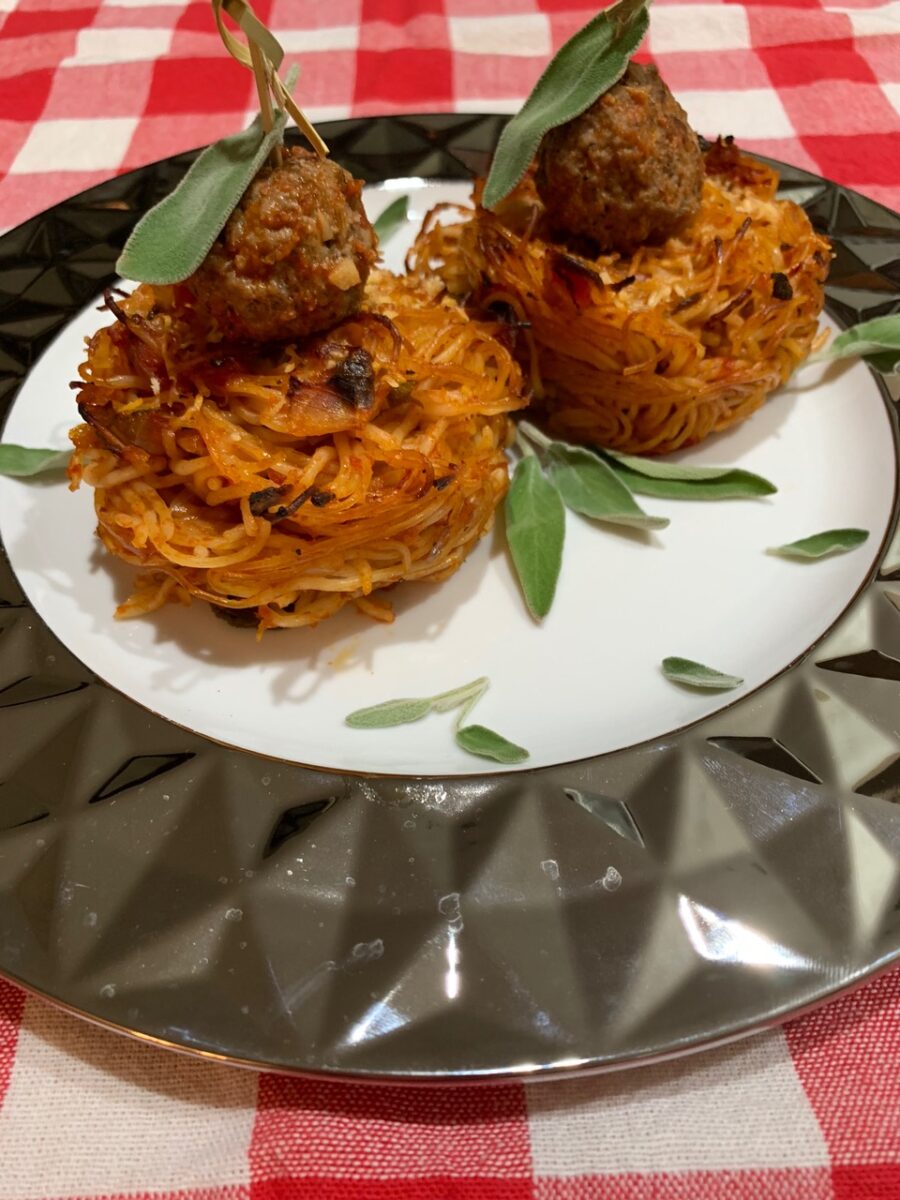 Ingredients for the Tomato-Sage Sauce
1 medium size onion, finely chopped
12-15  fresh sage leaves
4 cloves of garlic, minced
2 Tablespoon butter
1 tablespoon extra virgin olive oil
1 cup of tomato sauce
5 fresh tomatoes, diced
1 teaspoon Kosher salt
1 teaspoon freshly ground black pepper
1 cup of parmesan cheese, grated(set aside)
1-16 ounces package spaghetti pasta
Meatball (please see my site for this delicious recipe)
Preparation for sauce:
Heat the butter and olive oil over low heat in a large pan. Add the sage leaves to infuse the butter and oil. Sate for about 3 minutes. Remove sage leaves from butter and set aside over a plate with paper towel.  Add garlic and onions to the butter and oil. Cook for about 2 to 3 minutes.
Add fried chopped sage leaves over onions and garlic. Incorporate fresh diced tomatoes. Add tomato sauce, salt and pepper. Let it simmer at medium heat for about 15 minutes. Meanwhile cook pasta in Kosher salted water following package instructions. Rinse pasta and set aside.
Preheat oven to 375 grades Fahrenheit. Grease 12 muffin cups with cooking butter spray.
Toss tomato-sage sauce into the cooled spaghetti.
Divide spaghetti between the 12 greased muffin cups.
Top each nest with grated parmesan cheese.
Bake until cheese has melted and pasta is slightly crispy around edges for about 20 minutes.
Remove from oven. Assemble a party tall toothpick with cooked meatball and fried sage leaf in the center of the spaghetti nest. Ready to serve. Enjoy!