A HEALTHY MEAL PLAN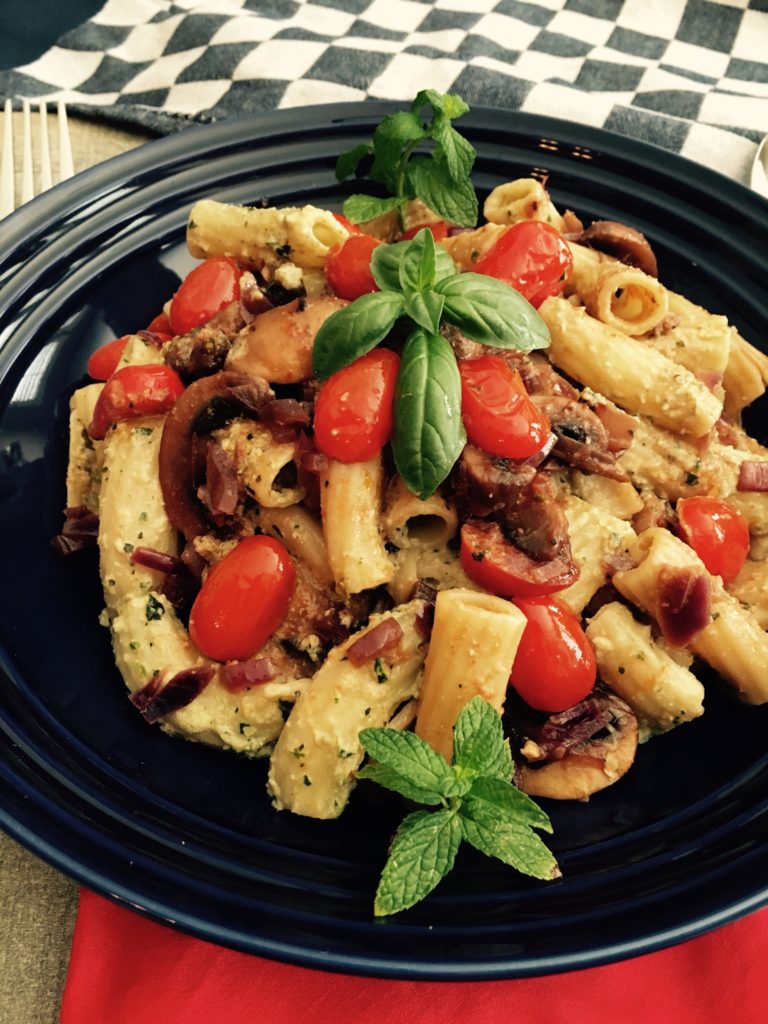 Hearty, nutty, creamy and very satisfying Vegetarian Pasta on its own. A great summer dish to enjoy!
Ingredients
1 Pound of Rigatoni Pasta
2 cups cherry tomatoes, cut in halves
1 1/2 cups fresh cleaned mushrooms, sliced
2 1/2  cups fresh basil leaves
1/2 cup fresh mint leaves
1 1/2 cup walnuts
1/2 cup Extra Virgin Olive Oil (for Pesto)
1/3 cup water
3/4 cup freshly grated Pecorino Romano or parmesan cheese
2 Tablespoon Extra Virgin Olive Oil
3 cloves garlic, whole
1 cup cherry tomatoes, halves
1 red onion, diced
2 teaspoon dried oregano
1 teaspoon sea salt
1 teaspoon freshly ground black pepper
1/2 teaspoon nutmeg, freshly ground
Preparation for Walnut Basil-Mint Pesto
Place in blender or food processor walnuts, fresh basil, fresh mint and garlic. Pulse several times until blended.
Drizzle slowly Extra Virgin Olive Oil while continuously pulsing.
Add water, grated cheese, salt and pepper. Blend well until creamy. Set aside.
Preparation for Pasta
Boil pasta into 4 quarts of salted water until cooked al dente. Set aside.
Meanwhile, in a large saucepan pan at medium low heat, sauté mushrooms in two Tablespoon of Olive Oil and diced red onions until slightly tender. Add cherry tomatoes. Seasoned with dried oregano and nutmeg. Cook till mushrooms are golden brown and cherry tomatoes have partially softened.
Add pasta to this sauce. Mix well and incorporate Walnut Basil-Mint Pesto. Turn heat down and stir all together. Serve with a little drizzle of Extra Virgin Olive Oil over the top . Enjoy!
Note: Walnut Pesto freezes well and last for several weeks without incorporating grated cheese. Add cheese after defrosting.