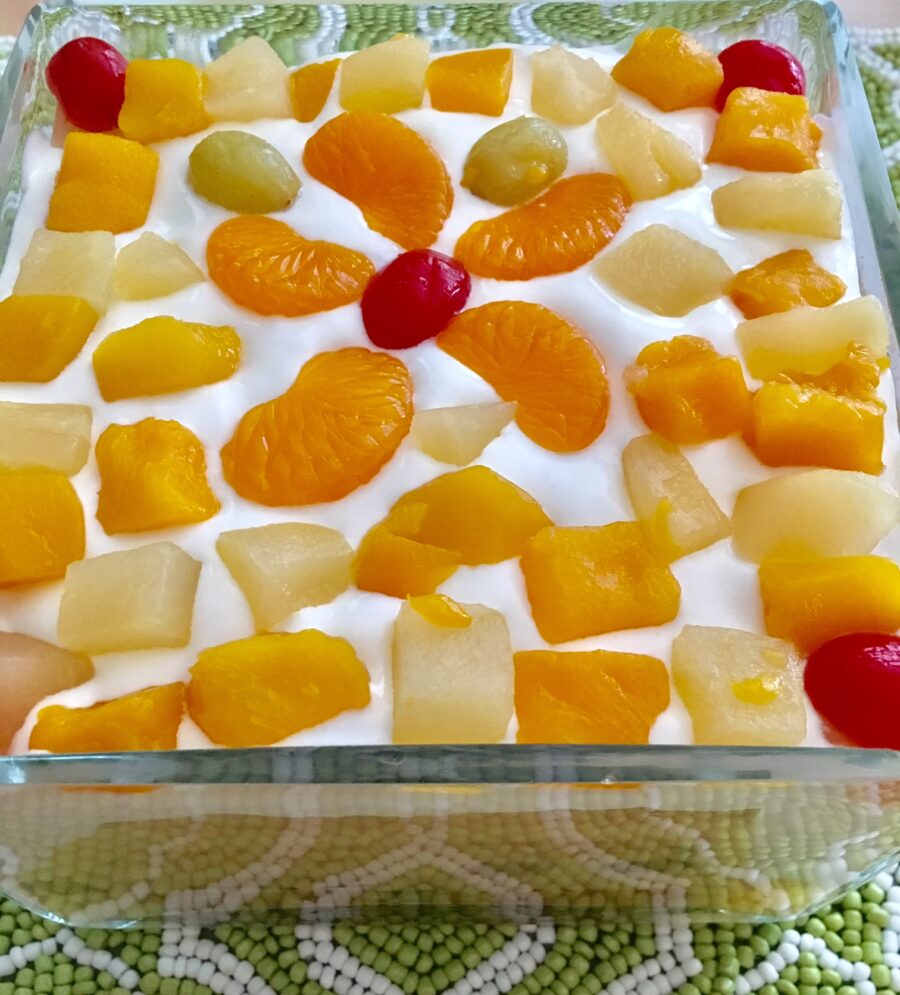 Ingredients
1 can (106 ounces) fruit cocktail, drained and juice reserved
20-24 ladyfingers cookies
1/4 cup sugar
4 egg yolks, whisked
2 cups whole milk
1 Tablespoon corn starch
1 teaspoon vanilla extract or orange liquor
1 cup pineapple juice
1 (8 ounces) Cool Whip
Preparation
Heat milk in a medium size pan on medium heat and right before the boiling point turn off heat and set aside.
Using another saucepan whisk together sugar, cornstarch and egg yolks until pale and smooth.
Incorporate warm milk slowly while constantly whisking over medium-low heat for about 12 to 15 minutes or until custard thickens.
Add orange liquor or vanilla extract and mix all well.
Let custard to cool down and set aside.
Use a deep bowl and pour in drained cocktail fruit juices and mix with pineapple juice. Set aside.
To assemble: Using a 7×7 inch glass pan or any one you have, dip the lady fingers in mixed juices and arrange a layer of the lady fingers evenly on bottom of your pan.
Spread 3/4 of the custard on top. Pour 3/4 of the fruit cocktail over custard.
You may continue for another two layers.
Spread custard again on top.
Lastly top with ready whipped cream(you can make your own).Beat together 1/2 cup of heavy cream with 2 to 3 cups of powder sugar.
Spread final top layer with whipped cream. Decorate top covering with cocktail fruits completely.
Place in the fridge for 1 to 2 hours or overnight to chill. Enjoy!