ORGANIC PIZZAS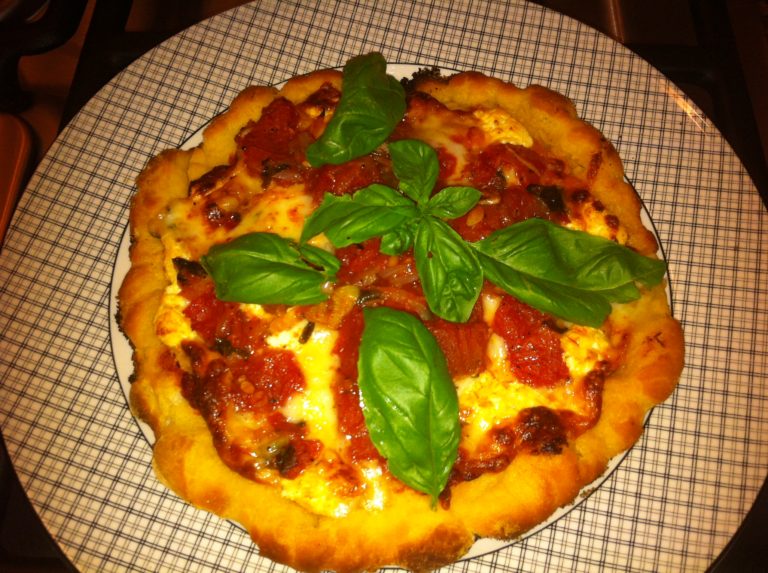 Try making this Pizza on the grill instead of the oven. It turn out more smoky because of the high heat with a delicious crispy but chewy crust.
Ingredients for the Pizza Crust and how to make it (find recipe in my site under Pizza Dough Crust)
For the Sauce:
1 (15 ounces) can diced tomatoes
1 teaspoon pomegranate molasses
3 cloves of garlic, minced
3 Tablespoon Extra Virgin Olive Oil
1/2 teaspoon salt
1/8 freshly ground black pepper
1/4 teaspoon sugar
1/2 teaspoon dried basil
8 ounces mozzarella cheese, sliced
Garnish with fresh basil leaves
Preparing the Sauce: (2 pizzas 10-inch piece)
Pulse 5 to 6 times in the blender or food processor the garlic and diced tomatoes with juices until chopped coarsely. Add olive oil, salt, black pepper, sugar and pomegranate molasses. Pure until sauce has your desired consistency and spread over 2 pizzas. Top with mozzarella cheese slices and place pizza on the grill. Remove from grill. Let it cool for 2 to 3 minutes. Garnish with fresh basil leaves. Enjoy!