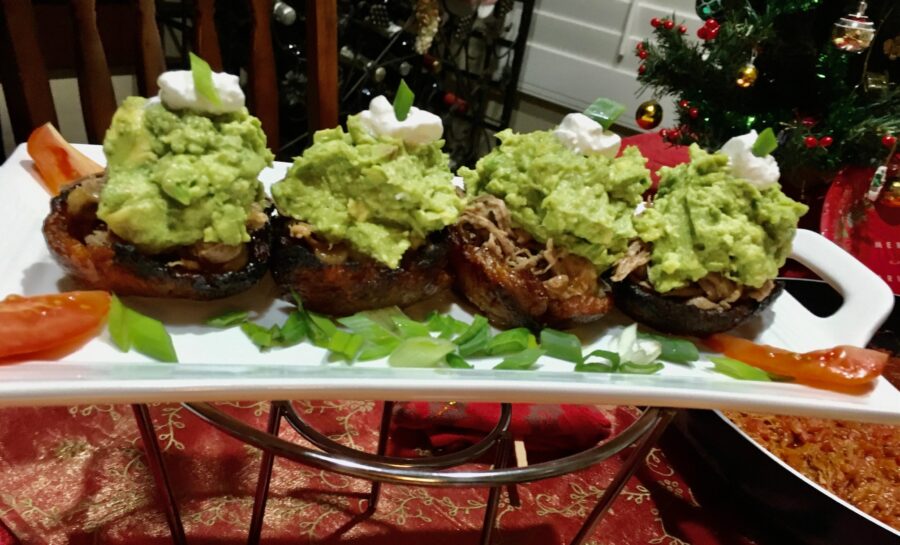 Ingredients
4 plantains, sliced
Vegetable Oil, for frying
2 avocados
1/4 cup sour cream
2 Tablespoons fresh lemon juice
1/4 cup cheddar cheese, grated
Salt and pepper TT (to taste)
green onions, for garnish
Shredded Beef (see my site for recipe)
Preparation
Peel ripe plantains. Cut into 1 – 1 1/2inch slices.
Preheat oven to 375 grades Fahrenheit.
In a deep pan with plenty of vegetable oil, fry plantains until golden brown on both sides.
Press each plantain(using 2 or 3 slices per each basket) into the bottom of a large muffin tin pan. Place into preheated oven for about 20 minutes to crisp up around the borders. Remove from oven, let them cool for 15 minutes before removing plantain basket with a spatula from pan. Set aside over a platter.
In a bowl, mash avocados. Add pinch of salt, pepper and lemon juice. Set aside.
To assemble: Place 2 Tablespoon of warm shredded beef in each plantain basket, top with cheese. 7. Then top with a dollop of avocado, sour cream, and a sprinkle of some green onions. Enjoy!