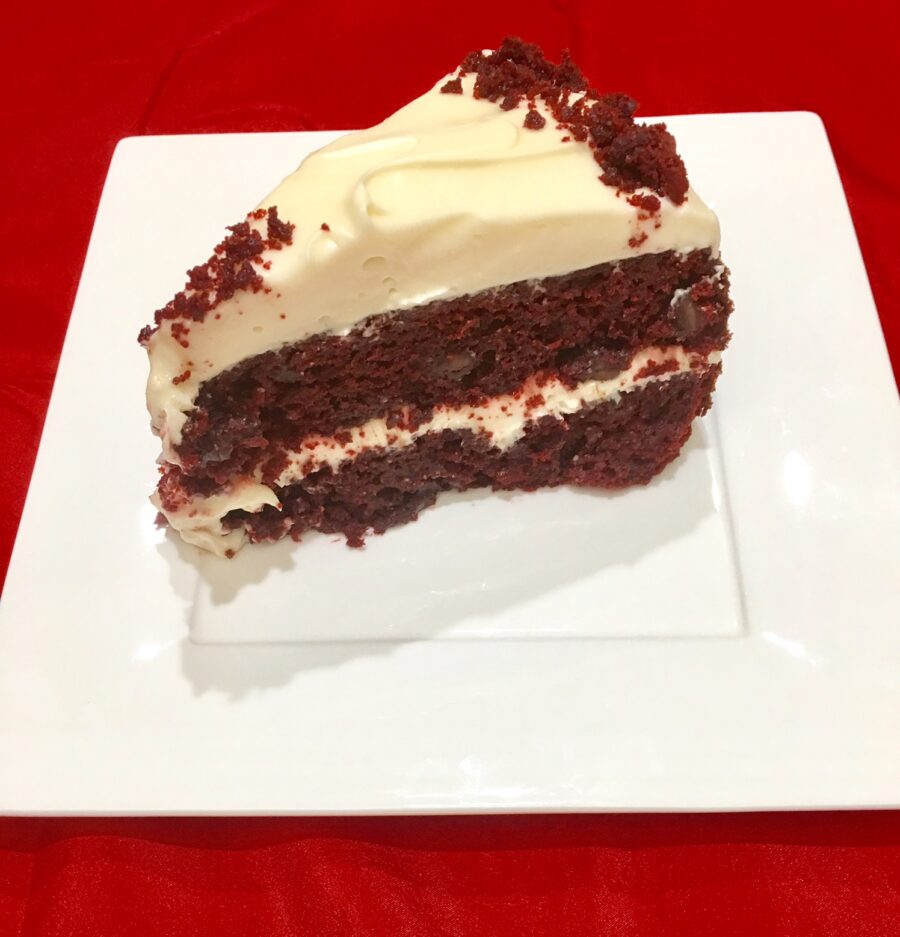 Ingredients
3 1/2 cups cake flour
4 eggs, room temperature
1/4 cup sweetened cocoa powder
1 1/2 cup granulated sugar
1 cup vegetable oil
1/2 teaspoon baking soda
1/3 teaspoon salt
1 Tablespoon vanilla extract
1 cup plain yogurt
1 1/2 cup semi-sweet baking chocolate chips
1 teaspoon distilled white vinegar
red food coloring, gel
Preparation
Preheat oven to 350 grades Fahrenheit.
Prepare two 9 inch-cake pans grease with baking spray. Place cut round parchment paper to fit on bottom of the pans and coat again with nonstick spray. Set baking pans aside.
Using a large bowl, whisk together cake flour, cocoa powder, salt and baking soda. Set aside.
Using a stand mixer fitted with whisk attachment add the oil, eggs, vinegar, vanilla extract, and yogurt. Mix on medium speed until combined. Incorporate sugar and mix well.
Turn mixer to low and add in the flour, cocoa powder, salt and baking soda . Beat all ingredients until batter is creamy but still light. Do not over beat, avoiding cake to become dense.
Add few drops of red food coloring to reach color desired. Scrape the sides and bottom of the bowl and fold in gently the chocolate chips using a spatula.
Divide batter equally into the two prepared pans. Bake for 30 to 35 minutes or until tops are firm but still soft, as it will continue to harden in pan.
Remove cakes from oven and let it cool in pan for 15 minutes before inverting in a rack to cool completely.
Mascarpone Cream Frosting
Using a hand mixer or a whisker beat 16 ounces of room temperature mascarpone cheese with 3/4 cup of room temperature sweet butter until creamy and smooth.
Add 4 to 5 cups of confectioner sugar slowly. Add 2 tablespoon of heavy cream and 1 teaspoon of vanilla extract. Cream together till all ingredients are well incorporated. If frosting is too thin add more confectioner sugar. Set aside.  Assembling and Frosting the Cake  
1. Use a serrated knife and slice thin layer of top of the cakes to have a flatten surface.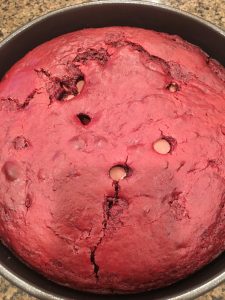 You may crumble that piece of cake removed and set aside for décor later.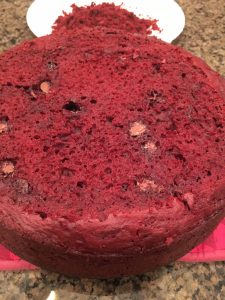 2.  Place one cake layer on the cake platter. Spread creamy frosting over the top.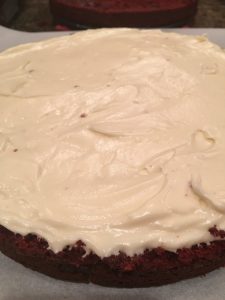 Top with second layer of cake.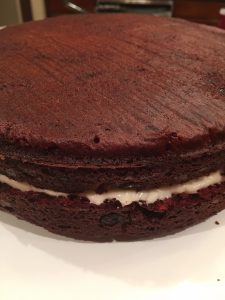 3. Spread left creamy frosting over the top of the cake.  Use your leftover cake crumbles to decorate on top of frosting. Enjoy!