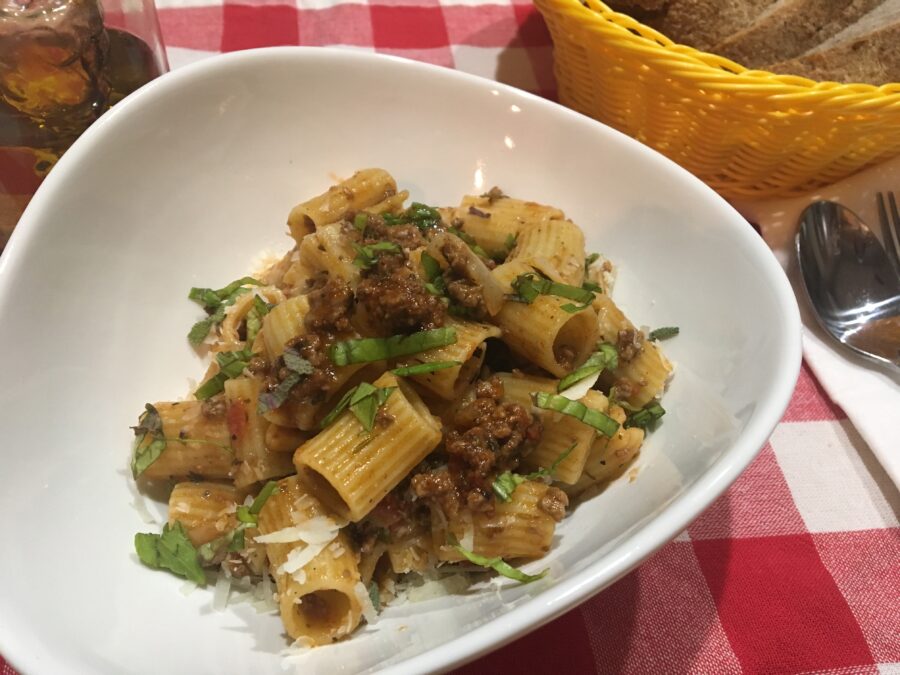 Ingredients
1 Pound Rigatoni
1 Pound ground Beef
2 cloves garlic, finely chopped
1 Tablespoon Olive Oil
1/2 Tablespoon Butter
1 Onion, small diced
4 tomatoes, small diced
1 teaspoon dried oregano
1/2 teaspoon cinnamon, ground
1/2 cup white wine
1/2 teaspoon nutmeg, ground
1 teaspoon salt
1/2 teaspoon freshly ground black pepper
1/2 cup fresh Basil leaves, cut in long thin strips
4 Sage leaves, cut in long thin strips
1/3 cup Pecorino Romano Cheese, grated
Preparation
Prepare a large pot with water with a pinch of salt and set it at low heat.
Set at medium  heat a saucepan with olive oil and add ground meat. Brown meat for 5 to 10 minutes.
Add chopped garlic and diced onions. Cook for about 3 minutes.
Add salt, pepper, ground cinnamon, dried oregano, and nutmeg.
Pour white wine to deglaze the pan and add tomatoes. Stir and let it simmer at low heat for 45 minutes to an hour.
Higher the heat under salted water pot and let it boil. Add dried pasta and cook until al dente.
Drop cooked Rigatoni into the meat sauce, add butter and half of fresh basil and sage. Toss gently all together.
Remove from heat and serve. Sprinkle over the top with rest of the fresh basil, and sage. Top it with grated Pecorino Romano, and a drizzle of extra virgin olive oil. Yum! Enjoy next to our homemade delicious bread ( see recipe).