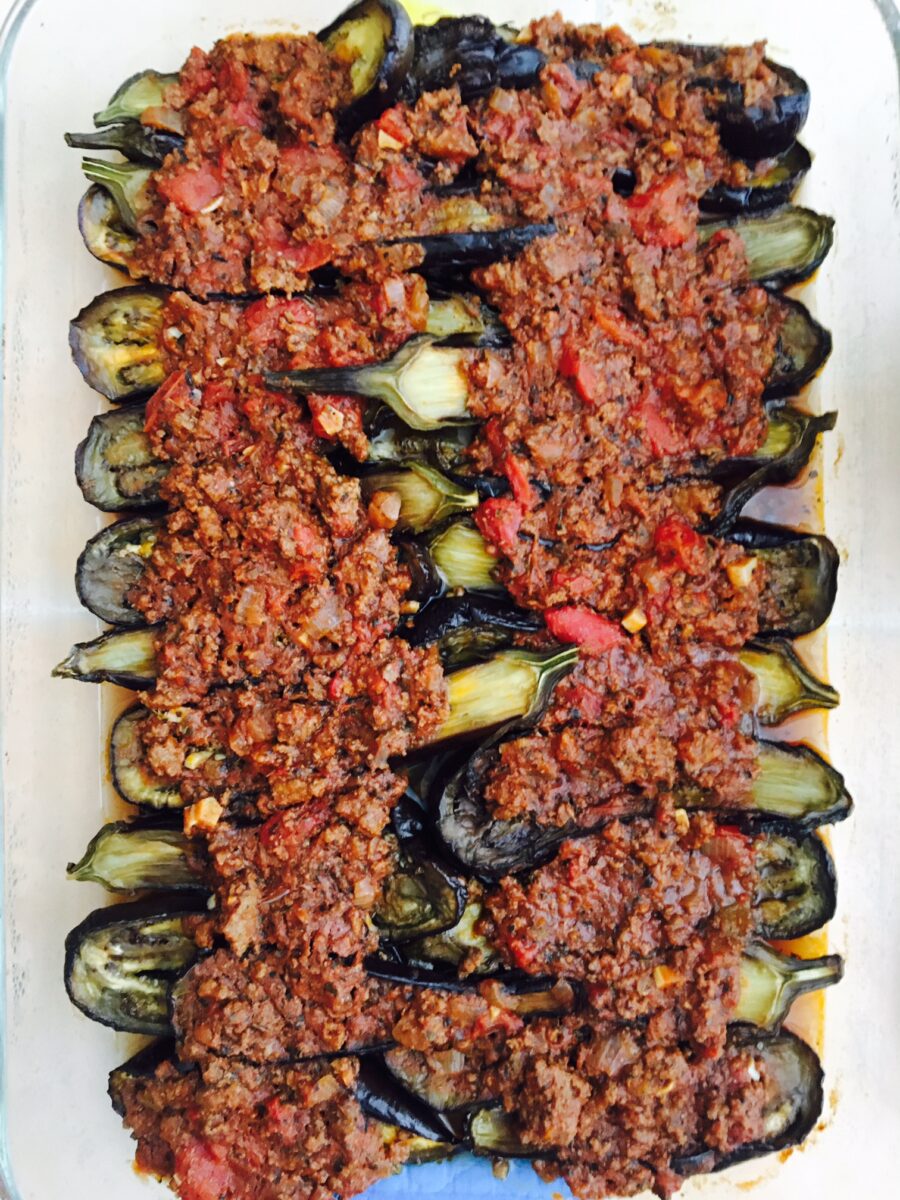 Ingredients for Meat Sauce
1 pound ground beef
1 onion, small diced
16 ounces can diced petite tomatoes
2 garlic cloves, crushed
2 Tablespoon extra virgin olive oil
2 Tablespoon butter
1 teaspoon fresh thyme
1 teaspoon cinnamon, ground
1/2 teaspoon nutmeg, ground
1 teaspoon fresh rosemary, chopped
1 teaspoon salt
1/2 teaspoon freshly ground black pepper
Preparation for Meat Sauce
Preheat oven to 400 grades Fahrenheit.
Add ground meat to a heated large pan with olive oil and butter.
Brown meat for 3 to 4 minutes. Add chopped onions and crushed garlic.
Sauté over medium heat until onions are soft. Add diced tomatoes.
Seasoned with thyme, rosemary, nutmeg, cinnamon, salt and pepper. Stir to combine. Once it start simmering lower the heat. Let the sauce simmer for about 30 to 35 minutes. Roast eggplants meanwhile.
Ingredients for Roasted Eggplant
12 baby eggplant, unpeeled and cut in half lengthwise
1 teaspoon salt
1/2 teaspoon freshly ground black pepper
3 Tablespoon of olive oil
1 teaspoon oregano, ground
Preparation
Place cut eggplants into a baking sheet. Seasoned with salt, pepper and ground oregano.
Drizzle over with olive oil.
Roast eggplants in the pre-heated oven for about 30 to 35 minutes or until tender.
Remove roasted eggplant from the oven. Top eggplants in the center with meat sauce. Serve warm next to rice. Enjoy!