A HEALTHY MEAL PLAN, MEDITERANIAN DISHES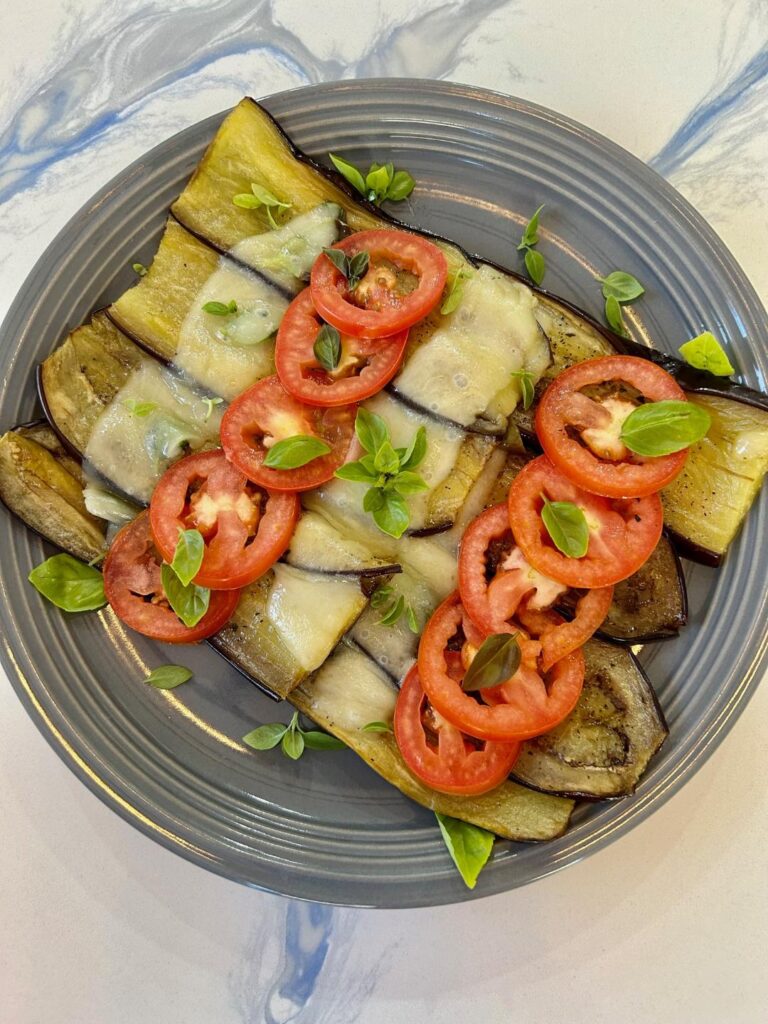 LOVE PIZZA! Make this super simple and delicious snack in no time. Satisfy your craving without the carbs!
Ingredients:
4 medium size eggplant sliced into 3 long pieces; 1/2 to 1 inch thick
3 Roma tomatoes, cut rounds into 1/2-inch thick slices
fresh basil
3 – 4 Tablespoons of Olive Oil, to drizzle and for pan
6-7 slices of Provolone Cheese
1 teaspoon Herbes of Provence
1 teaspoon Kosher salt
1/4 teaspoon ground black pepper
1/3 teaspoon garlic powder
Preparation
Preheat oven to 400 Grades Farenheit.
Prepare a large baking sheet with foil and drizzle over with some olive oil.
Arrange 4 long slices of eggplants overlapping, in three rows of 4 each.
Drizzle with olive oil all tops of eggplants slices.
Sprinkle with Herbes of Provence, salt, pepper and garlic powder. Place in oven and bake for about 10 to 15 minutes till eggplants are cooked and tender with crispy bottoms. Remove from oven. 
Arrange 5 slices of round sliced tomatoes on top of each row of eggplants.
Bake for about 15 minutes.
Remove from oven, sprinkle with some fresh basil leaves. 
Arrange cheese wherever you prefer.
Return to oven and bake for another 5 to 10 minutes until cheese is melted. Remove from oven and allow to cool in pan for 5 minutes before serving. Enjoy!