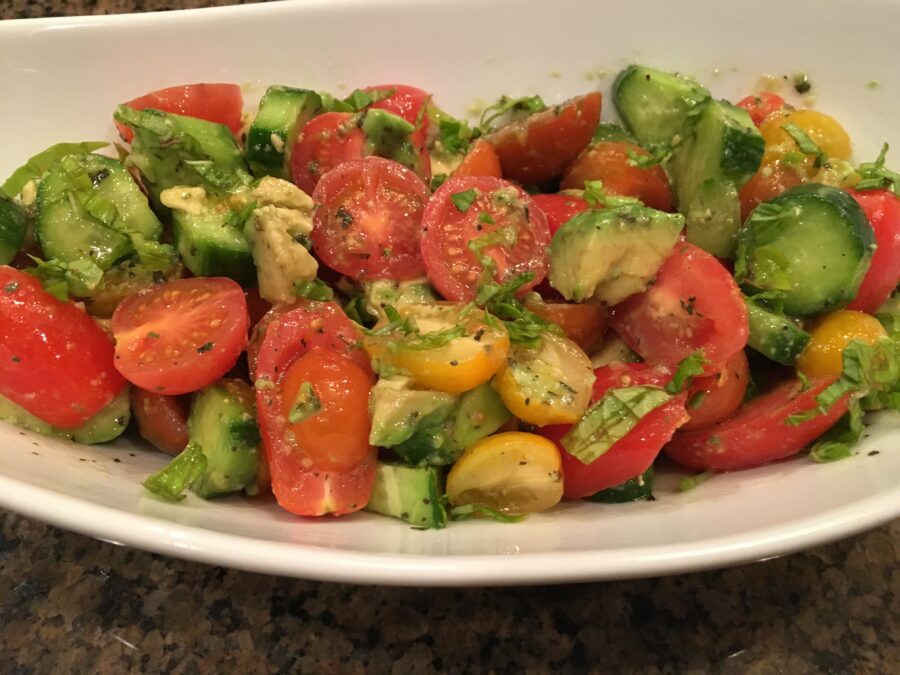 Ingredients
2 cups of cherry tomatoes, cut in half
2-3  Persian cucumbers, diced
1 avocado, diced
3 Tablespoons fresh basil, long thin strips
1 Tablespoon dried mint
3 Tablespoon Extra Virgin Olive Oil
1 Tablespoon red wine vinegar
1 teaspoon salt
1/2 teaspoon freshly ground black pepper
1 teaspoon pomegranate molasses
Preparation
Place cherry tomatoes, diced cucumbers and avocados into a bowl.
Whisk together extra virgin olive oil, red wine vinegar, and pomegranate molasses. Add salt, freshly ground black pepper, dried mint and mix all together.
Pour over salad and toss gently. Stack leaves of basil and roll them tightly, then slice them perpendicular to the roll. Sprinkle with fresh basil leaves thin strips. Can be refrigerated one hour before serving. Enjoy!