A HEALTHY MEAL PLAN, APPETIZERS, ASIAN DISHES, MY CHILDREN'S FAVORITES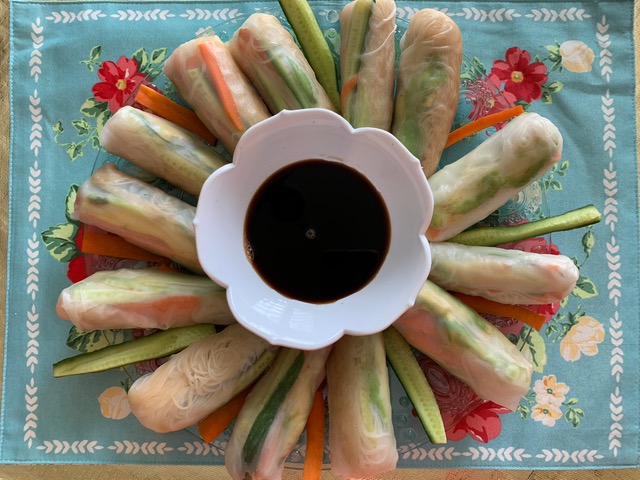 Ingredients
6-8 pieces of rice paper
4-5 Persian cucumbers, cut into sticks
3-4 carrots peeled, cut into sticks
5 ounces Chinese Vermicelli rice noodles, cooked
2 avocados, sliced
Dipping Sauce
2 Tablespoon sesame oil
2 Tablespoon soya sauce
1 Tablespoon lemon juice
1 Tablespoon brown sugar
1 teaspoon minced garlic
1 teaspoon minced ginger
1 teaspoon rice vinegar
Mix all ingredients. Set aside
Preparation
Cook rice noodles until they turn soft into boiling water for about 3 to 6 minutes. Drain well and rinse.
Simmer water in a large pot. Turn off heat. Dip one rice paper into the warm water for 6-8 seconds or till rice paper has slightly softened.
Over a cutting board or a flat clean surface, lay rice paper. Place first, cooked clear noodles over rice paper. Drizzle 1/2 teaspoon of dipping sauce over noodles. Pile sticks of cucumber, carrots and top with sliced avocados.
Roll tight the spring roll one time, and then continue by tucking in sides until is completely rolled and closed.
Serve this 4 ingredients refreshing Spring Rolls recipe with the Dipping Sauce. Enjoy!