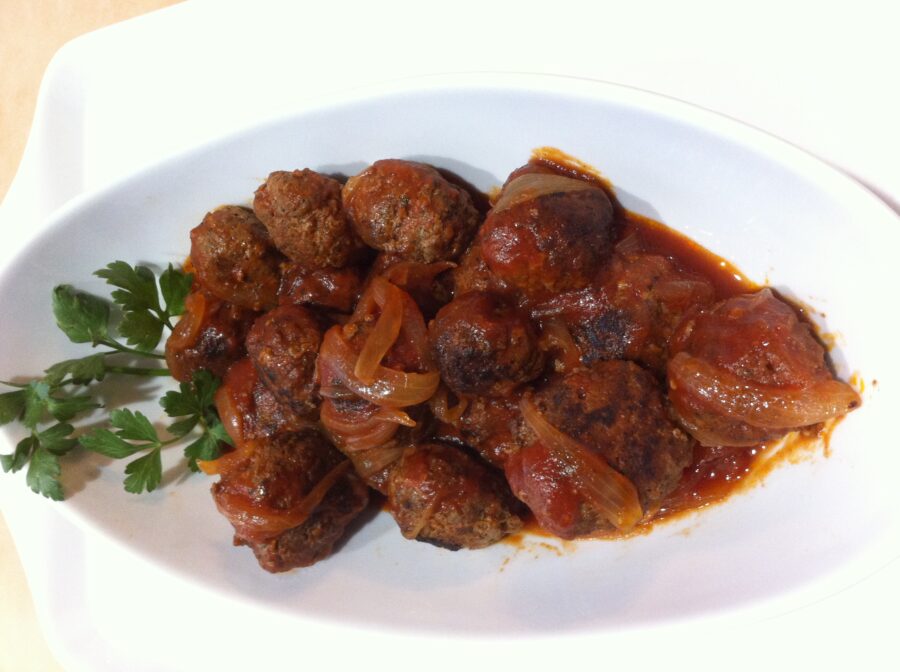 Ingredients
1 pound ground beef
1 pound ground pork
1 large onion, finely diced
1 cup of red peppers, finely diced
3/4 cup bread crumbs
1/2 cup parsley, finely chopped
1 Tablespoon ketchup
1 teaspoon salt
1 teaspoon nutmeg, grated
1 teaspoon freshly ground black pepper
1 teaspoon ground oregano
3 Tablespoon olive oil
Sauce
1 (16 ounces) can crushed tomatoes
1 can 6 ounces tomato juice
1 Tablespoon dried oregano
1 Tablespoon dried basil
3 cloves garlic, minced
2 onions, sliced
2 teaspoon olive oil
Preparation
In a large bowl mix meat, pork, onions, peppers and parsley with wet hands with water.
Add salt, pepper, nutmeg and mix all well. Add ketchup and bread crumbs.
Do not over mix your meat to do not become hard, you want soft meatballs from the inside. Form tablespoon measure balls from the mixture and set aside.
In a large skillet heat 3 Tablespoon of oil and brown meatballs in batches.
Sauce preparation:
In a saucepan cook at low heat garlic in 2 teaspoons of olive oil for about 10 seconds and add sliced onions and sate for about 10 minute until onions have softened. Add crushed tomatoes, tomato juice, oregano, basil, salt and pepper.
On a medium heat simmer the sauce for about 15 minutes uncovered.
Add meatballs to sauce and let them cook almost covered for another 25 to 30 minutes until meatballs are completely cooked and tender. Serve warm with rice. Buen Apetito!