APPETIZERS, MY CHILDREN'S FAVORITES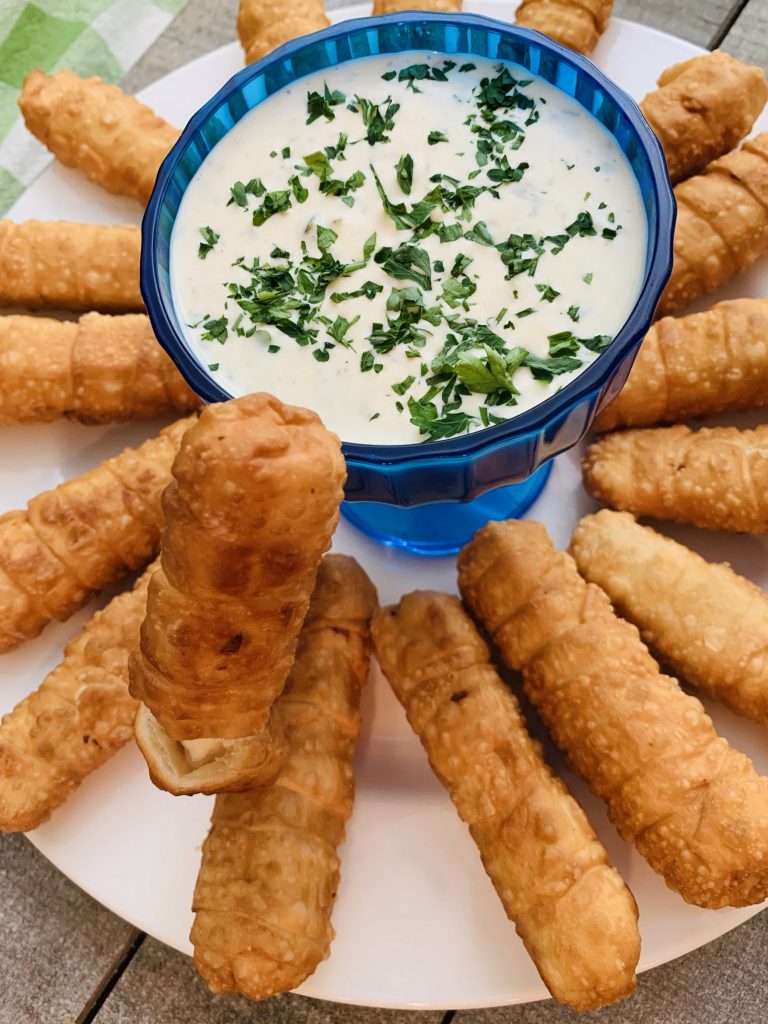 Ingredients
2 cups of All-purpose self rising flour
6 Tablespoon cold butter, cut into cubes
1 teaspoon salt
2 eggs, beaten
6-8 Tablespoon of milk or water (room temperature)
12 sticks of 3/4 inch white cheese(queso blanco para freir or akawi cheese)
Vegetable oil, for frying
Preparation
Place flour and salt into a large bowl. Hand whisk to combine and add cubes of butter. Work it into the flour using your hands to slightly break butter into small pea size pieces.
Add 2 eggs and water or milk into the flour mix. Combine well until dough comes together. Shape dough into a disc and wrap it with plastic. Place dough into the refrigerator for about 30 to 60 minutes.
Over a lightly floured surface roll out dough into a 12 inch square. Cut square into 1 inch wide strips.
Take end of strip and starting rolling around cheese stick and close tightly the ends.
Fill a deep skillet with 2 inches of vegetable oil and fry cheese sticks until golden brown in one side, turning halfway through for about 3 to 4 minutes.
Serve next to a Homemade Tartar Sauce: In a medium size bowl stir together one cup of mayonnaise with some chopped dill pickles, 1 tablespoon of smashed capers, 1 tablespoon of fresh lemon juice, 1 tablespoon of Dijon mustard, 1 teaspoon of Worcestershire sauce. Add salt and pepper TT. Mix all ingredients well. Also, can be serve next to a very simple Pink Sauce: Ketchup, Mayo, white vinegar and Worcestershire sauce. Enjoy!