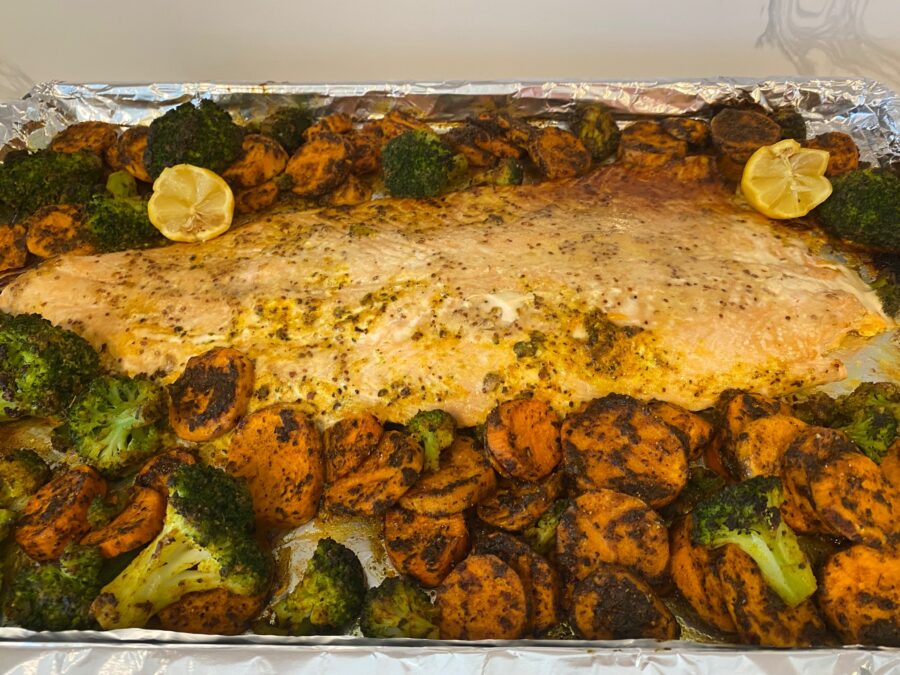 Nutritious, delicious, and very satisfying lunch or dinner on the go!
Ingredients
For the Salmon:
1 -2 pounds Atlantic Salmon fillet
2 garlic cloves, minced
3 Tablespoons Olive oil
1/4 teaspoon salt
1/3 teaspoon freshly ground black pepper
1/3 cup honey
3 cups of broccoli florets
3 cups sliced sweet potatoes, round
Yogurt-Tahini Marinade:
1/2 cup Plain Yogurt
1/4 Tahini
1 tablespoon dried parsley
1/4 teaspoon cumin
4 Tablespoon fresh lemon juice
1/4 teaspoon turmeric, ground
Combine all ingredients in a bowl and stir.
Preparation
Preheat oven to 400 grades Fahrenheit. line a large baking sheet with foil paper. Set aside.
Thinly slice sweet potatoes in same size round thickness. Set aside.
Drizzle 1 Tablespoon over foiled sheet pan. Place whole Salmon fillet on top. Drizzle 2 Tablespoon of olive oil over salmon. Top with minced garlic, salt, pepper and honey.
Pour Yogurt-Tahini marinade over whole salmon fillet., spread evenly. Place broccoli and sweet potatoes around the salmon in sheet pan. Allow to marinate for 30 minutes in the refrigerator.
Place the baking sheet pan into the preheated oven. Roast for 20 to 25 minutes or until salmon is flaky and cooked in the center with internal temperature of 145 grades Farenheit. Let veggies caramelized in the edges.
Remove from oven and serve next to a delicious earthy Mushroom Basmati Turmeric Rice (Recipe will be posted soon). Enjoy!