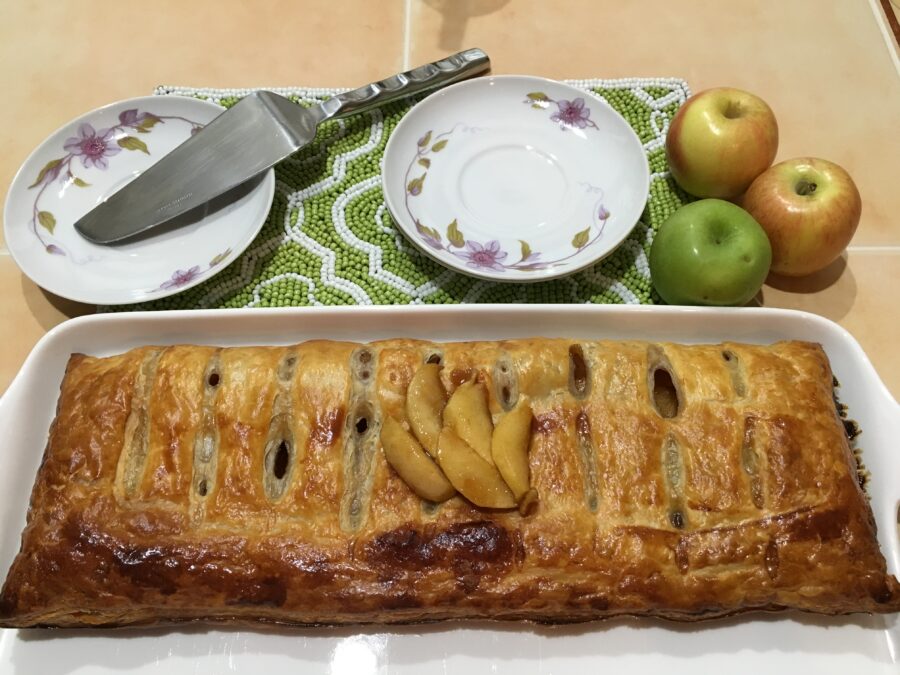 Ingredients
1/2 package frozen puff pastry, thawed
5 Fuji and 1 green apple, peeled, cored, thinly sliced
1/2 cup brown sugar
4 Tablespoon lemon juice
1/2 teaspoon cinnamon, ground
1/2 cup apple juice
1 egg, beaten
1 Tablespoon water
Preparation
Preheat oven to 385 grades Fahrenheit.
Place sliced apples in a pan over medium heat. Let them cooked for about 10 minutes, releasing their own juices.
Add brown sugar, lemon juice, apple juice and cinnamon. Stir all together and cook until apples are tender and juices are reduced for about 15 to 20 minutes. Set aside. Let them cool.
On a clean surface over a  parchment paper, roll puff pastry dough into a rectangle. Start placing filling 2 to 3 inches from edges making two complete rows of apples. Brush all around edges by mixing egg beaten with water to better sealed dough.
Fold dough over filling and sealed all edges with egg-wash.
Brush top and sides of strudel with egg-wash and make some cuts on top with a sharp knife allowing the steam to release and dough will cook through perfectly. Do not remove parchment paper and transfer to the baking pan.
Bake strudel in the middle of oven rack for about 30 to 35 minutes or until is golden brown. Allow to rest for 10 to 15 minutes before serving. Great next to vanilla ice cream. Enjoy!