DESSERTS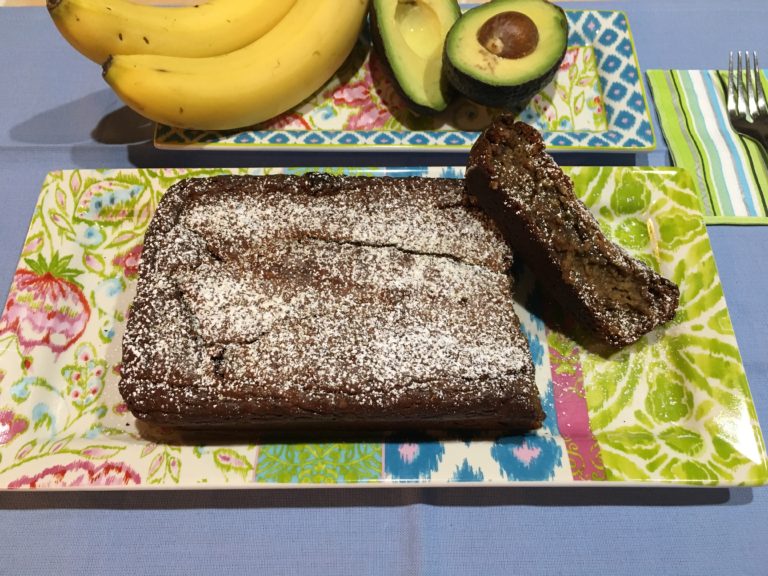 Ingredients
1 1/2 all purpose flour
1/2 cup old-fashioned oats
1 /2 ripe avocado, mashed
1 1/2 ripe bananas, mashed
2 eggs
1/3 cup plain yogurt
1 cup brown sugar
1/2 cup granulated sugar
1 teaspoon baking powder
1/2 teaspoon baking soda
1 Tablespoon cinnamon, ground
1 teaspoon pumpkin spices, ground
1/2 cup walnuts, chopped
1/3 cup golden raisins
1/4 cup coconut oil
Preparation
Grease a 9x5x3 loaf pan with butter cooking spray or simply use butter and preheat oven to 350 degrees Fahrenheit.
Combine in a large bowl: flour, oats, baking powder, baking soda, ground cinnamon, pumpkin spices, brown and granulated sugar. Incorporate all dry ingredients well. Set aside.
In a medium size bowl mash avocado and add coconut oil mixing at low speed until creamy. Add eggs, one at a time.
Incorporate mashed bananas, golden raisins and chopped walnuts into avocado mixture.
Add all flour mix dry ingredients from step-2 into avocado mixture by adding slowly the yogurt. Beat at low speed until all combined.
Transfer batter to the grease pan and bake for about 60 minutes until toothpick comes out clean, but still moist. Note: You can use an electric mixer or by hands. Enjoy!