APPETIZERS, ENTREES, LATIN DISHES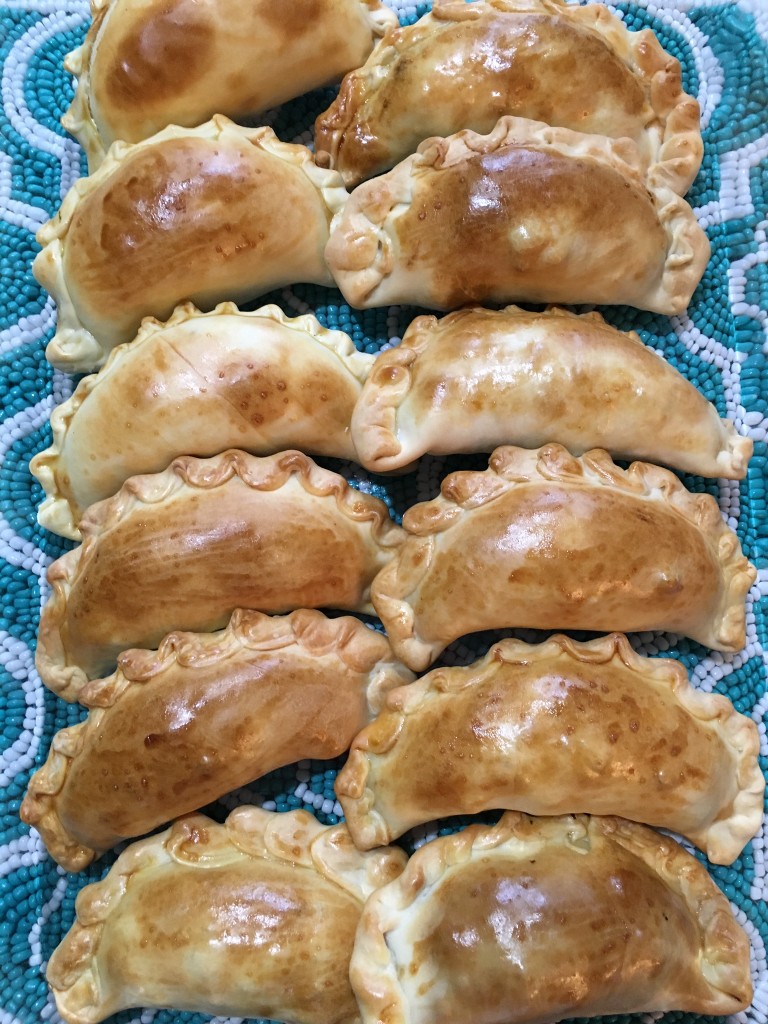 Dough Ingredients
3 cups all purpose flour
1/2 teaspoon sugar
2 teaspoon salt
10 Tablespoon cold vegetable shortening
1 cup water
1 tablespoon butter
2 egg yolks
Dough Preparation
1. Mix all ingredients until well combined. Roll out dough into a thin sheet.
2. Cut round disc shapes.
3. Place filling in the center of disc dough and fold to seal the edges by pressing with your fingers.
4. Brush top of empanadas with egg-washed (1 whole egg with 1 Tablespoon of water).
5. Bake empanadas at 375 grades Fahrenheit for about 20 to 25 minutes.
Chicken Filling
1 large onion, small diced
1/2 red pepper, small diced
1/2 cup of green stuffed olives, diced
1 Tablespoon Olive Oil
3 cups of cooked chicken
1 teaspoon cumin
1 teaspoon cayenne pepper
1 teaspoon salt
1 teaspoon pepper
2 tomatoes, small diced
1 garlic clove, minced
Preparation
1. Sate onions, peppers and garlic at low-medium heat until softened.
2. Add diced or shredded chicken and stir together. Add salt, pepper, cumin and cayenne pepper.
3. Add tomatoes and let it simmer for about 12 to 15 minutes.
4. Add olives. Let it cool before you start filling your empanadas. Enjoy!