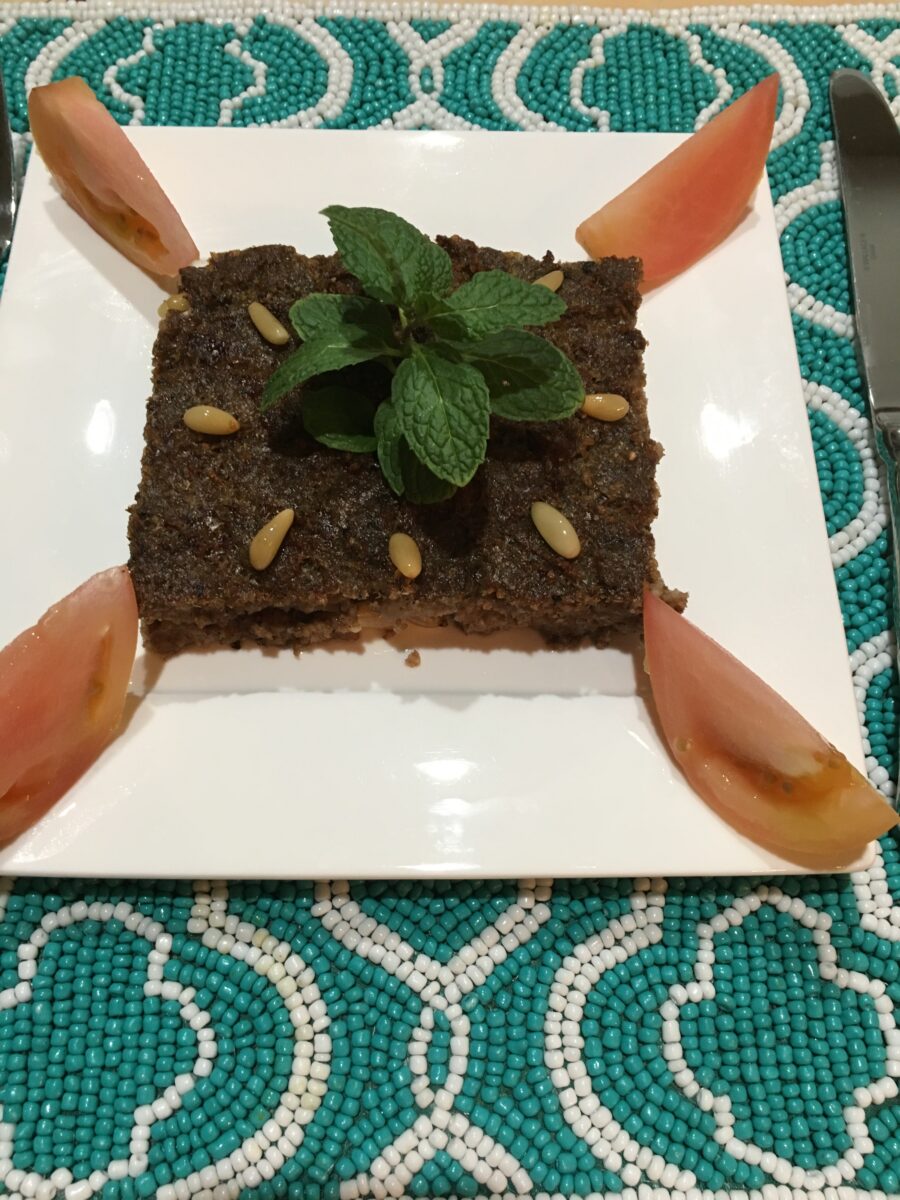 A delicious and warm to the heart dish. Specially made by my Mom's lovely hands. Minced meat with bulgur(cracked wheat), and delicious aromatic spices. Kibbeh which means ball and is traditionally presented raw, baked in a pan or fried in balls.
Kibbeh Dough:
2 pound beef, finely ground
3 cups fine bulgar
1 small onion, minced
1 Tablespoon allspice, ground
1 teaspoon mint, dried
1 teaspoon pepper
1 teaspoon salt
Kibbeh Filling:
1 pound ground beef
2 large onions, finely chopped
1 cup pine nuts, raw
1 teaspoon salt
1 teaspoon pepper
1 tablespoon allspice, ground
1 teaspoon nutmeg, ground
1 teaspoon cinnamon, ground
1 teaspoon salt
1 teaspoon pepper
1 Tablespoon sumac spice
1/2 cup vegetable oil
Preparation
Wash fine bulgur(cracked wheat) in warm water and soak in water for about 15 to 20 minutes, till bulgur is almost tender. Drain and set aside.
To prepare the stuffing: Satee onions in 2 Tablespoons of vegetable oil until tender. Add meat, season with salt, pepper, allspice, nutmeg, cinnamon and sumac. Cook meat until is brown for about 15 to 20 minutes. Add pine nuts, mix all ingredients together.  Set meat filling aside.
To prepare Kibbeh dough by hands: In a large bowl, combine finely ground meat, fine bulgur and minced onions together. Add little water at a time and kneed meat with your  hands until reaching a dough consistency. Divide your Kibbeh dough. Set aside.
Spread two tablespoon of oil in the bottom of your pan. Extend with your hands first layer of kibbeh dough evenly.
Distribute filling evenly on top of first layer.
Place another half  of kibbeh dough on top using your hands.
Using a knife, cut kibbeh top slightly with the decoration of your choice, (diamond shapes, squares, triangles). Clean tip of knife with water between uses.Brush generously top of kibbeh with rest of vegetable oil. Bake at 350 grades Fahrenheit for 35 to 45 minutes until top is completely brown.
Serve Kibbeh next to a salad. Enjoy!