A HEALTHY MEAL PLAN, MEDITERANIAN DISHES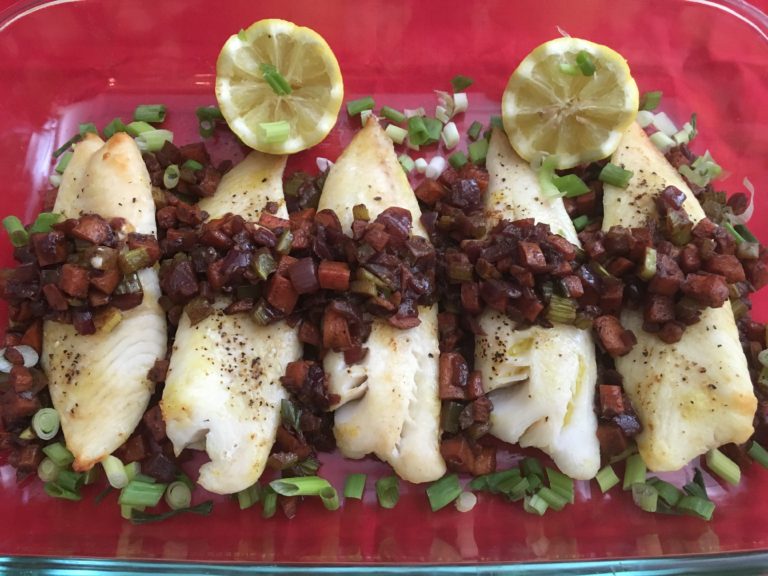 Mild fish but filled with fresh and delicious flavors. Enjoy!
Ingredients
5 Tilapia fillets
3 fresh carrots, small diced
3 stalks celery, small diced
1 red onion, small chopped
3 cloves garlic, small sliced
2 stalks green onions, for garnish
1/2 cup lemon juice
1 teaspoon cumin
1 teaspoon coriander
1 teaspoon garlic powder
1/2 teaspoon cayenne pepper
2 Tablespoon of extra virgin olive oil
1/2 cup red cherry wine
1/2 teaspoon salt
1/3 teaspoon freshly ground black pepper
Preparation
Preheat oven to 400 degrees Fahrenheit.
Arrange tilapia fillets over a baking sheet. Season fillets with salt and pepper. Drizzle with 1 Tablespoon of extra virgin olive oil. Bake for about 20 minutes till fish is flaky and fork tender.
Meanwhile, place celery, carrots and red onions in a pan. Sate in olive oil for about 15 minutes until vegetables are tender. Add garlic, salt, pepper, cumin, garlic powder, ground coriander, cayenne pepper. Mix all vegetables.
Add cherry wine and let it simmer for 2 to 3 minutes until vegetables are tender and wine is absorbed.
Remove tilapia fillets from oven. Pour lemon juice over. Sprinkle with fresh green onions.
Scoop vegetable sauce on top of each fillet. Let it rest for about 3 minutes. Serve warm or at room temperature. You can serve it next to rice, salad or over roasted broccoli . Enjoy!