APPETIZERS, FAST AND EASY SIDE DISHES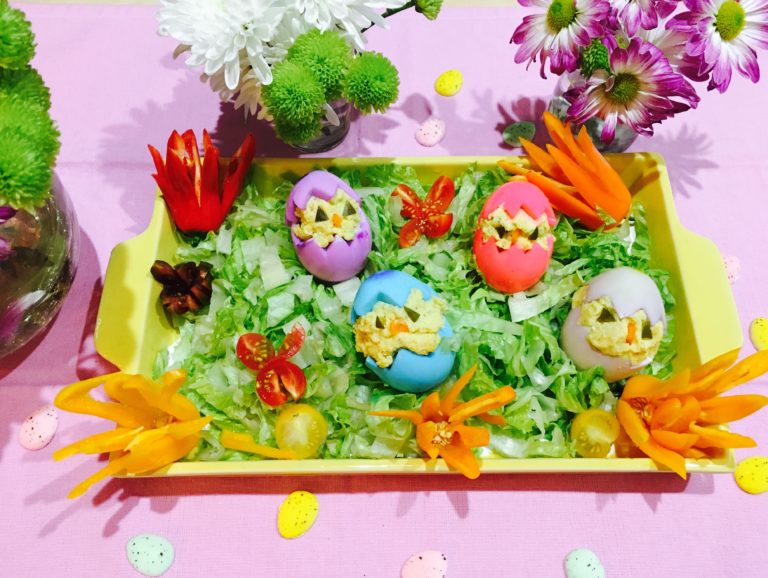 Ingredients
4 large eggs
2 Tablespoon Caesar salad dressing(see recipe on my site)
1/2 teaspoon Horseradish Mustard
1/2 teaspoon Organic apple cider vinegar
3 cups of water
1 medium potato, baked
Salt and Pepper TT(to taste)
To Color Boiled Eggs
2-3  drops purple food coloring
2-3 drops blue food coloring
2-3 drops pink food coloring
2 drops pink+1 drop blue=light purple
4 bowls with water
Preparation
Place eggs into a medium saucepan and cover with 3 cups of water. Bring water to a boil. Leave eggs boiling for 5 to 7 minutes. Turn off heat and let eggs finish cooking for another 5 minutes. Rinse eggs under cold water and peel gently with your hands. Set aside for 10 minutes and using a tiny spoon remove egg yolks and place it into a medium size bowl. Cut zigzags out of hard boiled egg whites.
For the filling: Mash yolks and the baked potato. Add the Caesar dressing, mustard, vinegar, salt and pepper. Mix well until smooth.
For Coloring the Eggs: Place the drops of food coloring into the bowls with enough water  to cover both parts of egg whites. If color is too pale, you can always add more drops.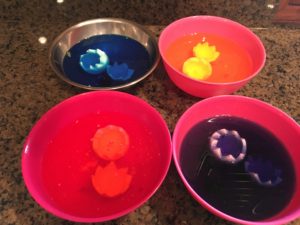 4. Pipe or spoon egg yolk-potato filling into colored egg white zigzags halves.
5. Make little triangles out of yellow bell peppers or carrots for the beaks and pickled cucumbers for the eyes. Apply into the filling. Place these cuties chicks over a bed of chopped lettuce and be creative on finishing decorating your Easter garden. Happy Easter!