APPETIZERS, MY CHILDREN'S FAVORITES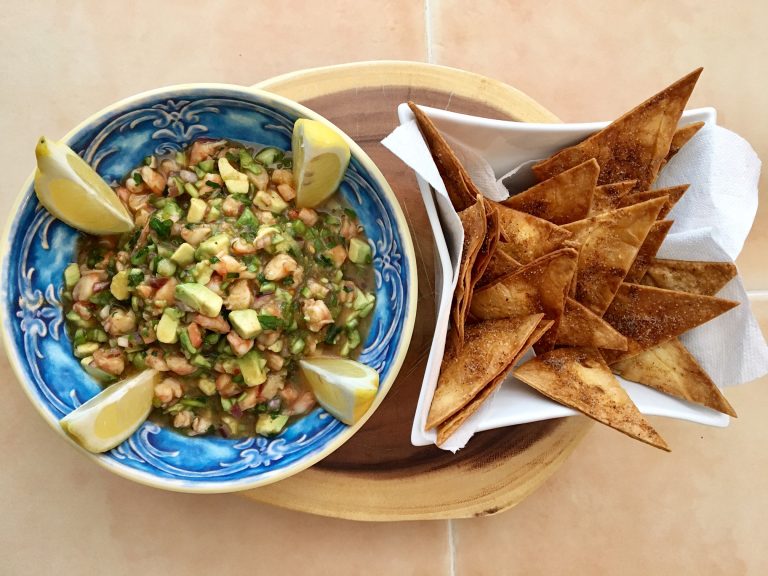 Best Shrimp Avocado Ceviche
A very popular Spanish dish. This typical dish is made from raw fish or shrimp and cured in a very refreshing citrus juices. Delicious and healthy. One of my son's favorite.
Ingredients
1 Pound fresh wild pacific cold water shrimps, cleaned and deveined
1 ½ Cup lemon juice
1 Cup small onion, diced
2 Celery talks, diced
2 Avocados, small diced
1 Large cucumber, peeled diced into ½ inch pieces
1/3 Cup cilantro, finely chopped
3 Tablespoon fresh orange juice
½ Teaspoon Lea & Perrins sauce
1 Dash hot sauce or more
1 Small jalapeno, finely diced
Salt and pepper
Preparation
1. Place shrimps in a glass bowl. Mix in the lemon juice, orange juice and Lea & Perrins sauce.
2. Add onions, celery, jalapeno, and cucumbers and mix all ingredients. Refrigerate for 1 hour.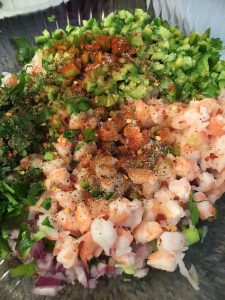 3. Right before serving add hot sauce, avocados, and cilantro.
Serve into bowls: garnish with cilantro and lemon slices, next to homemade baked tortillas chips(see recipe on my site). Enjoy!