A HEALTHY MEAL PLAN, COOK FOR A CROWD, ENTREES, MEDITERANIAN DISHES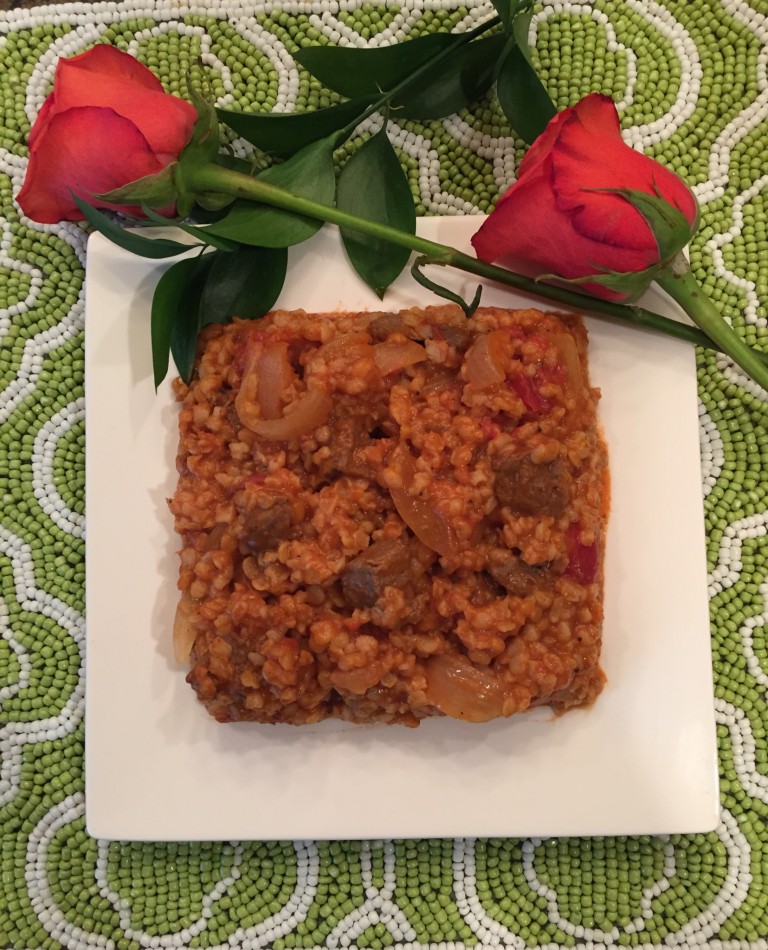 A healthy and hearty Lebanese dish made with Cracked wheat or bulgur, ideal for winter season. It will warm your soul.
Ingredients
1/2 pound of beef stew, cut into small cubes
1 large onion, long slices
2 Tablespoon tomato paste, dissolved in a cup of water
4 Roma tomatoes, large diced
2 tablespoon extra virgin olive oil
1 cup coarse bulgur
2 cups of beef broth
1 teaspoon cinnamon
1 teaspoon salt
1 teaspoon pepper
1 teaspoon allspice
Preparation
1. Heat olive oil in a large pan over medium heat. Add sliced onions and sauté until soft for about 3 to 4 minutes.
2. Add beef and cook until tender.
3. Add allspice, salt, pepper, and  cinnamon. Add bulgur grains and sauté for about 3 minutes to absorb all the spices.
4. Add 3 cups beef broth and  the cup of tomato paste dissolved to the cracked bulgur uncovered till start boiling.
5. Reduce heat to low, cover the pan and cook until all water has been absorbed for about 30 to 35 minutes till bulgur is cooked completely. Serve warm. "Plain yogurt is great next to it". Enjoy!