Browsing Category

ORGANIC BREAD

ORGANIC BREAD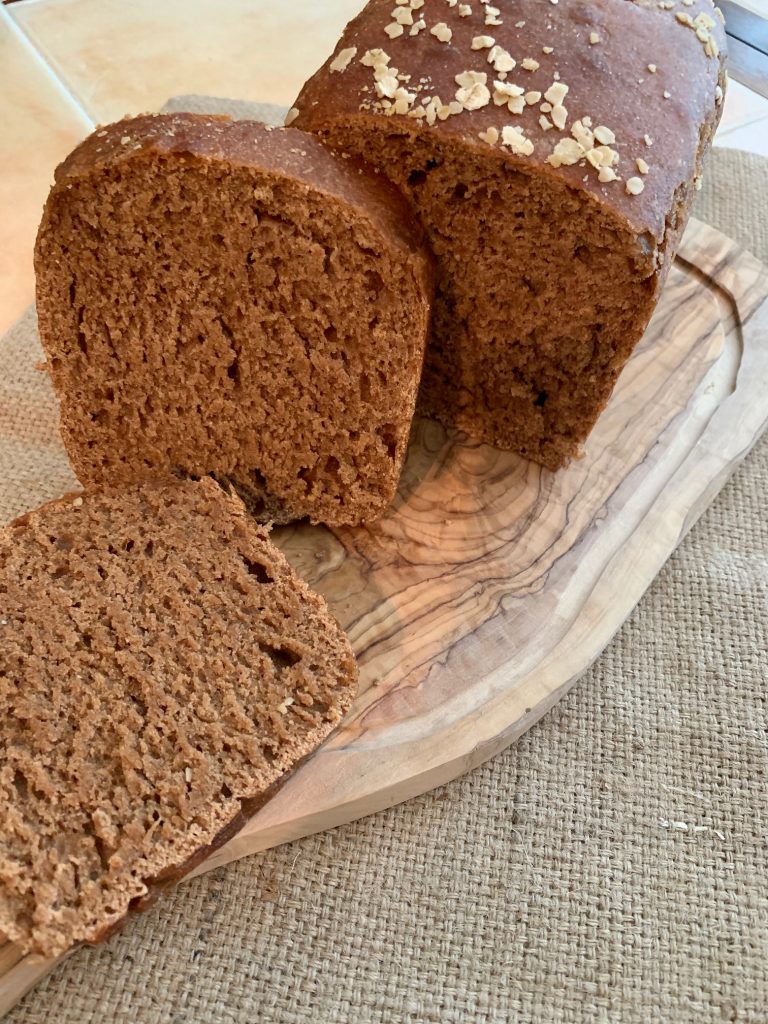 Ingredients
1 cup old-fashioned oats
1 1/2 cups organic bread flour
1 1/2 cups whole-wheat flour
1/2 cup warm brewed coffee, light beer or water
1 teaspoon cocoa powder
1 Tablespoon molasses
1 Tablespoon salted butter, melted + 1 tsp. for top & pan
2 Tablespoon organic Agave nectar
1 teaspoon brown sugar
1 teaspoon baking soda
1/2 teaspoon baking powder
1 teaspoon instant yeast
Preparation
Preheat oven to 450 grades Fahrenheit. Use a small container and mix together brown sugar, warm coffee, yeast, molasses and agave nectar. Set aside.
In a large bowl, combine bread flour, whole-wheat flour, 3/4 cup old fashioned oats, cocoa powder, baking soda and baking powder.
Pour the wet ingredients from step-1 into the dry and add melted butter. Mix and knead bread with your hands. Place loaf of bread into a basket to rise in a dry place of your kitchen for about 45 to 60 minutes. 3.1 Remove bread from basket. Knead your bread again over a flour surface.
Brush with butter a 9×5-inch loaf pan. Place loosely parchment paper over greased pan and slightly grease parchment paper bottom and sides. Place bread into the pan. 4.1 Brush top of bread with butter and sprinkle top with left (1/4 cup) of oats.
Place bread into middle rack of the oven and bake it for 15 minutes. Lower the oven temperature to 400 grades Fahrenheit and bake it for another 30 minutes or until a toothpick comes out clean.
Turn bread out into a wire rack to cool. Enjoy warm with some butter! 🙂
Note: You can also use Honey, instead of Agave nectar in this recipe.
ORGANIC BREAD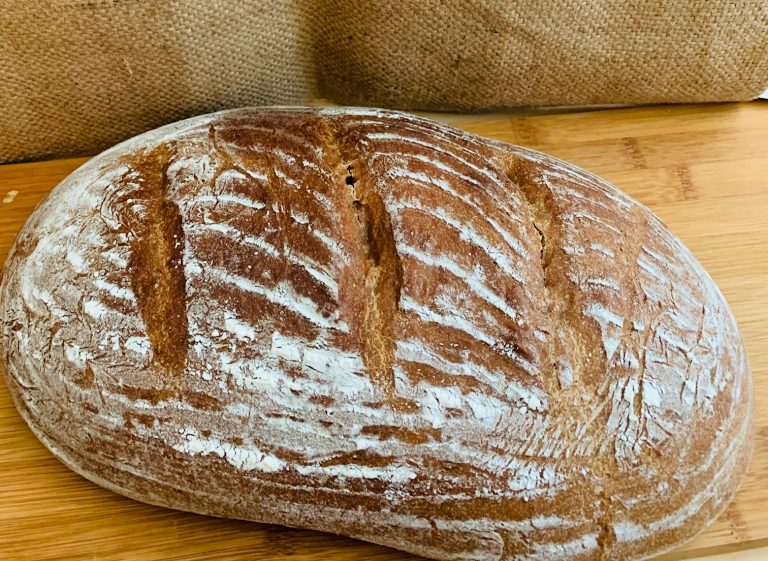 Ingredients
4 1/2 cups of Whole wheat bread flour
1 cup (starter, see my recipe) or 1 Tablespoon of dry instant yeast dissolve into 1/3 cup of warm water + 1 teaspoon sugar
1/4 cup Vegetable oil
1/4 cup honey
1/4 cup molasses
1/4 cup warm milk
1/3 cup cocoa powder
Preparation
Place in your stand mixer, flour, milk and homemade starter(yeast). Mix until combined. 2. Add honey and mix.3. Add molasses.4. Incorporate whole wheat flour and cocoa powder and mix well until dough leaves the sides of the bowl.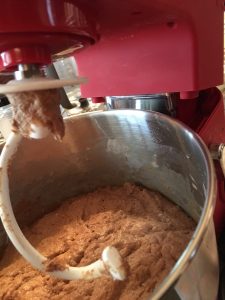 5. Transfer the dough to a lightly flour surface. Knead the dough for about 2 to 3 minutes.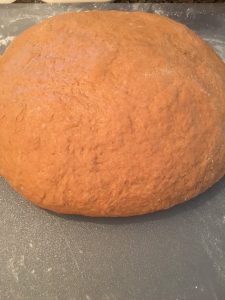 6. Transfer the dough to a lightly greased glass large bowl. Cover with plastic wrap.(oil the bottom of the plastic wrap so dough won't stick to the plastic wrap when rise up).Place it into the warmest spot in your kitchen and let it rise for about 2 hours.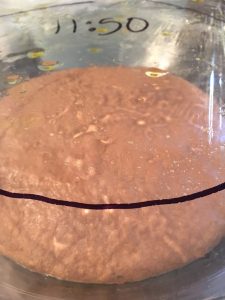 7. Gently knead the dough again over floured surface but do not over knead it. Place the dough into a floured proofing basket to rise again for about 1 to 2 hours. Cover with towel.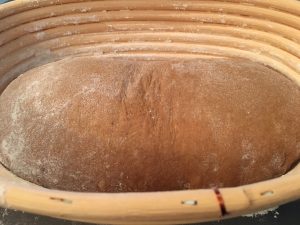 8. Preheat your oven to 450 grades Fahrenheit. Using a pizza stone position it in the middle rack of your oven.
9. Take out hot stone from oven and invert gently the bread over the stone. Score(slash) your bread using a sharp knife or a razor blade. Scoring help create a beautiful loaf of bread to expand and also will inhibits rising with a delicious thin crust.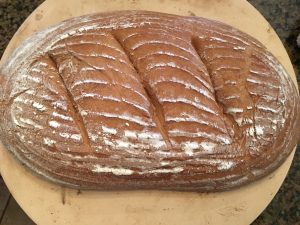 10. Place it into the heated oven and bake for 35 to 40 minutes.
11. Remove bread from oven. Place bread over a rack to cool for about 45 minutes to an hour. Enjoy!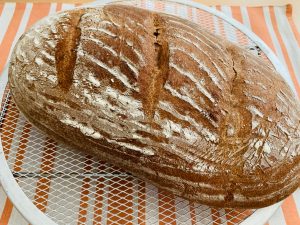 ORGANIC BREAD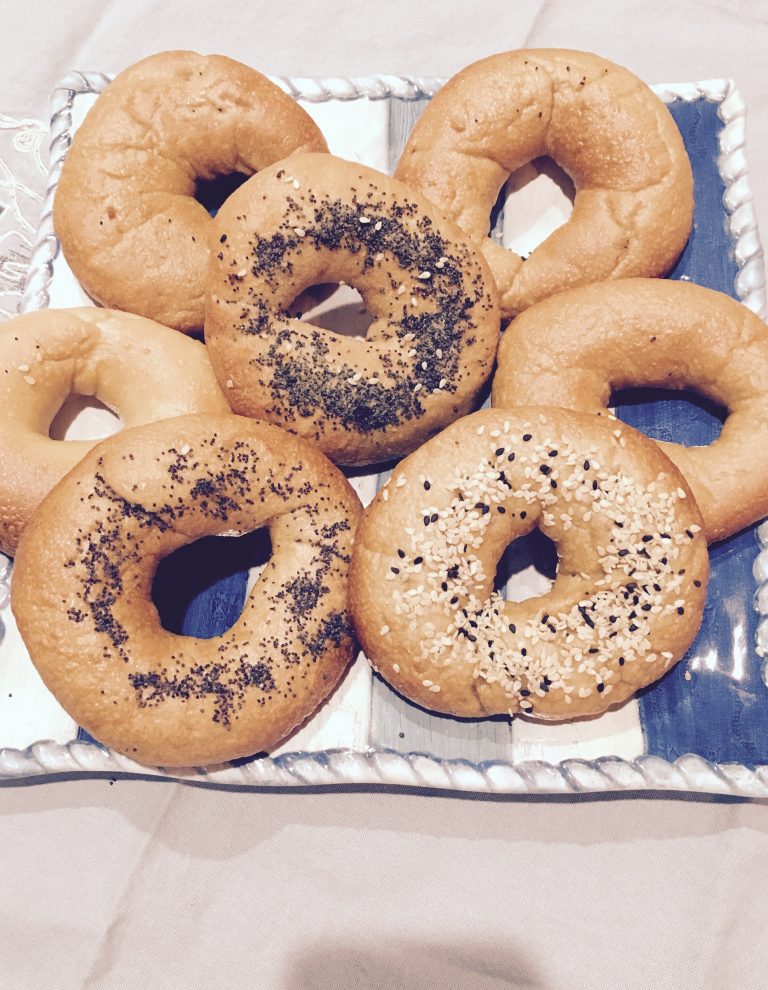 Ingredients
3 cups organic bread flour
1 cup organic whole wheat flour
2 cups warm water
1 1/2 Tablespoon instant yeast
1 Tablespoon honey or barley malt
1 teaspoon salt
Poaching liquid:
1 gal water
1/4 cup honey
1 ounce baking soda
Seasoning
sesame, poppy, caraway seeds
kosher salt
Preparation
 Using a stand mixer with the dough hook attachment combine all ingredients. Mix in low speed for about 2 to 3 minutes to blend all ingredients.
Increase speed to medium and knead in machine for about 8 to 10 minutes until dough is smooth but firm.
Place dough on an unfloured workbench area. Cover and ferment for about 30 to 35 minutes with a damp towel. Flatten dough into a rectangle.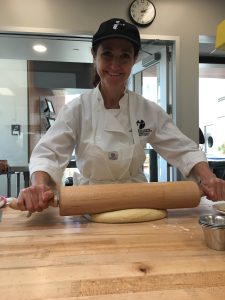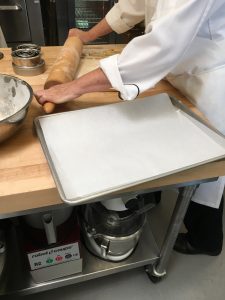 4. Cut the rectangle shaped dough into 5-6 inches wide strips, Divide each strip of dough into 4 ounces pieces. Use a scale.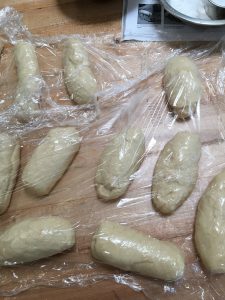 5. Roll each strip of dough over a surface and then wrap dough around one hand to form the bagel. Place them over a parchment paper lined sheet pan.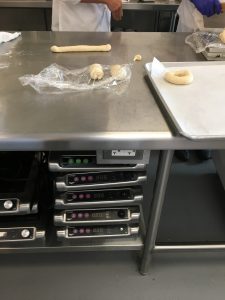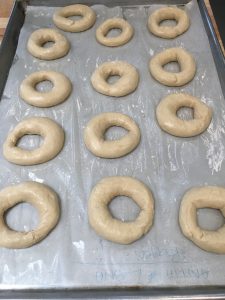 6. Let shaped bagels proof for about 20 minutes. Meanwhile prepare poaching liquid by combining barley malt or honey, water and baking soda in a large wide pot. Bring it to a boil and lower the heat just before adding the bagel to the poaching liquid. Four to Five bagels at once. Leave bagels in poaching water for about 1 minute on each side. Continue poaching rest of bagels.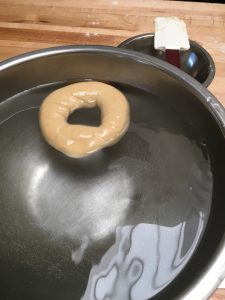 7. Remove bagels from poaching liquid using a slotted spoon, and place them on paper lined sheet pan. Sprinkle with your desired toppings.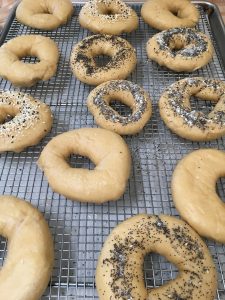 8. Place bagels into a prepared paper lined baking sheet and bake on a preheated 450 grades Fahrenheit oven for about 20 to 25 minutes or until golden brown. Remove from oven and let them cool on the baking sheet for about 10 minutes. Transfer to a wire rack to cool completely. Enjoy!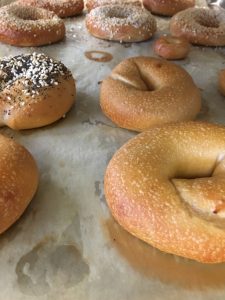 ORGANIC BREAD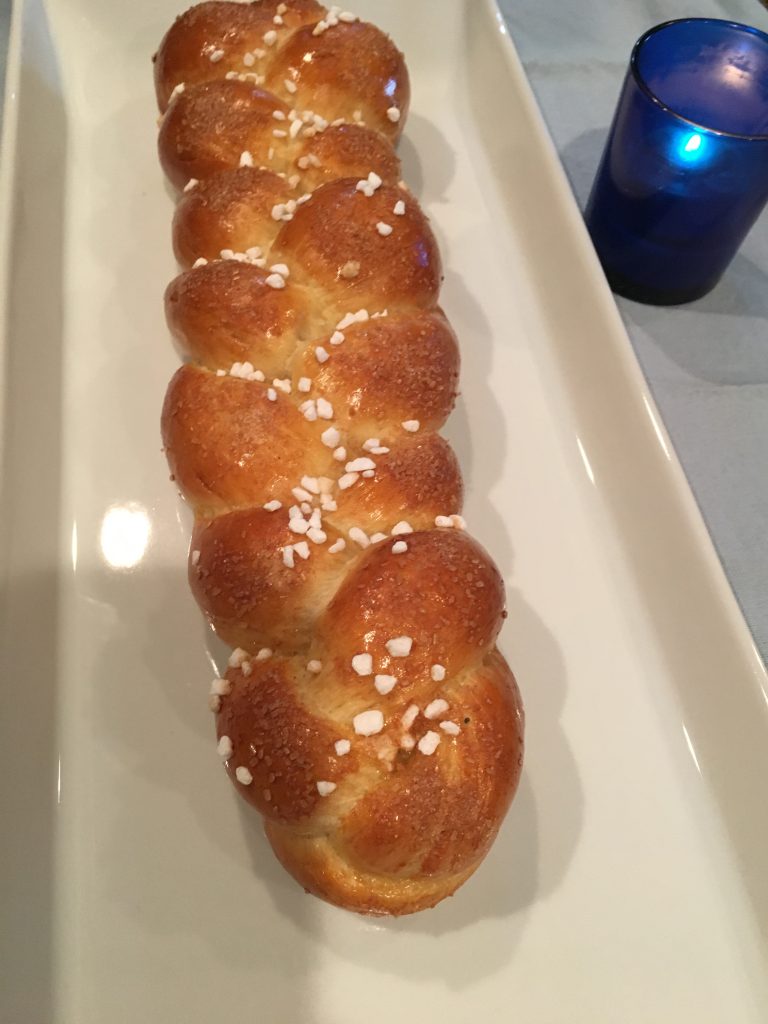 Ingredients
3 1/2 – 4 cups Organic Bread Flour
2 1/2 teaspoon active dry yeast
3/4 cup hot water (90 grades Fahrenheit)
2 tablespoon Honey
1/2 cup Unsalted butter, melted
1/2 cup warm water
4 Eggs
1/2 teaspoon salt
Topping
1 egg beaten with 1 tablespoon milk
Poppy, Sesame seeds or Flaked sea salt
Preparation
Dissolve yeast in the hot water and stir in honey. Let it sit until yeast is foamy.
Use a mixer fitted with a dough hook and incorporate into the bowl warm water, melted butter, eggs, salt and 1 cup of the flour. Add in the dissolved yeast and mix until smooth.
Incorporate rest of the flour. Continue mixing for about 4 to 5 minutes until dough becomes elastic.
Place dough in a lightly greased bowl, cover with plastic wrap until doubled in size fro about 2 hours.
Line a baking sheet with parchment paper. Punch down dough and divide into three long logs braided, pinching them first at one end and then the other end, or divide dough into 6 equal portions approximately 6 ounces each. A turban-shaped loaf is shown also below.
Transfer the braided loaf into the sheet pan and let it rise for about 30 to 45 minutes. Meanwhile, preheat oven to 350 grades Fahrenheit.
Brush the loaves with egg wash and sprinkle with flaky sea salt. Proof again for about 30 to 45 minutes until double in size.
Bake at 350 until golden brown for about 35 to 40 minutes. Enjoy!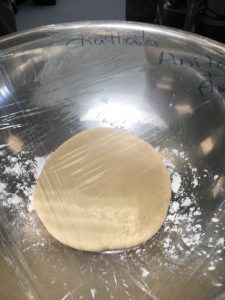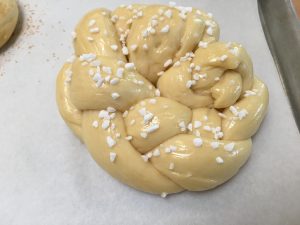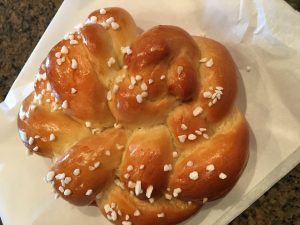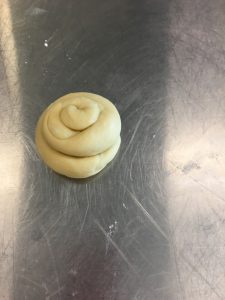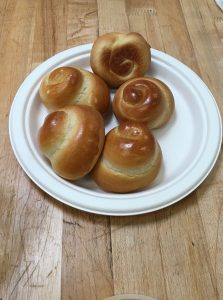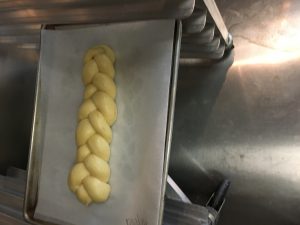 MEDITERANIAN DISHES, ORGANIC BREAD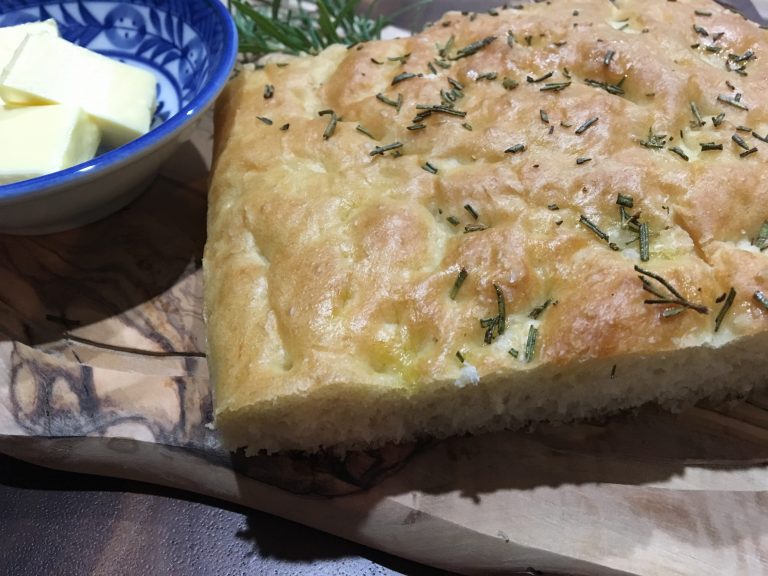 Ingredients
3 cups All-purpose flour
3/4 cup Extra-virgin olive oil
3 garlic cloves, minced
1 1/2 cup water, warm
2 Tablespoon fresh Rosemary, finely chopped
1/4 teaspoon honey
1/2 teaspoon fine sea salt
1 packet active dry yeast or 1/4 cup homemade starter (see my site for recipe)
Preparation
Place a pan over low heat. Add extra virgin olive oil, minced garlic and chopped rosemary. Sate for only 5 minutes to release the flavors. Set aside.
Using a large bowl, combine warm water, yeast and honey. Let it sit for 10 to 15 minutes to activate.
Incorporate 1 1/2 cup of the flour into the warm water, yeast and honey. Combine well with your hands and let it sit for 10 to 15  minutes.
Stir in the rest of the flour and salt. Mix until well combined. Knead over lightly floured surface until dough becomes very smooth.
Preheat oven to 450 grades Fahrenheit.
Transfer dough into a large well oiled bowl. Cover dough with damp towel. Place it in a warm place (next to preheated oven)is ideal. Let rise for about 1 to 1 1/2  hours.
Use a 9 x 13-inch baking pan size well greased with olive oil. Transfer dough to the pan. Drizzle garlic-olive oil mixture over.
Using your fingers, dimple the dough with the olive oil-garlic mixture.
Cover the pan with plastic wrap. Let the dough rise for 20-30 minutes or until  increased in size.
Bake for 20 to 25 minutes or until top is golden brown and bottom is cooked and sponge. Let Focaccia rest to cool over a rack "if you can wait".. Enjoy!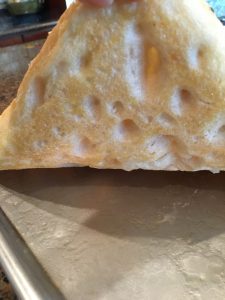 ORGANIC BREAD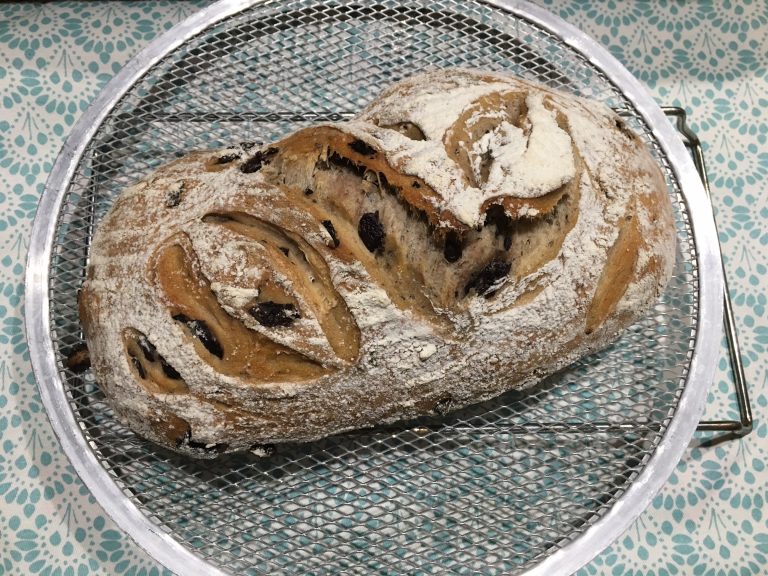 " Using our mother-dough Homemade Starter (see recipe on my site) on how to make it".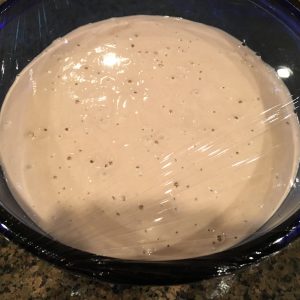 Ingredients
6 1/2 – 7 cups 00 bread Flour or All-purpose flour
3-4 cups of water
1 1/2 teaspoon sea salt
1/4 cup sourdough homemade starter
2 cups of pitted Kalamata Olives.
Preparation for making your Homemade Rustic Sourdough Bread:
Add flour, water and salt into a large bowl. Mix until well combined. Cover with a kitchen cloth. Leave it to rest until the starter has ripens.
Add the starter to the hydrated flour. Mix well and add olives. Knead over a floured surface by stretching and folding your dough.
Divide dough into two equal parts. Transfer dough into a larger bowl greased with olive oil, allowing dough to ripen and rise overnight at room temperature covered with plastic wrap. You can also place dough into refrigerator, or left over counter for two hours if you would like to bake it the same day.
-Proofing dough overnight.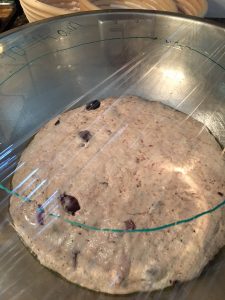 4. Transfer shaped dough into well floured breadbaskets. Leave at room temperature over counter top for another 1 to 2 hours to rise in baskets.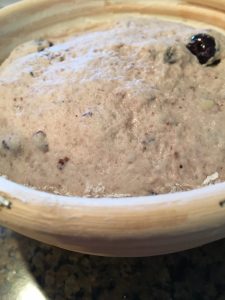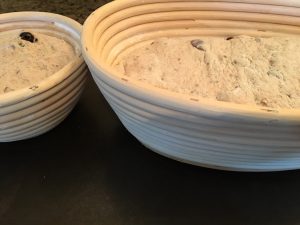 5. A cast-iron Dutch oven makes a great bread oven. Place shaped bread dough over parchment paper. Once temperature is reached, carefully remove the hot Dutch oven from oven and place it over your stove. Remove the lid and score the top of your bread loaf.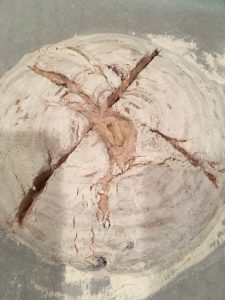 6. Cover the loaf with the hot lid. Return it fast into the hot oven.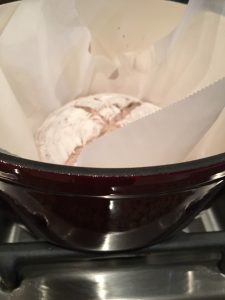 7. After 20-25 minutes, remove the lid of hot Dutch oven and drop oven temperature to 450 grades Fahrenheit. Continue to bake for 30-35 minutes or until your color and crust's crispiness is desired. (Also, a pizza stone can be used by transferring your dough to preheated stone).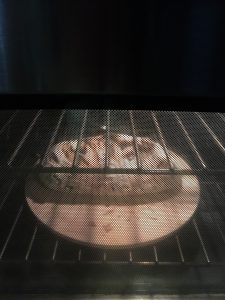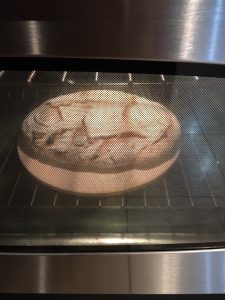 8. Remove bread from Dutch oven or stone. Allow to cool over a rack if you can wait and enjoy!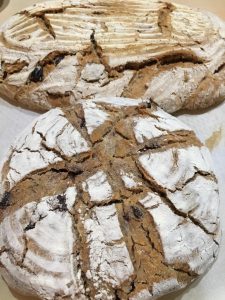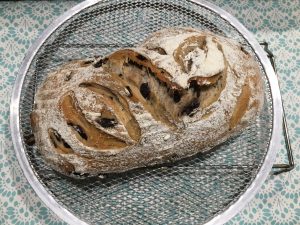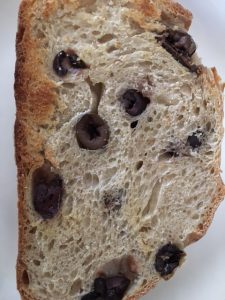 Note: Remember always to start with your room temperature mother dough(starter) and feeding it after each use. Use about 1 cup of flour to 1/2 cup of water. Stir vigorously to combine, cover and place it in the fridge.
ORGANIC BREAD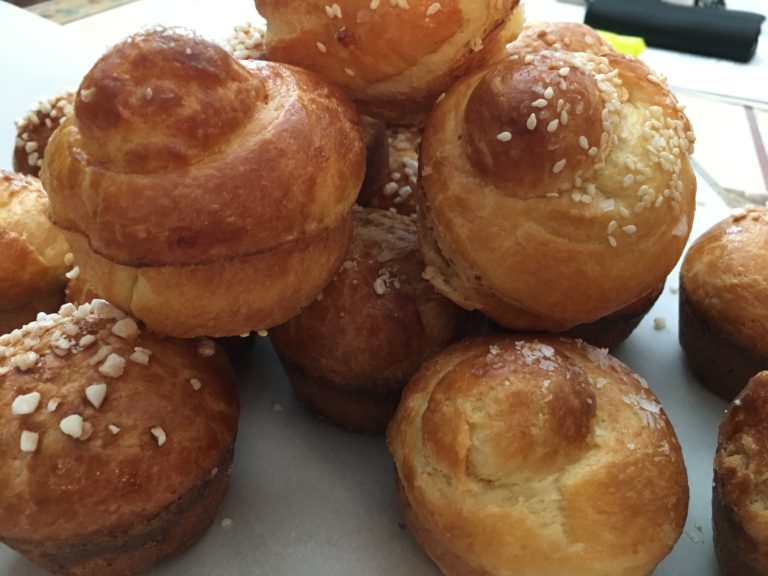 Recipe will be posted soon!
Delicious Brioche Sandwich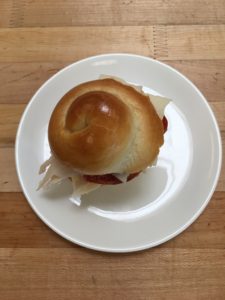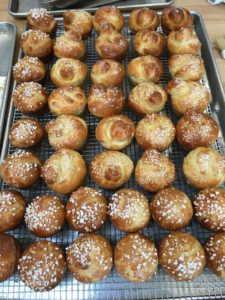 ORGANIC BREAD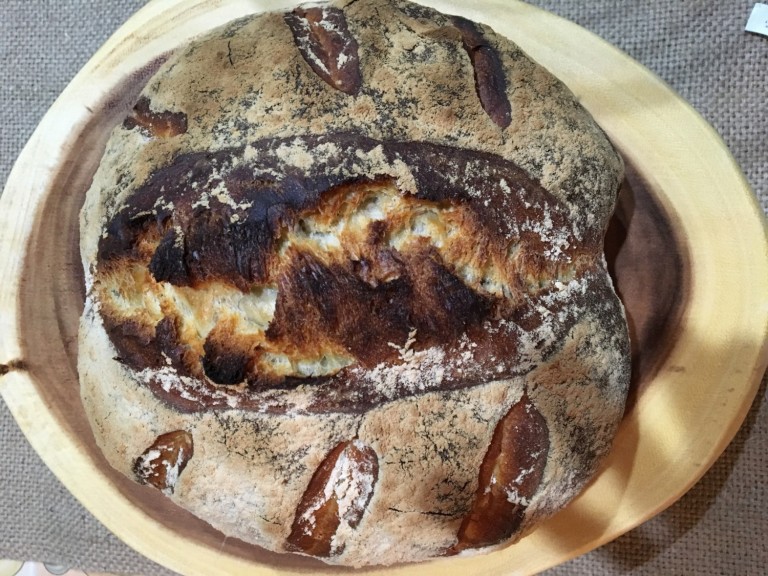 Best loaves of bread look like these…
Crusty sourdough, hand-mixed with a long natural fermentation with fresh organic rosemary and the special touch of  our hands.
Please see recipe on my site.