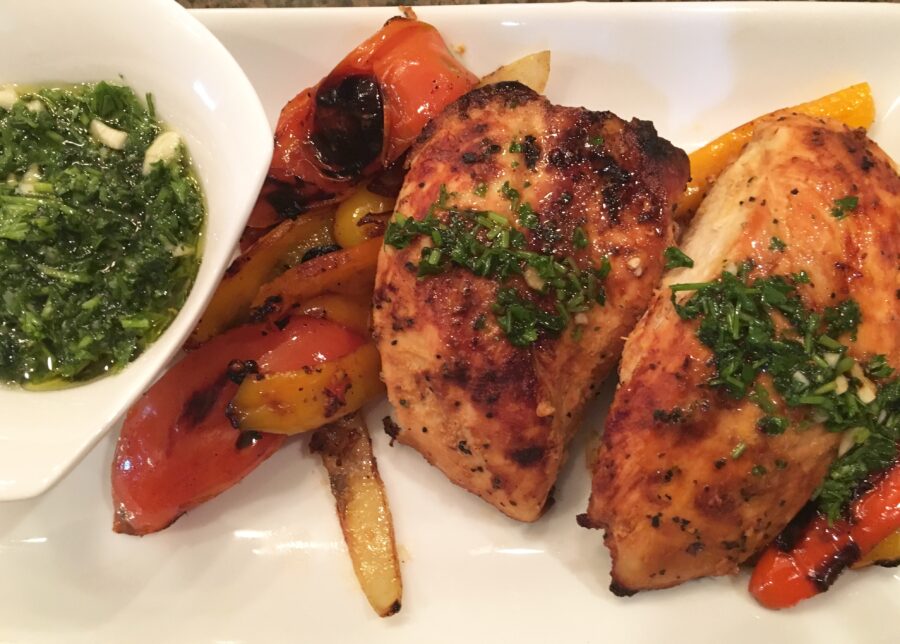 This easy and delicious chicken marinade with a tangy, vinegary and fresh herbs sauce will become one of  your favorite.
Grilled Chicken Marinade Ingredients
6 -8 chicken thighs
1/2 cup olive oil
1 teaspoon kosher salt
1 teaspoon freshly ground pepper
1 teaspoon ground oregano
1 teaspoon cumin
1 teaspoon cayenne pepper
3 cloves garlic, minced
1/2 cup plain yogurt
1 Tablespoon ketchup
1 Tablespoon honey mustard
1 teaspoon yellow mustard
1 teaspoon honey
1/2 cup orange juice
2 tablespoon Worcestershire sauce
Preparation
1. Mix together all ingredients. Pour over the chicken.
2. Marinade for about 2 hours and place in the refrigerator.
3. Preheat grill at medium heat.
4. Remove chicken from marinade and shake off excess.
5. Grill at medium heat until chicken is cooked completely reaching an internal temperature of 165 degrees Fahrenheit.
Chimichurri Sauce
2 cups very fine chopped parsley
4 cloves garlic, finely minced
1/2 teaspoon crushed red pepper flakes
1/2 cup extra virgin olive oil
1/3 cup red wine or white vinegar
1 teaspoon salt
1/2 teaspoon freshly ground pepper