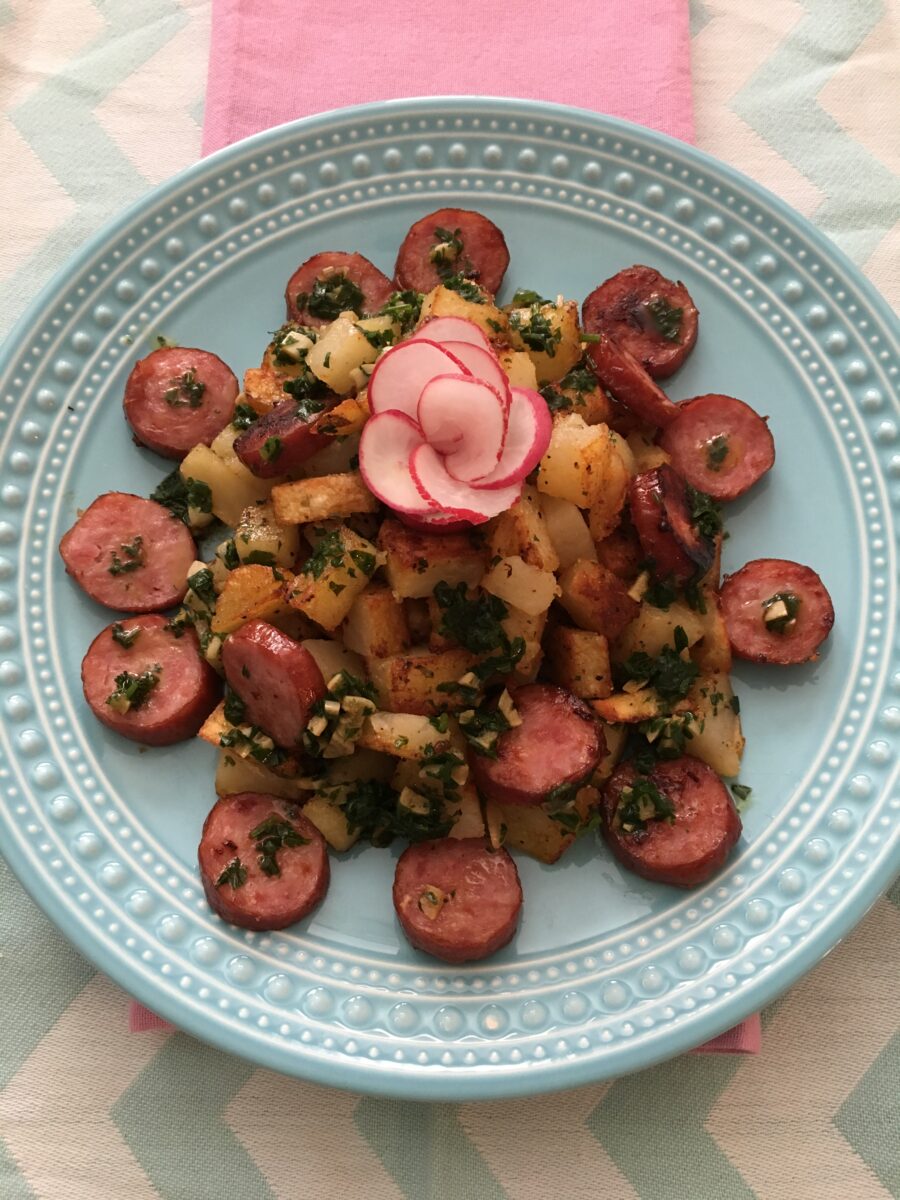 Ingredients
3 large potatoes
6 large cloves of garlic, minced
2 Tablespoon olive oil
2 Tablespoon canola oil
1 Tablespoon butter
1 bunch fresh cilantro, finely chopped
2 teaspoon salt
2 Kielbasa (Polish Sausage), diced round
2 Tablespoon fresh lemon juice(1/2 of a lemon)
1 zest of a lemon
Preparation for Cilantro-Garlic Potatoes
Peel Potatoes. Cut into cubes about 1/2 to 3/4  inch of thickness.
In a large skillet at medium-high heat sauté potatoes in 2 Tablespoon of canola oil and butter until crispy at all sides and tender from the inside. Remove and place fried potatoes over paper towel to drain from oil. Sprinkle with salt.
Meanwhile, wash and dry fresh cilantro with paper towel. Chop cilantro leaves thinly and fry at medium-high heat in 2 Tablespoon of olive oil for about 2 minutes. Add minced garlic and sauté for another minute leaving garlic half cooked to maintain more flavor. Add fresh lemon juice, zest of the lemon and rest of the salt.
Incorporate all fried potatoes into cilantro-garlic oil. Toss all well. 
5. Remove potatoes from pan and set aside. Do not discard some of the oil left in pan to drizzle over potatoes when serving.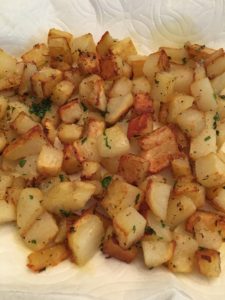 Preparation for Polish Sausage
At medium-high heat place sausage in a large saucepan. No oil needed. They will cook in their own juices.
Brown sausages for about 10 to 12 minutes on both sides until caramelized.
Remove from pan. Set aside.Note: You can incorporate the sausages into the cilantro-garlic fried potatoes and toss all together or enjoy as side dishes where each one can shine on its own.