DESSERTS, MY CHILDREN'S FAVORITES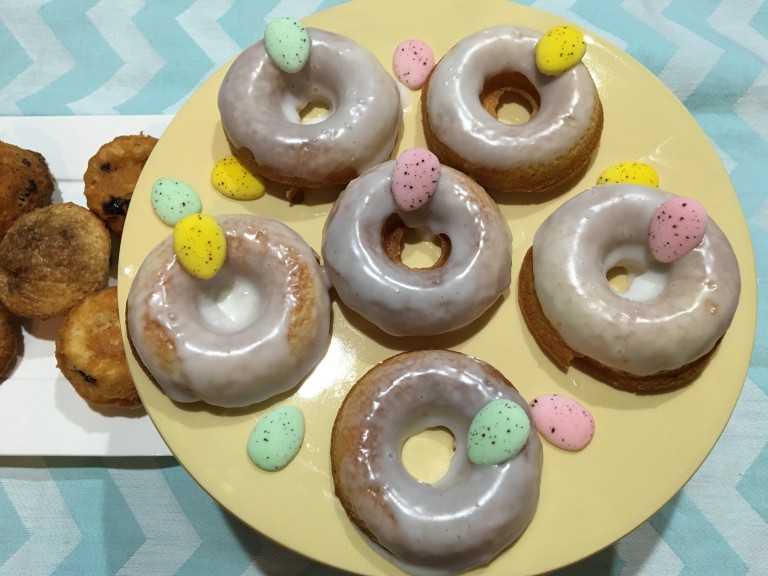 Ingredients
2 cups all-purpose flour
1 cup sugar
1 1/2 teaspoon baking powder
1 teaspoon cinnamon, ground
2 large eggs, beaten
2 Tablespoon melted butter
1 1/2 cup milk
1 teaspoon vanilla extract
1/4 teaspoon salt
For the Glaze
1 1/2 cup confectioners' sugar
3 to 4 Tablespoon milk
1 teaspoon vanilla extract
Preparation
Preheat oven to 325 degrees Fahrenheit.
Spray your doughnuts pans.
In a large bowl, mix together flour, sugar, baking powder, cinnamon, and salt.
In a different bowl, whisk together eggs, milk, melted butter and vanilla extract.
Incorporate wet mixture into the dry until well combined.
Pour mixture into a large measuring cup or a large container to easily fill mixture into the doughnuts' baking pan.
Bake at 325 degrees for 20 minutes.. Let them cool for 2 to 3 minutes before glazing.
Glaze Preparation
Place confectioners' sugar into a bowl.
Add little milk and vanilla at a time beating slowly until smooth glaze.
Deep doughnuts tops into the glaze. Enjoy! Happy Easter..