ORGANIC PIZZAS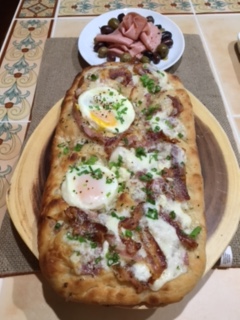 Who doesn't like a Gourmet pizza? If you love starting your day with eggs sunny side-up, you will definitely add this rustic homemade pizza to your breakfast favorite. Try it!
Pizza Dough ( see post on Anita's Family Organic Pizza Recipe)
Pizza Topping:
3 ounces grated parmesan cheese
4 ounces grated Asiago cheese
10 thin slices of Pancetta
2 tablespoon Extra Virgin Olive Oil
1/2 cup green onions, chopped
1/4 teaspoon freshly ground black pepper
Preparation
After preparing your Pizza Dough, extend and press dough out with your  hands into a  flour surface. Drizzle dough with 1 Tablespoon of olive oil and transfer it to a heated stone or a baking sheet. Place dough into a pre-heated oven at 450 grades Fahrenheit for about 15 minutes on rack in top third of the oven.
Meanwhile cook pancetta in 1 Tablespoon of olive oil at low heat for about 12 to 15 minutes until golden brown and crispy. Place pancetta over a paper towel to take off some of the fat.
Remove Pizza from oven. Add Asiago cheese, slices of cooked pancetta and green onions. Bake for another 5 to 7 minutes until cheese is melted.
Take Pizza out. Crack two eggs over pizza. Return pizza to oven. Bake for about 3 to 4 minutes until egg is set.
Remove Pizza from oven and sprinkle with parmesan cheese and freshly ground black pepper. Enjoy next to mortadella and olives. Yummy Pizza!