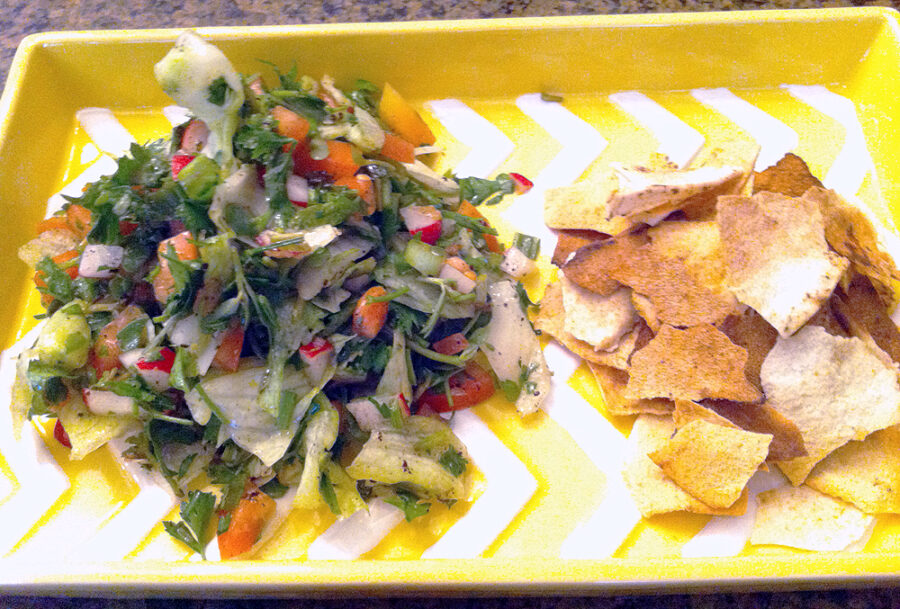 Excellent to add in your every day diet. Refreshing dish for summer time. Crunchy with toasted pita bread and mixed greens.
Ingredients
4 Persian cucumbers
6 Tomatoes
4 Green onions
1 Bunch of fresh green mint
1/4 Bunch red radish
2 Bunches Italian parsley
1 Head iceberg lettuce
1 Cup pursiane (rich in omega-3) (you can find it in Mediterranean markets)
Bell peppers (optional)
Vinaigrette:
2 Tablespoon sumac spice
1/2 Cup fresh lemon juice
1/2 Cup olive oil
1/3 Cup pomegranate molasses
3 Pita bread, toasted
Preparation
1. Wash all vegetables in cold water and rinse well.
2. Cut pita bread in small squares. Toast them in a 400°f oven until light brown, 3 to 4 minutes.
3. Chop cucumbers and tomatoes into small chunks.
4. Chop green onions into small pieces
5. Chop finely parsley and mint
6. Chop lettuce into 1 to 2 inches pieces
7. Chop radish into rounds
8. Tear off pursiane leaves
9. Place all vegetables in a big bowl
10. Add lemon juice, sumac, pomegranate, salt, pepper and toss all together till well combined.
11. Add toasted bread and olive oil. Mix with your lovely hands.
Toasted bread could be on the side. Best served cold.
"Buen apetito"