DESSERTS, MY CHILDREN'S FAVORITES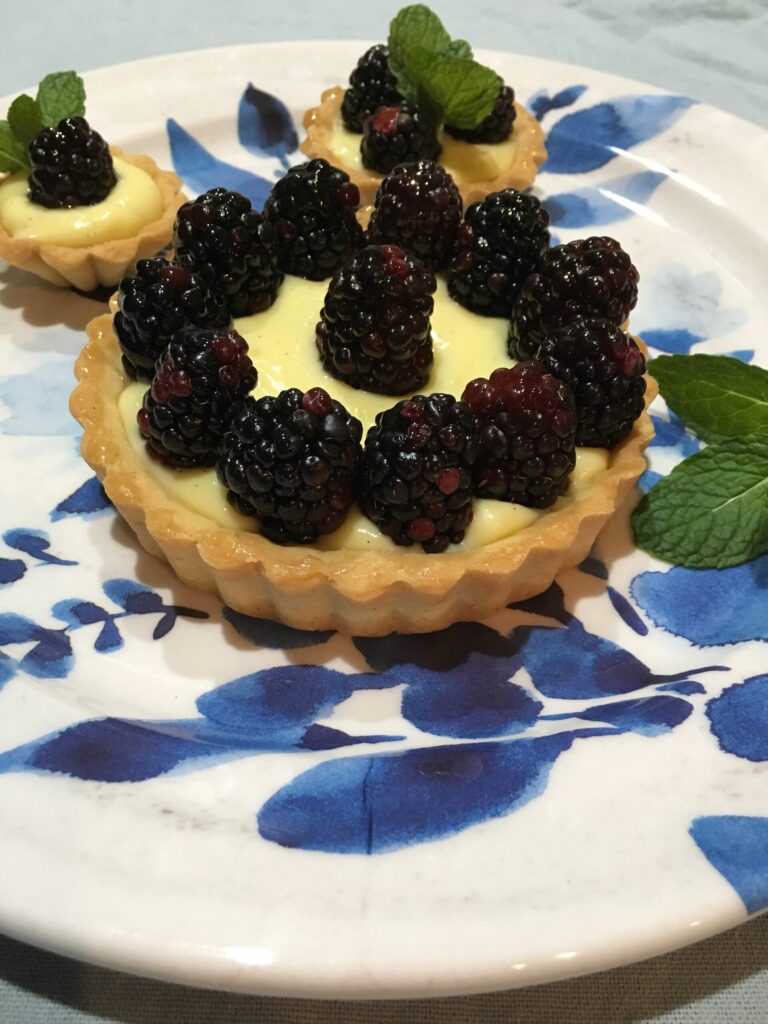 Fresh fruit or Berry Tart. A flaky and thin made from scratch pastry shell filled with a delicious tart-sweet cream, pile with fresh berries. A very festive, fresh and delicious dessert for anytime !
Ingredients
Tart Dough:
1 3/4 cups all purpose flour
1/2 cup almond flour
2/3 cup powdered sugar
1 1/2 sticks unsalted cold butter, cut into pieces
1/4 teaspoon salt
1 to 2 teaspoon cold water
Pastry Cream:
1 1/2 whole milk
1/2 cup heavy cream
1 vanilla bean, split lengthwise
4 egg yolks
3/4 cup sugar
1/2 tablespoon cornstarch
1 tablespoon fresh lemon juice
zest of  1/2 lemon
1 tablespoon butter, for greasing pan
1/2 cup apricot or strawberry jam
1 pint strawberry
1 pint raspberries
1 pint blackberries
Preparation for the Dough
1. Place the almond flour, all purpose flour, powdered sugar, butter and salt into a food processor. Pulse three to five times until all mixed and dough has a coarse, sandy consistency.
2. Remove dough from the processor, flatten dough into a disk form over a plastic wrap. Wrap dough and place it for 1 hour in the fridge.
3. Preheat oven to 300 Fahrenheit degree oven.
4. Roll out dough over a floured surface.
6. Line dough into a greased 12 x 8 1/2 inch rectangular pan with a removable bottom.
7. Gently press with your fingers into the bottom and up the sides of pan.
8. Place a rectangular parchment paper over crust. Set beans or rice on top of paper for crust not to puff up.
9. Bake tart shell for 20 minutes. Remove beans or rice and parchment paper. Return to the oven and bake for another 15-20 minutes until golden brown.
10. Cool tart shell at room temperature. Set aside.
Preparation for Pastry Cream
1. Beat the egg yolks with sugar and cornstarch in a bowl until is all well blended. Set aside.
2. Pour milk in a medium saucepan over medium-high heat.
3. Scrape inside of vanilla bean with the tip of a knife and add it  to the milk.
4. Incorporate egg mixture into the warm milk whisking continuously. Stir in lemon juice and lemon zest slowly. When mixture bubbles, lower heat and bring to a simmer for about 2 minutes.
5. Transfer pastry cream to a glass bowl. Cover cream with plastic wrapping paper touching the cream's surface to prevent a skin from forming. Refrigerate for at least 2 hours before assembling.
Glaze
Heat apricot jam with 1 teaspoon of water to loosen it up for just couple minutes. Set aside.
To assemble:
Brush all bottom of tart with glaze to prevent falling apart crust .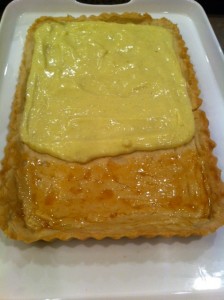 Filled baked tart crust with pastry cream just a little below the top. Arrange fresh fruits as you desired. Brush fruits top with glaze for a lasting and shiny finish. Chill tart until ready to serve. Enjoy!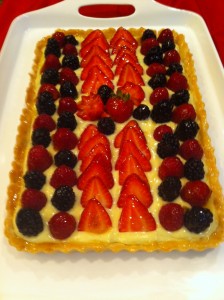 Also can be made in individually removable pans as shown below or as I made it at Culinary school in a round beautiful shape as the featured image posted. Enjoy!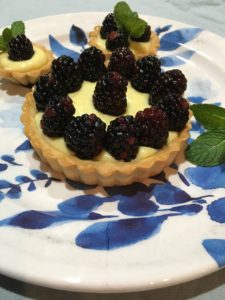 Note: Making your design ahead by placing your fruits on a plate the way you wanted to be then assembled on the tart shell will tell how much fruits you need and how nice it will look later.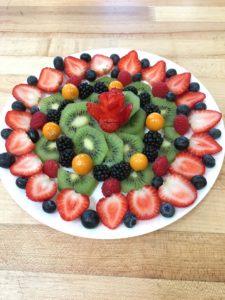 Transfer your design over your tart shell.