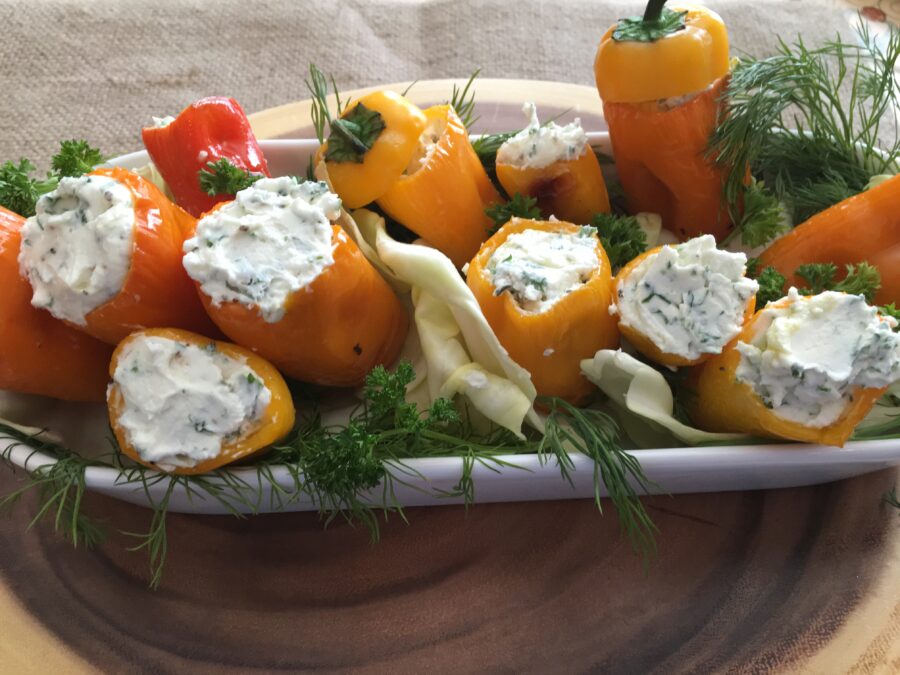 Nutritious, fast and easy to make delicious mini bell peppers. Beautiful and fresh shiny colors to impress a crowd, as an appetizer or side dish. Enjoy!
Ingredients
12 mini bell peppers, seeds removed
1/2 cup soft goat cheese
1/3 cup parmesan cheese, grated
1/3 cup Lebanese labneh
1 Tablespoon fresh chives, chopped
1 Tablespoon fresh dill, chopped
1/3 teaspoon Salt
1/3 teaspoon freshly ground pepper
2 tablespoon Olive Oil
Preparation
Preheat oven to 425 grades Fahrenheit.
Cut top of peppers . Drizzle olive oil over mini bell peppers.
Sprinkle bell peppers with salt and pepper.
Place mini bell peppers and tops into a baking dish and roast  for about 20 minutes. Remove from oven and let them cool.
Combine  goat cheese, parmesan cheese, labneh, fresh chives and dill until well combined and creamy.
Fill each mini bell pepper till top. Garnish with dill or parsley.