A HEALTHY MEAL PLAN, LATIN DISHES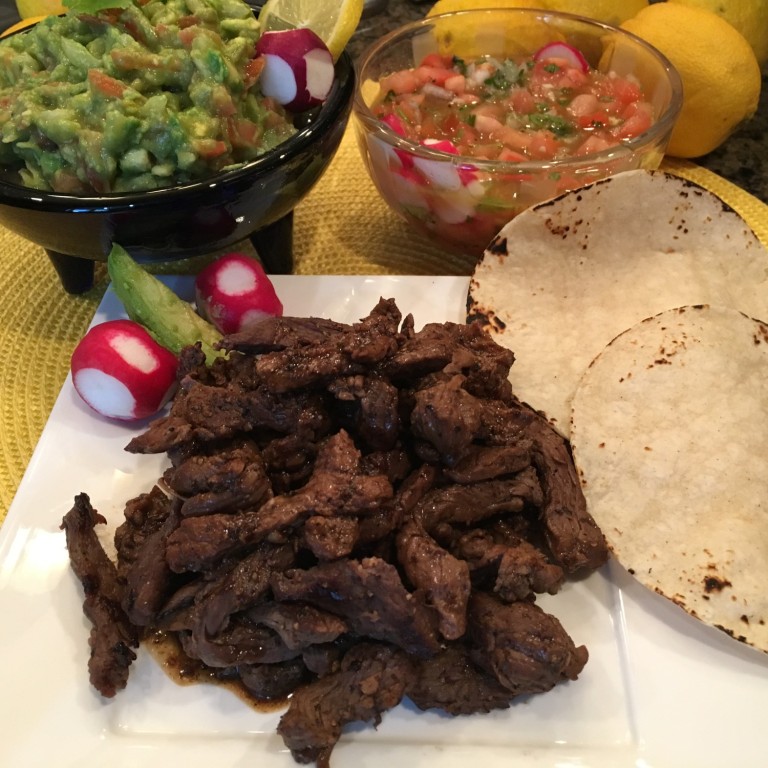 Delicious spiced-rubbed tender skirt steak. Assemble carne asada (grilled steak) into a quesadilla, burrito or have on its own over salad. "No Worries", you don't feel like grilling? Use a cast iron  pan instead. Enjoy!   
Ingredients
1 pound skirt steak, cut in long stripes
1 teaspoon apple cider vinegar
1 Tablespoon olive oil
1 Tablespoon of Adobo seasoning
1 teaspoon garlic powder
1 teaspoon cayenne pepper
1 teaspoon chili powder
1 teaspoon salt
1 teaspoon freshly ground black pepper
1/3 cup of vegetable oil (for grilling)
6 ( 10 inch) flour tortillas
Preparation for Marinating Steak
Whisk together  olive oil, vinegar. Add adobo, garlic, cayenne, chili powder, salt and pepper seasoning.
Incorporate the steak into the marinate to coat thoroughly in a plastic bag. Place it into the refrigerator for at least 2 hours.
Preparing the outdoor Grill
Heat grill to 400 grades Fahrenheit. Rub the grate with vegetable oil using a grill brush.
Place the steaks on the grill and cook until medium well or rare (optional), on one side until seared for about 2 to 3 minutes. Turn steak over and sear other side for about 2 minutes.
Remove from the grill. Cover with foil paper to retain steak's liquid. Let it rest for about 8 to 10 minutes.
Slice steak across the grain of the meat, in long thin stripes.
Serving skirt steak (choices)
Serve in warm Tortillas, quesadillas adding grated Monterrey jack cheese(optional). Place them into the grill until bottom of tortilla is crispy. Place another tortilla on top.
Using a spatula, flip quesadilla over until grill marks have appear.
Transfer quesadillas to a board and let them rest for two minutes. Cut and serve next to guacamole, radishes and fresh homemade pico de gallo salsa.(see recipes on my site) Enjoy!