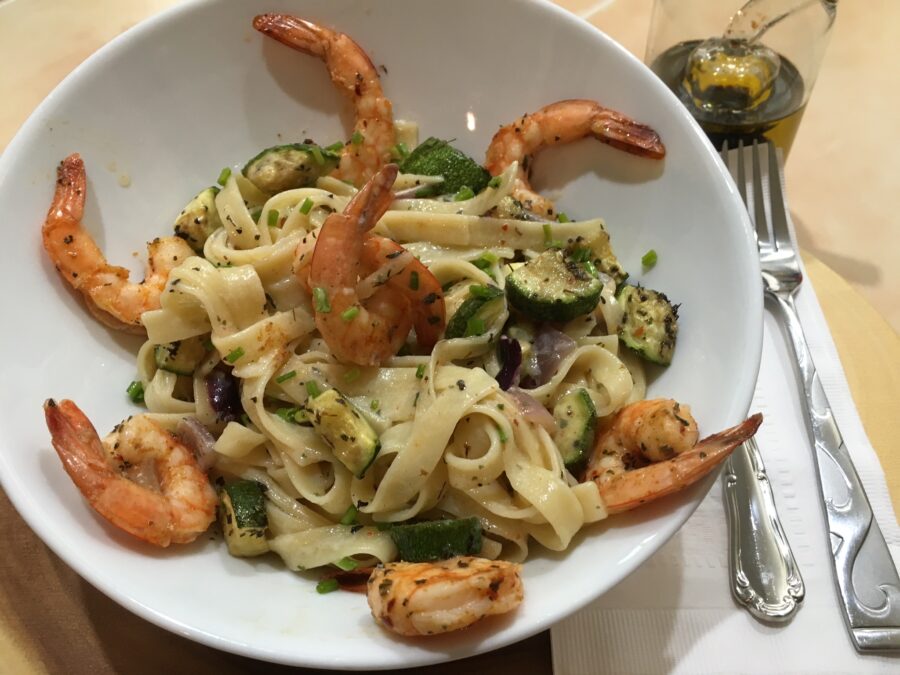 Ingredients
1 Pound Fettuccine pasta
2 garlic cloves, diced
3 Tablespoon Extra Virgin Olive Oil
2 zucchini, diced
1 lemon juice
1 red onion, diced
1 teaspoon crushed red pepper
1 teaspoon salt
1 teaspoon pepper
1 teaspoon dried basil
1 pound large shrimps, tails on
parsley to garnish
Alfredo Sauce
In a medium saucepan, warm  1/2 cup of heavy cream with half a cup of whole milk. Season with 1/2 teaspoon of salt, 1/2 teaspoon of pepper and a dash of nutmeg. Add 1/2 cup of grated Pecorino Romano cheese. Mix well and let it simmer until thickened and add 2 teaspoon of butter. If sauce is too thick, just add pasta water. Set aside.
Preparation
Peel and devein shrimps.
Cook pasta according to package directions.
Sate diced zucchini in olive oil for about 3 to 5 minutes until tender. Add onions and garlic. Cook for another 2 minutes.
Add shrimps, salt, pepper, crushed red pepper, and dried basil. Stir all ingredients and add lemon juice. Cook shrimps until they turn pink but not over cooked for about 2 to 3 minutes.
Add Alfredo Sauce, mix well. Add drained pasta to the mixture. Enjoy!